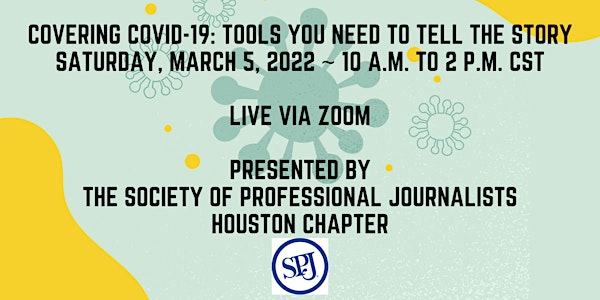 Covering COVID-19: Tools You Need to Tell the Story
Sales Have Ended
Registrations are closed
Ticket sales for this program have ended.
We're offering four sessions that will maximize your reporting and writing skills when covering COVID-19.
About this event
We're offering four sessions that will equip you with tools and knowledge to accurately and compellingly cover the story of our lifetimes. Attend one, two, three or all four. You decide which will most benefit you.
You will leave with resources in hand to do the most accurate, thorough and equitable COVID reporting and writing you can.
AGENDA:
10 a.m. Google Tools for Covering COVID-19: Mike Reilley of the Journalist's Toolbox will show how you can use tools such as Google Scholar, Dataset Search, datascraping and Google Flourish to find and visualize COVID-19 data. Prior to the training, be sure to set up a free account at http://flourish.studio and check out the COVID-19 resources on the Toolbox: https://www.journaliststoolbox.org/category/coronavirus-and-covid-19-archives/ | Follow Mike on Twitter @journtoolbox
11 a.m. Sharing all the Voices of the Pandemic: A panel discussion on finding diverse sources to ensure your reporting reflects the demographic impact of COVID-19 in America. Confirmed to speak:
* Jourdan Bennett-Begaye, Diné, is editor for Indian Country Today in Washington, D.C. She is also a board member of the Native American Journalists Association. Jourdan received her master's degree in magazine, newspaper and online journalism through the Newhouse Minorities Fellowship at the S.I. Newhouse School of Public Communications at Syracuse University in New York. After graduate school, she taught high school journalism, video production, and theatre in her home state, New Mexico. She's written for Native Peoples Magazine, Fan First, MediaShift, The Daily Times, NAJA's Native Voices News, NPR's NextGen Radio Project, and Syracuse.com/The Post-Standard. While in New Mexico, Jourdan co-founded the Survival of the First Voices, an art and media organization for Native youth. Follow her on Twitter: @jourdanbb
* Eleanore Vega. Eleanore Vega is an award-winning freelance journalist based in Los Angeles. She is also the former West Coast Bureau Chief for CBS News. She has worked hard in bringing diversity and inclusion to newsrooms that she has managed. Eleanore joined the SPJ Diversity & Inclusion committee in 2019 and helped revamp the successful Diversity Leadership Fellowship. Eleanore was promoted to chair of the SPJ D & I Committee in 2021. https://www.linkedin.com/in/mseleanorevega
* Rebecca Aguilar. In 2021, Rebecca Aguilar became the first Latina and woman of color elected to become the President of the Society of Professional journalists in the organization's 112-year history. She has been a journalist for four decades. Twenty-eight of those years were spent as a reporter at television stations across the country. Today she is a freelance reporter based in Dallas and works across all news platforms. Along the way, she has been recognized with 50 awards and nominations for her work in journalism. https://www.linkedin.com/in/msrebeccaaguilar
Noon. Accuracy is Everything: Caryn Baird is a researcher for PolitiFact and The Poynter Institute. She previously was the senior news researcher at the Tampa Bay Times where for more than 21 years she verified people, places and events before the story was written. She has research credit on five Pulitzers and several other award-winning stories. She is a native New Yorker with a B.A. from Wellesley College, and a M.S. in Library & Information Science from Simmons College.
1 p.m. "Efficacy vs. Effectiveness" - Knowing the Precise Meanings of Terms: This presentation by independent journalists Bara Vaida and Michele Cohen Marill will cover accurate use of specialized language including medical terminology and research jargon. Bara has been a journalist for more than 25 years and has been the core topic leader on infectious diseases for the Association of Health Care Journalists since 2017. In that role, she helps journalists recognize emerging stories, understand the science of diseases, as well as prevention and cures. She has worked for the National Journal, Agence France-Presse and Bloomberg News and written extensively about health care policy and the Affordable Care Act as a contributing writer with Kaiser Health News. Her work has been published in CQ Researcher, Health Affairs, MSNBC, National Public Radio, Politico, the Washington Post and WebMD. You can find her on Twitter @barav.
Michele Cohen Marill is an Atlanta-based freelance health journalist. Her work has appeared in Health Affairs, Medscape/WebMD, Wired, STAT, Kaiser Health News and Atlanta magazine, among other publications, and she is a contributing editor for Georgia Trend magazine. She was awarded a 2020 International Health Study Fellowship by the Association of Health Care Journalists. She is a graduate of Northwestern University's Medill School of Journalism.