Description
The 10th Annual "COVER YOUR BASES" TBOX Baseball Bar Crawl is SATURDAY, MAY 19, 2018, starting Noon at Murphy's Bleachers in Wrigleyville, Chicago! Get a Cool Chicago T-Shirt with a Baseball Diamond - Collect Stickers at Each Stop to Fill Your Shirt and "COVER YOUR BASES" to Win Prizes!!! If you love Baseball, Beer, Spring in Chicago, and Partying with Friends, don't miss this beloved bar crawl! From the producers of the world-famous 12 Bars of Xmas, it's the ultimate baseball celebration!

***** PACKET PICKUP and DAY OF PURCHASE is at MURPHY'S BLEACHERS 11am-4pm Saturday!
Most Bars will feature $3 Bud Light and $4 Goose Island and $4 Wheatley Vodka Mixed Drink Specials.
Ticket Includes; Fashion T-Shirt | Free Lunch Buffet for Crawlers | OVER $100 IN GIFT CARDS !!! $10 Gift Card from Replay Lincoln Park | $10 Gift Card from Lago Wine Bar | Free Pierogi Order from Prost Chicago | FREE CHEESE CURDS from Wills Northwoods Inn | Finale Karaoke Party | Prizes Including Cubs Tickets from Murphy's Rooftop | and of course THOUSANDS of STICKERS!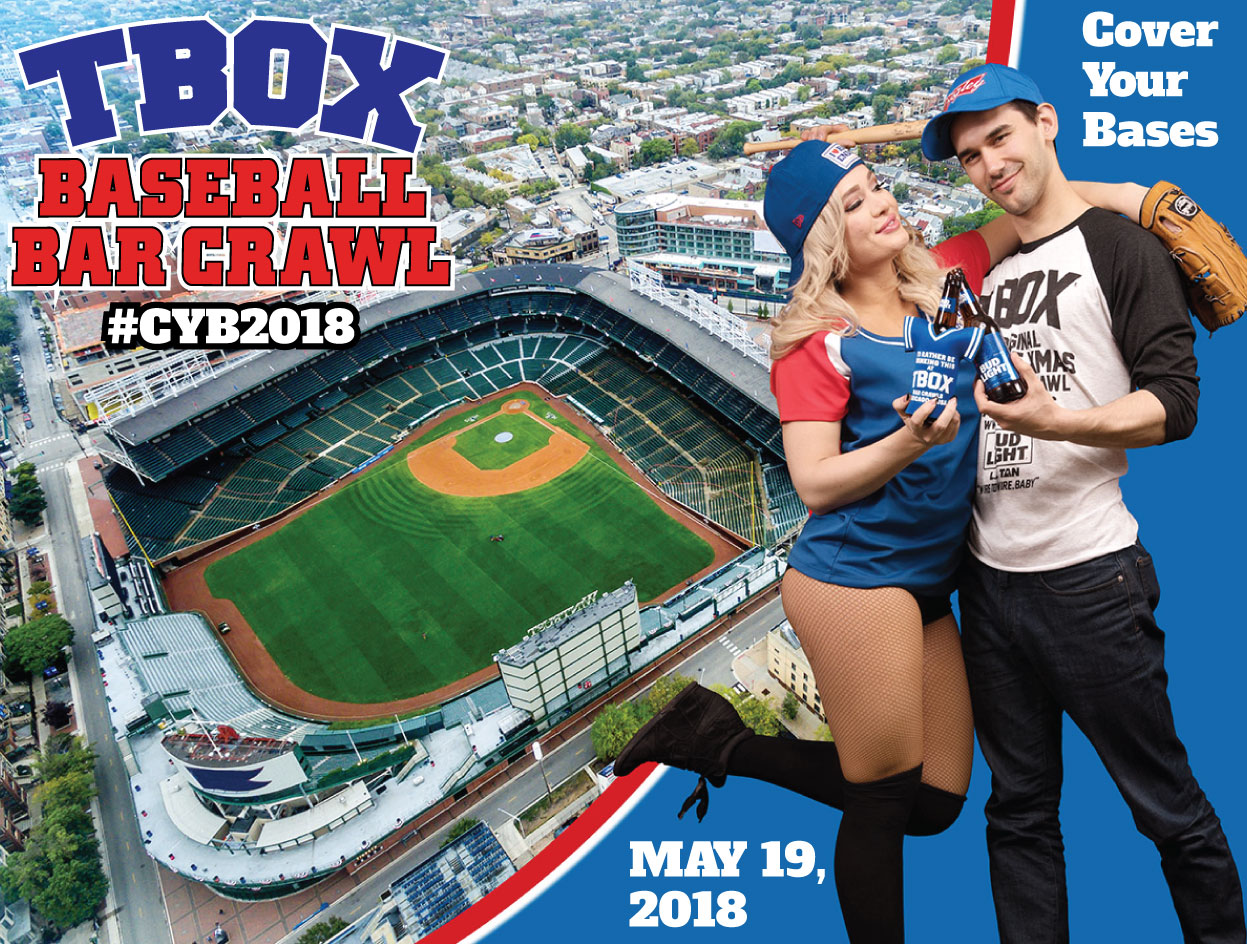 The #CYB2018 T-Shirt will be available in 5 Colors and Look Like This!

The Pub Crawl starts and ends at Murphy's Bleachers, and includes great bars like John Barleycorn, Sluggers, Old Crow, Rizzo's, Irish Oak, Moe's Cantina, Deuce's & Diamond, Dark Horse, Cubby Bear, Sports Corner, and more! We'll have great specials on Bud Light and other drinks, and prizes for those who collect all the stickers on their shirt!

Be Ready to Represent your Favorite Baseball Team! Whether it's the Cubs, Sox, Cardinals, Brewers, Red Sox, Yankees, Tigers, Reds... or whatever your team is! Even though it's in Cubs Territory, we always have tons of White Sox fans and will have Black Shirts in addition to Blue, Pink, and other colors!

We will also have our world-famous CEREAL SHOTS at Murphy's Bleachers, and we all sing the National Anthem together, and then the 7th Inning Stretch at Bar #7. At the end, we have a Private Karoake Party till Midnight & Beyond in the back of Murphy's!
FAQs
What Do I Do Once I Buy My Ticket?
After registration, you must come into Murphy's Bleachers to get your WRISTBAND, SCHEDULE, BADGE, LANYARD, and T-SHIRT. TBOX Staff will be there WED 5/16 from 4-8pm, THU 5/17 from 4-8pm, FRI 5/18 from 3-8pm, and SAT 5/19 Day of Event from 11am to 8pm.

Are there ID or minimum age requirements to enter the event?
Cover Your Bases is for 21+ Only.

What are my transportation/parking options for getting to and from the event?
The Addison Red Line / Wrigley Field Stop and Addison CTA Bus are one block from Murphy's Bleachers, where the event starts.

What's the refund / transfer policy?
There are NO REFUND or Price Adjusments on tickets, but you may transfer the ticket to another person before the event. Notify TBOX Bar Crawls of who you have authorized to redeem your ticket.

Do I have to come the whole time? Can I start later?

Doors open at 11AM. Pub Crawl officially starts at Noon. TBOX Staff and VIPs hand out the collectible stickers hourly at the 10 stops. You are welcome to join later or leave early, but you may miss getting all your stickers and "Covering Your Bases!"

Do you have any paid affiliates or opportunity to get free tickets for doing promotion?
Yes - please contact TBOX Bar Crawls if you'd like to find out how to get free tickets in exchange for helping promote the event through social media.

What Other Events are Coming Up?
The 23rd Annual Original 12 Bars of Xmas Pub Crawl, #TBOX2018, is set for December 8, 2018, in Wrigleyville, Chicago, and tickets will go on sale on Eventbrite late spring 2018! Don't miss this one!