Join Covenant Community as we celebrate National Prevention Week+ Recovery Resources of Atlanta Midtown's 2 Year Anniversary and more!
About this event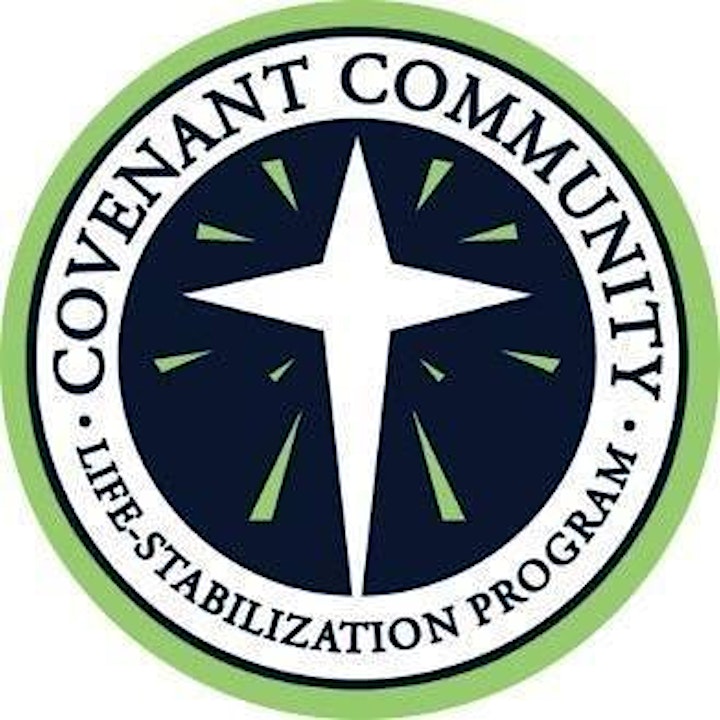 During National Prevention Week, Covenant Community, Inc. and Recovery Resources of Atlanta-Midtown (RRAM) will host a public outdoor event on Friday, May 14th from 12pm-2pm to raise awareness about its services as well as celebrate the organization's two-year anniversary as a peer-led Recovery Community Organization (RCO)." The event will feature keynote speaker, Dr. Rashad Richey and serve as an opportunity to celebrate the legacy of our beloved Juelz Mitchell, a champion in the recovery community who we lost too soon.
For more than 30 years, Covenant Community has been a life-line for men facing homelessness and addiction or mental health challenges. Over 300 men (Men of Hope) have been harnessed with the tools, skills and resources for successful life-stabilization. This power-packed event will inspire you to support the countless others and raise awareness about prevention in our community.
COVID -19 Protocols
The health and safety of our community, staff and event attendees is our highest priority. As we continue to monitor guidance related to the coronavirus (COVID-19) from the Centers for Disease Control and Prevention (CDC) and other organizations, we are committed to taking appropriate precautions to provide a safe environment that does not place our staff or event attendees at undue risk. At this time, the CDC has not indicated in any way that organizations in the United States should consider postponing or canceling events.
As a precautionary measure, Covenant Community, Inc. is actively working with our staff and partners to increase sanitization practices and healthy habits for all events. Hand sanitizer stations will be available throughout our campus during the event. For more information on best practices for prevention, please visit the CDC coronavirus (COVID-19) web page.
Given the evolving nature of COVID-19, Covenant Community, Inc. will continue to closely monitor developments. In addition to safeguarding the health and safety of our event attendees and employees, we remain committed to providing clear and timely communications leading up to and at our events. Should we receive information from the CDC that would prompt us to make adjustments to our event schedule, we will immediately notify all impacted parties via email and post regular updates on our website.
Parking:
We are so thankful that you will join us! Please note the All Saint's Episcopal Parking Garage located at the intersection of Spring St. and Ponce de Leon Ave. Please park in the top parking deck. Please do NOT park in the Varsity parking lot as you will be ticketed and/or towed.
Other:
Please note that we are a smoke-free campus. Please refrain from smoking on campus.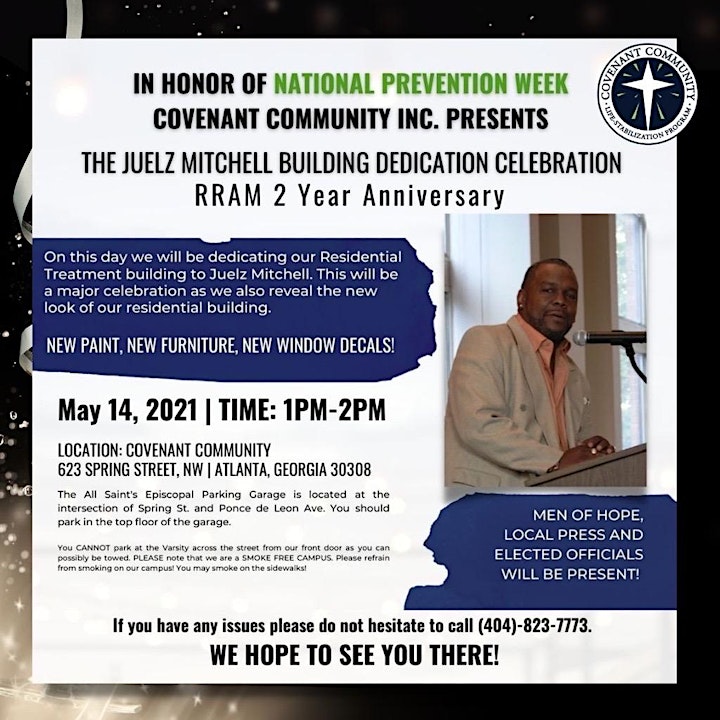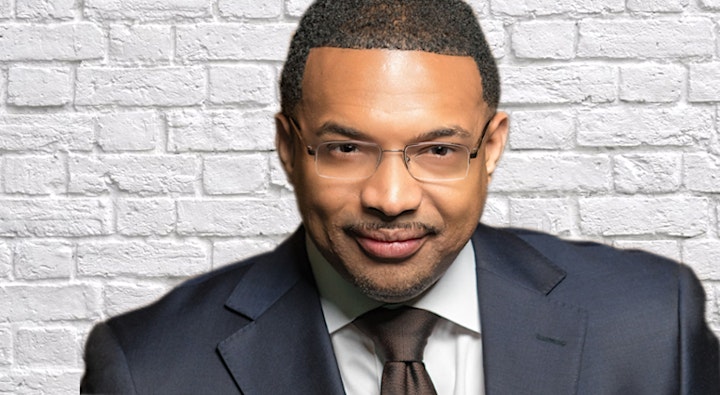 About the Keynote Speaker!
As an award winning Radio Personality, Dr. Rashad Richey's intelligent and opinionated delivery style led him to being voted "Best Talk Radio Personality in Atlanta" by readers of the Atlanta Journal-Constitution for his weekly morning show on News & Talk 1380-WAOK (7am-10am) and named "Most Trusted Voice in Atlanta Radio" by readers of the Atlanta Business Journal.
Rashad, who holds several advanced degrees, including an MBA and Doctorate, serves as President of Rolling Out, a multimedia print, digital and streaming news and entertainment powerhouse with over 2.8 million readers monthly and a combined social-media following of 500,000. Rashad is also Host of the TV show, Dr. Rashad Richey: Indisputable on the TYT Network, home of The Young Turks, which boasts a viewership of 17 million monthly and airs on Pluto TV, Xfinity Flex, Samsung TV Plus, Comcast Xfinity X1 and other television streaming channels.
Rashad is also the Political/Social Commentator for The People's Station V-103 FM, the nations' largest urban station. When Rashad is not on radio, he's on TV as the Political Analyst for CBS 46 News and Peachtree TV Atlanta, where he provides insightful commentary, special reporting and breakdowns of local and national news. Rashad is the first and only Political Commentator at CBS Atlanta to be nominated for an Emmy Award for his riveting television news coverage of a small Georgia town still dealing with the very real effects of racism and systemic segregation.
Nationally, Rashad is a regular commentator on MSNBC, BBC, and The Fox News Channel, providing insightful commentary on social justice and political matters.
Believing service is what connects humanity, Rashad serves on the Board of Directors for Piedmont Atlanta Hospital, Recover Consultants of Atlanta (a federally funded drug treatment center and medical clinic) and Children's Rights (a policy and legal advocacy organization dedicated to the rights of children). Rashad is also an active volunteer with STAND, Inc., Liberty Church Mentoring Program and Fulton County CASA.
Before becoming a media juggernaut, Rashad was the Political Director and Chief Strategist for the Democratic Party of Georgia. He later became their first African-American lobbyist and successfully lobbied for increased educational funding for GA schools, common-sense criminal justice reform and anti-human sex trafficking laws.
Rashad is also a noted entrepreneur and investor. His consulting firm, Richey and Richey Consulting, LLC provides policy related and solution-based services to a wide array of clients.
In 2019, Rashad was named 40 Under 40 by the Atlanta Business Chronicle and one of Georgia's most influential people. Rashad also landed the cover of Atlanta Business Journal's commemorative edition titled, "Top 25 Most Extraordinary Atlantans" and was recently named Media Personality of the Year by the Georgia Black Chambers of Commerce.
As a teenager, Rashad experienced life as a foster child growing up on the tough streets of Atlanta. During those years he encountered true despair, that's why today he tirelessly advocates to improve the lives of those who are less fortunate. This passion sparked the flame that created The Rashad Richey Foundation, Inc., an organization dedicated to mentoring at-risk youth. This philanthropic endeavor led to Rashad being honored by President Barack Obama with the Presidential Lifetime Achievement Award. Rashad has also received various recognitions and awards from Fulton County, City of Atlanta, GA Secretary of State, The Rice Awards and many others for excellence in broadcasting and community leadership.
Rashad holds a Bachelor of Arts in Religious Studies and Master of Business Administration (MBA) from Beulah Heights University. He also completed studies in Executive Leadership from Cornell University through their SC College of Business. Rashad's background and interest in politics and religion led him to undertake doctoral coursework at Scofield Graduate School where his qualitative research focused on The Global Affect of Western Religion on Politics, Policy and Government.
After Rashad's dissertation was successfully defended and published, he accepted a professorial position at Beulah Heights University in Atlanta, GA where he teaches courses in Business and Leadership Studies and serves as Department Chair of Adult Learning. Rashad completed his second doctoral degree at Clark Atlanta University where his research included the policy and political analysis of federal higher education legislation reform.
Rashad is now attending John Marshall Law School in Atlanta, GA obtaining his law degree and a member of the Student Bar Association.
Rashad strives daily to utilize his platforms to leverage equity for others. He is a proud member of the Atlanta Press Club, American Association of University Professors, National Association of Black Journalists (NABJ), Atlanta NAACP as well as various civic groups. Through the years, Rashad has dedicated his life to ensuring that everyone has a voice, regardless of class, race, age, gender, religion or sexual orientation. He also advocates for others who may not have always made the best decisions, but strive to be better people each day. Through political activism, mentoring, community involvement, leadership development and the power of media, Rashad has seen lives change for the better, including his own.
Organizer of Covenant Community, Inc. celebrates National Prevention Week