Couture Fashion & Talent Showcase for Live Out Loud Charity

Friday, August 12, 2016 from 6:00 PM to 9:00 PM (CDT)
Event Details

Live Out Loud Charity is a non profit organization focused on saving lives through core character development and suicide intervention training. Couture Fashion & Talent Showcase will feature local Chicago boutiques and talent. This day Live Out Loud Charity hopes to encourage youth to take pride in their talents.  Couture Fashion & Talent Showcase is the first event Live Out Loud Charity's talent branch will produce.  Are you ready for the very first talent/fashion show of this time? This is a  fundraiser and talent/fashion show for Live Out Loud Charity with around 100-150 guests, countless media outlets, and 100 models and talents. Help us raise funds while attending this fun yet informative event. Tiara Magazine is supporting Live Out Loud Charity in their mission of saving lives. Models and talents are taking a stance by parading down our stage and performing  to stop the most preventable cause of death, suicide. Incredible media coverage with our live feed spanning to all of our readers in over 177 countries along with local and national media attending this event. Top performers, suicide prevention seminar, prom-wear fashions, and bold people.... It can't get better than this.  To learn more about Live Out Loud Charity you may visit  www.liveoutloudcharity.org  Purchase tickets below. All net proceeds will be given to Live Out Loud Charity. To be involved in our charity show as a volunteer, model, or talent, email info@liveoutloudcharity.org
EVENT DETAILS
New Date: August 12, 2016. We are so excited to announce the new date as our show is larger than we ever expected. The old date of April 24th will actually be an audition date for more talent and models. Thank you all for making this show a major success for Blossom and Live Out Loud Charity. 
FASHION AND TALENT SHOW 

 COUTURE FASHION & TALENT SHOWCASE

Doors open 5:30pm
Show starts 6pm
Location: Chicago, IL
Venue: Tortuga's Cantina
3224 West Lawrence Avenue
Chicago, IL, 60625
Ticket Link: THIS PAGE. PURCHASE ABOVE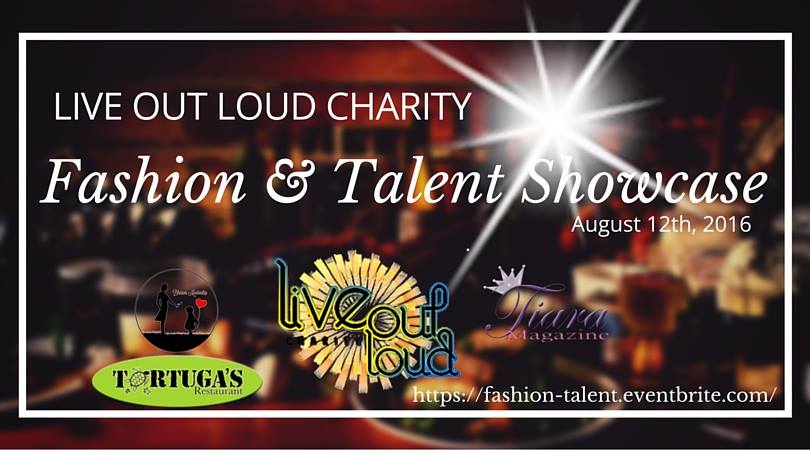 Cash bar and light food items available for purchase during the show. Great food, music, fashion, and fun all for a great cause: Live Out Loud Charity.


Things guests should know:
-Everyone is to arrive 30 minutes before show time to check in at the door and find their seat. Doors will stay closed at the start of show time and guests will not be allowed in late and must wait until intermission. There are no refunds. Tickets were not handed our prior to our event but if you bought a ticket online your name is on our ticket list. Please print out your ticket confirmation (print receipt from online) when purchasing online just in case.
-Dress code for all guests is dressy NOT business casual. We prefer fancy dresses, suits, dressy pants outfits, etc. This event theme is The Royal Affair. Think extremely dressy.  Think Royalty. No gym shoes, hats, jeans, or casual clothing allowed. All coats must be checked in upon arrival along with purses. If you need to keep items with you during the show they must be stowed under your seat during the fashion show at all times until intermission or after the show.
-If requesting handicap or have other special needs seating please email info@liveoutloudcharity.org We care about our attendees and will do our absolute best to accommodate those with special needs. Please inform us and state what is needed.
-Dress code colors: anything dressy. All colors allowed. Have fun! Keep in mind the colors of the charity are blue, yellow, green. Bright blue (turquoise shades) are our absolute favorite. These colors are not mandatory.
-If you know anyone that would like to donate or volunteer please have them contact us directly editor@tiaramag.net or they may email info@liveoutloudcharity.org
Meet the Founder & President of Live Out Loud Charity & Editor of Tiara Magazine
During the show Sherrie Gearheart will present a QPR & LOLC seminar. 
There will be other speakers from the Live Out Loud Charity Leadership Academy.
To learn more about the Leadership Academy and Live Out Loud Charity CLICK HERE.
Sherrie Gearheart was chosen to represent USA and vie for the coveted international title of Miss United Nations 2015.  In July of 2015, Sherrie Gearheart, gained international acclaim by becoming the first contestant from USA to win the Miss United Nations competition. Sherrie worked tirelessly fulfilling her duty as Miss UN by visiting five countries in the first six months of her reign. The purpose behind every trip is to save lives as Founder & President of Live Out Loud Charity (LOLC) a non profit organization focused on suicide prevention, anti-bullying, and core character development. Sherrie founded LOLC in 2010 after losing her childhood friend to suicide. He was only nineteen years of age at the time of his death. Since 2010, LOLC has educated over 80 million individuals globally on the signs of depression and suicide prevention. Sherrie started a division of LOLC called the Leadership Academy in 2013 to inspire, educate, and lead future leaders and spokespersons to further expand the LOLC mission. As of 2016 LOLC now has over 100 spokespersons in which Sherrie mentors along with grass-root efforts in eight countries. In 2014 Sherrie started the Miss Worldwide division of Live Out Loud Charity to crown yearly ambassadors to save lives across the USA and world. As Miss UN 2015, Gearheart met with countless governmental bodies, interviewed on multiple media outlets, and completed three humanitarian tours. In addition, she dedicated her Miss UN 2015 reign to the country of Liberia where she has long term plans to build the first ever mental health institution. Gearheart holds over 10 suicide prevention certificates from the QPR Institute, Trevor Project, ASIST, Tufts School of Medicine, Society for the Prevention of Teen Suicide, and The Jason Foundation. During 2015, Sherrie orchestrated over thirty-two awareness events across the world.
Countries visited in 2015: Monrovia, Liberia; Paris, France (October 2015, March 2016); Dublin & Mayo Co., Ireland; Beijing & Shanghai & Chengdu, China (May 2015, November 2016); Kingston, Jamaica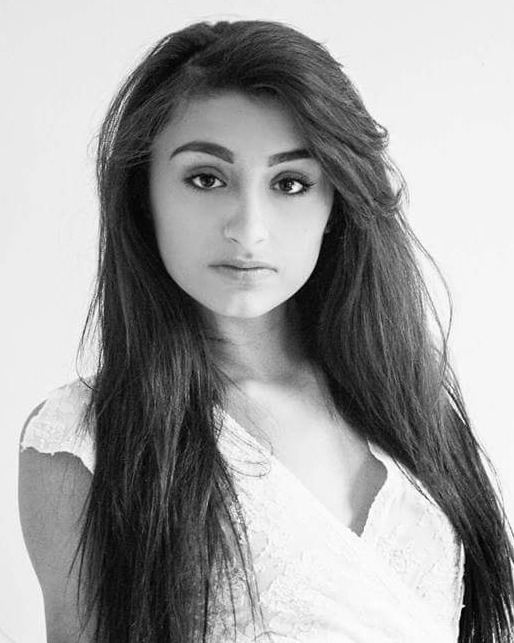 Founder of Blossom, Shawnna Ballog, Miss Worldwide Teen USA Ambassador for Live Out Loud Charity and Miss Teen Illinois United Nations.
Photo by: Miguest Photography 

As a seventeen year old Spokesperson for Live Out Loud Charity, Shawnna Ballog started her own division within the organization called Blossom Mentorship to help teens/youth dealing with depression. Shawnna knows first-hand the effects depression and being bullied have on our youth as she herself suffered from both. Shawnna had to be removed from school because she could no longer endure the severe bullying she faced everyday. Shawnna is proud to have graduated a year early from high school with her GED and is now enrolling in Community College in the fall of 2016. Shawnna has used her personal experiences to advocate for a cause close to her heart, Live Out Loud Charity (LOLC), a non profit organization for suicide prevention, anti bullying, and core character development. Shawnna has traveled the U.S. educating the public on how to save lives, how to stop a bullying situation, and how to make your dreams come true with the LOLC Core Character Development program. Shawnna produces numerous events per year within the community promoting volunteerism as well as suicide prevention. Blossom Mentorship is comprised of youth ages five to eighteen years of age with a focus on how to become a successful fashion model and a powerful leader within the community. Each Blossom Girl has to raise funds and awareness for LOLC while also becoming trained in all of the LOLC programs in saving lives. Shawnna also started the Talent Branch within Live Out Loud Charity to encourage youth to utilize their talents in a positive outlet. In August of 2016 Shawnna will produce the first ever Live Out Loud Charity, Blossom Talent Show.

In addition, Shawnna is also Assistant Editor of Tiara Magazine a fashion/pageantry publication that is read online in 177 countries around the world and four countries in print. Shawnna has traveled to Orlando, Florida and New York covering exciting pageants and fashion events for Tiara Magazine. Shawnna is also a professional model something she is very proud of since she only stands at 5'4. As a petite model that has graced the runway during New York Fashion Week Shawnna's message to her Blossom Girls and Tiara Magazine readership is that anyone can make their dreams come true regardless of their height, size, age, or ethnic background. Embrace you! Believe you are beautiful.
In the future Shawnna plans to obtain her Bachelor's Degree in Psychology, open a recreation center for animals, run several orphanages, and visit multiple countries with Live Out Loud Charity on humanitarian trips across the world.

Shawnna is honored to represent her country in the United Nations Pageant.


To learn more please visit www.liveoutloudcharity.org

 There are no ticket refunds for any reason. 
When & Where

Tortuga's Cantina
3224 West Lawrence Avenue
Chicago , IL 60625


Friday, August 12, 2016 from 6:00 PM to 9:00 PM (CDT)
Add to my calendar
Organizer
Sherrie Gearheart
President & Founder of Live Out Loud Charity & Tiara Magazine, Miss United Nations 2015
Couture Fashion & Talent Showcase for Live Out Loud Charity