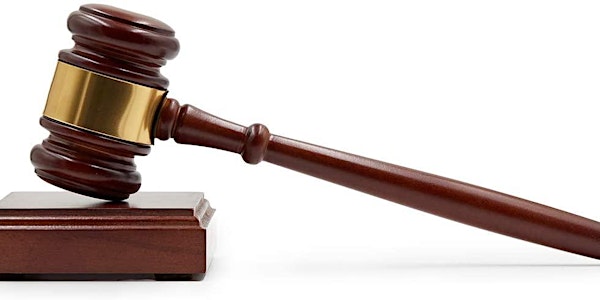 COURTROOM KARATE - Approach Your Next Trial with Confidence
Learn the skills you need to defend yourself and your case in the Courtroom!
Date and time
Monday, June 19 · 6am - 1pm PDT
Refund Policy
Contact the organizer to request a refund.
About this event
TOPIC: It is no secret that Defense attorneys have a win at all costs attitude, and recent national stories in the media are distorting the image and reputation of this honorable profession. This puts all of your hard work at risk!
Learn the skills you need to defend yourself and your case in the Courtroom! Don't get caught flat footed! Be prepared! This training will teach you to…
• Learn how to recognize and counter Defense Attorney tricks and tactics
• Improve your ability to communicate to the jury
• Develop skills that will improve your memory retention and report writing
• Increase your understanding of what your prosecutor wants so you can eliminate requests for further and further investigation.
This class was developed by Gerald Ladwig and Michael Carpenter, both experts in criminal law having over 50 years of combined experience ranging from Defense Attorney, Police, Prosecution, Magistrate and Judge. Between the two of them they have served in virtually every role of criminal law.
TARGET AUDIENCE: All members of the criminal justice and legal community (sworn and non-sworn).
INSTRUCTOR: Michael D. Carpenter is the Judge for Midland County Michigan's 75th District Court. Prior to his present position, Mike was Midland County's Prosecuting Attorney being first elected in 2004 and then re-elected unopposed in 2008 and 2012. Before his days in public office, Mike was a private practice attorney for 10 years where the majority of his work was as a criminal defense attorney. He has 20 years experience in all facets of criminal law. Mike is a sought after lecturer and speaker, teaching at various universities and associations as a guest lecturer on topics ranging from crime victim rights to legal updates to statistical analysis and reporting. He is a featured speaker for Training Force USA .
DATES & TIMES:
Monday, June 19, 2023 - Class starts at 9:00 AM Sharp – and ends at 4:00 PM (EASTERN Time) (One hour for lunch)
COST: $199.00 per person ($3 registration fee + credit card fee if applicable)
LOCATION: This is an ONLINE training event!
The Class Materials and Zoom Link will be sent to you one week prior to the training date.
PAYMENT OPTIONS:
• Check made payable to: TRAINING FORCE USA
3681 Loma Farm Road
Tallahassee, FL 32309
• Purchase Order
• Credit Card payment made online
Cancellations and Substitutions:
• Upon submission of this registration, participants are responsible for payment of this course.
Please note that if you do not attend, you are still responsible for payment. At the discretion of Training Force USA, credit for the amount paid may be issued toward a future course.
• Substitutions may be made at any time by phone, e-mail or online at the registration site.
QUESTIONS: Phone: 850-251-1223 E-mail: contactus@trainingforceusa.com