Description
Mindfulness Based Leadership (MBL)
Organizations function in complex and dynamic environments. This reality creates on-going challenges, stress and at the same time unlimited possibilities and opportunities.
Nowadays in order to lead effectively leaders need to be able to better manage themselves, others and the vast amount of opportunities out there.
Mindfulness is becoming a key tool for leaders in cooperation worldwide. Leading organizations like Google, Facebook, General Mills, Apple and more, have already implemented mindfulness programs which have resulted in increased productivity, innovation, and employee engagement.
The objective of the course is to give you tools as a leader to better lead oneself and others. By learning to re-center in high-performance situations, you can develop a higher quality of attention, connect more authentically with others, lead more intentionally and produce better results and increased innovation.
Course objectives:
Increased self-awareness

Improved decision-making process

Increased capacity to engage and inspire others

Promote real and candid conversations

Fulfillment of your leadership potential
Course description: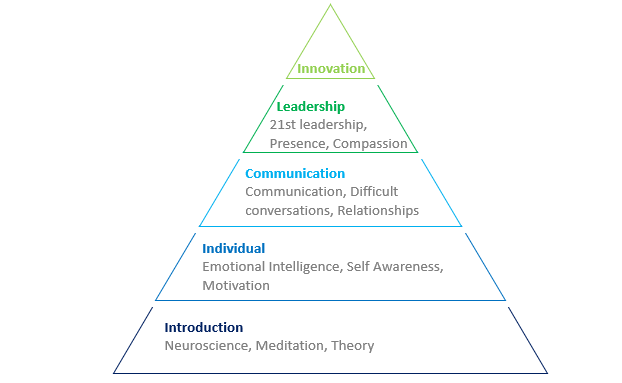 © WISDOM TO LEAD TM
The course combines theory, practice, and reflection. The MBL course provides mindfulness tools in different layers. First, participants will familiarize themselves with the main tool of mindfulness – meditation. During the workshop, the participants will practice different meditational methods in the context of organizations and leadership: focus meditation, journaling, mindful communication and more.
Participating in the course instills the credit to join the MBL community – a guided gathering each month which continuously explores ways to implement mindfulness in the workplace.
About: Dr. Keren Tsuk Is the founder of Wisdom To Lead, consulting company which specializes in the development of senior management teams and leadership in 21st-century organizations.
Keren has 18 years of working with senior management in transition, growth and development processes using the ability to deal with different challenges through mindfulness. Lecturer on mindful leadership in Israel and aboard.
Details:
Course duration: 5 meetings, 4 hours each.

Hours of the meetings: 9:00-13:00

Dates: 05/05/2019; 12/05/2019; 19/05/2019 ;26/05/2019; 02/06/2019

The course will take place at Tel Aviv, Krypton, Hakfar Hyarok

The cost: 3700 Nis +Vat (includes breakfast + parking)

Reference:
"The course has had a significant effect on me as a person and a manager. The positive atmosphere, professional guidance, and the perfectly selected topics provided me with vital tools. These tools help me function more efficiently in the fast-past environment we live in. I do not doubt that this is a must-take course for any manager". Sharon Elmashaly, Director, International Technical Assistance Center at Check Point Software Technologies, Ltd.