Event Information
Location
Ranch House
Zuni Mountains New Mexico
n/a
Timberlake, NM 87321
Description
A brightly colored hot air balloon gently sways in the warm breeze as you grab the wicker basket sides to pull yourself, in. You wonder if the other women next to you can hear your heart pounding in your chest or see your sweaty palms as you prepare to leave the safety of the ground. The burners light us with a roaring sound as the balloon starts to leave the earth behind.

You squeeze your eyes tight as you say a prayer for angels to hold the balloon up as you softly curse yourself for even getting inside.

Peeking out of one eye, you take a look at your surroundings as they float by, a lake with a herd of elk drinking at its shores, red rock cliffs with pine trees. Ancient cliff dwellings of a tribe almost forgotten.

Another feeling rushes over you, it is no longer fear, it is the exhilarating feeling of freedom. You are soaring like a bird past the mountains and the trees, the wind twisting your hair around your face, reminding you that this is what freedom feels like. This is what it feels like to experience courage.
Watch a video to find out the itenerary for the event https://www.youtube.com/watch?v=WR1xpPk2Nms
3 Days, 20 Women, sleeping under the stars in an all-inclusive luxury camping experience, face your fears, take a powerful step, a step towards being, Courageous A Safe haven free from the distractions of the world that invites and inspires courage, gratitude, and intuition.The wilderness is a quiet place to study, ponder, pray and examine one's life- all of which invite "awakenings of courage."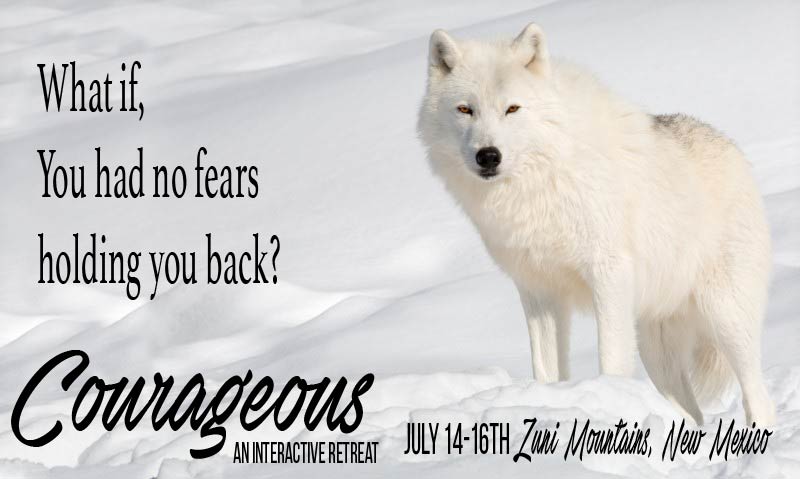 Inspirational Speakers, courage building activities (Including the Wolf Walk and Hot Air Balloon ride!), daily hikes, & yoga.


A portion of the event proceeds will be donated to Wild Spirit Wolf Sanctuary https://www.wildspiritwolfsanctuary.org/

Mouth watering New Mexican and Ranch cuisine includes breakfast, lunch, and dinner

(Fruit and Snack Bar Open all day)

Luxury Camping in beautiful safari tents, Each tent accommodates 2 people

Share a tent with a friend or get to know some one new!
FAQs
What are my transportation/parking options for getting to and from the event?
A DRIVER AND PRIVATE VEHICLE ARE AVAILABLE TO PROVIDE ROUND-TRIP TRANSPORTATION TO AND FROM ALBUQUERQUE AIRPORT. WATER AND SNACKS ARE AVAILABLE FOR THE DRIVE, MAXIMUM CAPACITY IS 9 PASSENGERS PER VEHICLE. YOU MUST RESERVE IN ADVANCE, THE DRIVER WILL PICK UP AND DROP OFF IN ALBUQUERQUE AT TWO PREDETERMINED TIMES ON ARRIVAL AND DEPARTURE DAY. TRANSPORTATION OUTSIDE THESE TIMES WILL NOT BE AVAILABLE . AIRFARE AND ADDITIONAL TRAVEL TO THE EVENT IS NOT INCLUDED.

​
How can I contact the organizer with any questions?
info@girlgeniusinventors.com
What's the refund policy?
this is a non-refundable event, but tickets are transferable.

Date and Time
Location
Ranch House
Zuni Mountains New Mexico
n/a
Timberlake, NM 87321