Event Information
Refund Policy
Refunds up to 7 days before event
Join Disability:IN Minnesota and Kraus-Anderson for our February meeting on Wednesday, February 10th from 8:00 am to 9:30 am.
About this Event
Kraus-Anderson is pleased to collaborate with Disability:IN Minnesota to host its February Courageous Conversations session.
Featured Presentation: Courageous Conversations: Minding your Mental Health during COVID-19
Agenda:
8:00-9:30 am: Courageous Conversations: Minding your Mental Health during COVID-19
Description: While 2020 is over – thank goodness! – 2021 continues to be a struggle for many people in the US and across the globe:
The vaccine is out, but COVID-19 outbreaks continue to peak in many areas, and with some of those recovering seeing the short- and long-term impacts of the virus
Large and small businesses in many industries continue to feel the impact
Families are still balancing the demands of distance learning and remote work
Healthcare providers and other emergency personnel are showing up each day to extremely stressful conditions
Racial and social injustice continues to be an issue
Political divisiveness has resulted in shocking events taking place in our nation's capital
In the Construction industry, our teams and partners are particularly impacted by high rates of suicide and depression that already exist, and under new conditions may be exacerbated
During this session, you will
Recognize the impact of COVID-19 on everyone's mental health
Understand the impact of COVID-19 on diverse communities
Learn the steps that can be taken to promote good mental health
Join Kay King, Community Educator from National Alliance on Mental Illness of Minnesota (NAMI-MN) at this important session. Understand how and why COVID-19 has impacted people's mental health, how some communities have been disproportionately impacted, and steps that you can take to promote good mental health.
Presenter: Kay King is the Older Adults Program Coordinator and Community Educator at NAMI Minnesota (the National Alliance on Mental Illness of Minnesota) and has worked for NAMI ten years. Kay teaches about 4,000 professionals, family members and people managing a mental illness annually in classes ranging from one to eight hours.
Kay is the former Executive Director of a retirement community in the Twin Cities that offers both independent and assisted living services. She also was a hotel and resort manager with over 25 years of hospitality industry experience nationally and internationally.
Kay is a family educator who teaches NAMI's Family-to-Family eight-week education course and she is a Mental Health First Aid and Youth Mental Health First Aid instructor. She has a B.S. in Education from the University of Minnesota.
King is a family member whose grandmother, mother, sister and niece (four generations) lived/lives with a mental illness.
Cost:
Members: Free (for member companies and their employees)
Non-members: $20 per person
Prospective Disability:IN Minnesota members are welcome to attend their first meeting free. For details, contact info@DI-MN.org. 
RSVP is required to attend. RSVP deadline: February 8, 2021 (5 p.m.)  
Zoom Meeting details for those who RSVP:
https://us02web.zoom.us/j/87914389921
Meeting ID: 879 1438 9921
Password: To be sent following RSVP*
Call-in Option: 312-626-6799
Meeting ID: 879 1438 9921
Password: To be sent following RSVP*
*The password will be sent separately via email.  If you do not receive a password by 2.9.21, please email CassyBeckman@di-mn.org.
If you need an accommodation to attend or participate in this meeting, please contact info@DI-MN.org at least 5 days prior to the event with your request.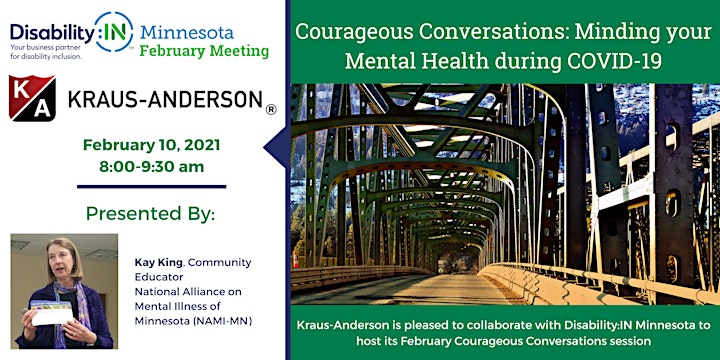 Date and Time
Location
Refund Policy
Refunds up to 7 days before event