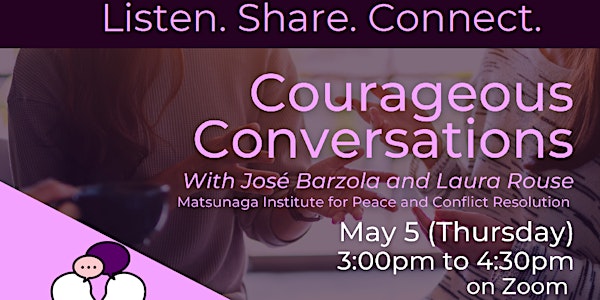 Courageous Conversations: Listen, Share, Connect
"Courageous Conversations" with José Barzola and Laura Rouse
About this event
The University of Hawaii Community Colleges (UHCC) Professional Development Consortium Event hosted by Leeward Community College brings you.
"Courageous Conversations: Listen, Share, Connect"
Interactive Session Facilitated by José Barzola and Laura Rouse
The Session
Leaders are often called upon to facilitate meaningful, civil, and sometimes difficult conversations. Come to this workshop to learn about why such conversations are as important as ever, and experience how they can be structured to encourage open and inclusive dialogue. This workshop is relevant for students working with teams and communities and anyone wanting to learn more about effective communication in challenging spaces. Join José Barzola and Laura Rouse from the Matsunaga Institute in this highly interactive session that will include a facilitated courageous conversation and tools for doing this in other spaces.
About José Barzola
José Barzola is a highly organized higher education administrator with over 20 years of experience and success in administration, student development within academic and student affairs. José has also been an affiliate faculty teaching courses on peace and conflict resolution, a professional mediator and facilitator for 10 years both in New York and Hawai῾i.  José is currently the Educational Specialist and Affiliate Faculty at the Matsunaga Institute for Peace and Conflict Resolution at the University of Hawai'i at Mānoa.
About Laura Rouse
Laura Rouse is a Ph.D. student studying sociology with a concentration in in feminist criminology at the University of Hawai`i at Mānoa, where she holds a B.A. in the same field. Her research interests focus on the construction of punishment, particularly through a critical lens. She is employed both as a Graduate Research Assistant for the Spark M. Matsunaga Institute for Peace and Conflict Resolution and a Student Assistant for the William S. Richardson School of Law doing work for clinical programs like the Hawai`i Innocence Project, and in her free time she volunteers for the nonprofit Breaking Code Silence doing administrative coordination for their academic research division.