Sales Have Ended
Registrations are closed
The event has started. Ticket sales is closed.
Sales Have Ended
Registrations are closed
The event has started. Ticket sales is closed.
Are kindness and compassion enough to bring racial healing in our communities and businesses? Let's talk about it.
About this Event
In a continuing conversation, panelists will discuss cultural tensions surrounding racial unrest that has exposed itself amidst a chaotic 2020. Racial healing is a must to heal the wounds of our nation's soul. But are kindness and compassion enough? Let us bring into full scope the conversation that will bring a holistic approach to racial healing.
Join Yvonne Davis from LUXA Enterprises and Kuma Roberts from the Tulsa Chamber for Courageous Conversations 2.0, Racial Healing: Are Kindness and Compassion Enough? In this powerful online virtual event, we'll be discussing #racialhealing in the workplace, discovering together, what you should know.
We hope you can make it!
Cheers!
Yvonne Davis, Co-Host, LUXA Enterprises
Kuma Roberts, Co-Host, Tulsa Chamber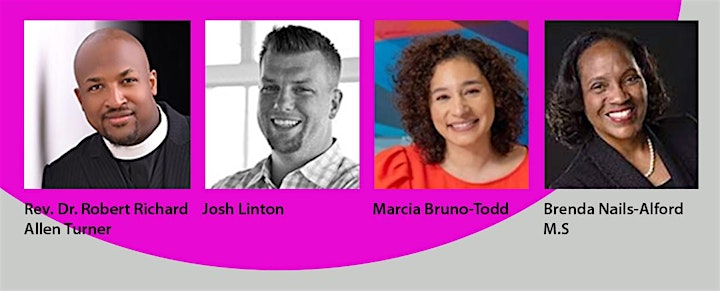 PANELIST: Rev. Dr. Robert Richard Allen Turner
Rev. Dr. Robert Richard Allen Turner is a millennial who is passionate about his calling to serve this "present age" by speaking truth to power, and by following the Word as printed in Isaiah 61. Currently, Dr. Turner is the pastor of Historic Vernon A.M.E. Church, in Tulsa, Oklahoma, which has the only edifice which survived the 1921 Race Massacre on Greenwood.
Dr. Turner has been featured on CBS's 60 Minutes and Evening News, ABC, BBC, MSNBC (Chuck Todd, and Andrea Mitchell's show) CNN, Good Morning America, NPR Here and Now and the Euronews, Washington Post, LA Times, and New York Times, along with Politico, and several other national and international publications and news outlets.
Currently Dr. Turner fighting in Tulsa for justice for the victims of the 1921 Race Massacre, getting burial sites excavated, and seeking reparations. Each Wednesday you can find him with his Bible and Bullhorn seeking by God's direction, to call the city to recognize what they did in 1921, repentance, and reparations.
More information can be found at: http://robertturnerministries.net/about
PANELIST: Josh Linton
Josh Linton is a strategic planning analyst at ONE Gas, Inc. His work brings new ideas and innovations to reality, helping ONE Gas position itself for the future. Currently he helps lead ONE Gas's efforts to engage the renewable natural gas market.
Josh serves as the vice chair of the Commercial/Industrial Sales and Marketing Committee of the Southern Gas Association. He also represents ONE Gas on the Technology, Finance & Development Advisory Board for the RNG Coalition.
Currently, he sits on the executive board of the Oklahoma Center for Community and Justice (OCCJ) and the board of Global Gardens in Tulsa, OK. He served as chair of OCCJ's Inclusive Leadership Collective (2015-2017).
PANELIST: Marcia Bruno-Todd
Marcia Bruno-Todd is the Director of Programs & Community Impact for Leadership Tulsa. She supports the direction and implementation of Leadership Tulsa programming and workshops to connect leaders with service opportunities that contribute to a thriving community for all.
Her experience spans across K-12 and the university setting including Tulsa Public Schools, Teach for America and Oklahoma State University. Marcia supports non-profits and businesses with diversity, equity and inclusion strategies and consults on developing authentic community partnerships. She has experience in consulting on multi-faceted equity projects with state and national foundations that address system-level changes in the private, public and nonprofit sector.
She proudly serves as a board member for YWCA Tulsa, MetCares Foundation and the city's Sales Tax Overview Committee. Featured in Forbes Women for her work in bridge-building across sectors, she invests her talents in the leadership development of the diverse communities of Oklahoma. She holds a bachelor's in Political Science from Oklahoma State University, a Master's in Public Administration from Arkansas State University, and is currently working on her Doctorate in Educational Policy, Planning and Leadership from the College of William & Mary. Marcia dedicates her time to connecting people with the resources and networks to build a thriving community for all.
PANELIST: Brenda Nails-Alford M.S
Brenda Nails-Alford M.S. is a Career Services Coordinator at Tulsa Technology Center. She is an experienced Training Coordinator with a demonstrated history of working in the education management industry. Skilled in Occupational Health, Safety Management Systems, Health Information Management, Industry Engagement, Customer Service, and Microsoft Office. Brenda is a strong administrative professional. She is also an alum of The University of Tulsa.