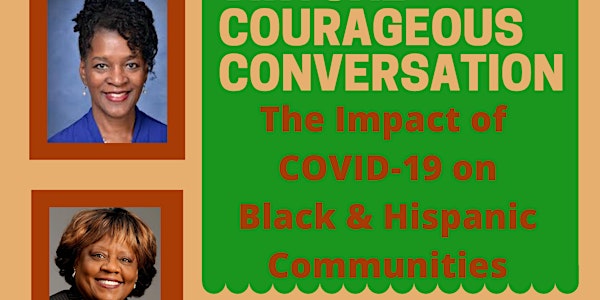 Courageous Conversation: Impact of COVID-19 on Black & Hispanic Communities
Join our panel of national and local speakers for a lively discussion of the impact of COVID-19 on Black and Hispanic communities.
About this event
Wilburn & Associates, LLC is pleased to have a dynamic panel for our second Virtual Courageous Conversation including Vivianne Griffiths, Nurse Practitioner , Louisville, KY, Dr. Vicki Hines Martin, Psychiatric Nursing Professor, University of Louisville, Kentucky, Commissioner, Walter Kendrick, Washington Commission on African American Affairs & Pastor Morning Star Baptist Church, and Commissioner James Wilburn, Jr., Police Ombudsman Commission & author. Dr. Roberta Wilburn, President/Co-founder of Wilburn & Associates will be the facilitator of the event.
The COVID-19 pandemic has disproportionately impacted communities of color in a variety of ways. This Courageous Conversation will exam some of these issues and discuss how we can work together to ensure the health and safety of our most at-risk members of our communities. This is an event that you won't want to miss. Registration is required.