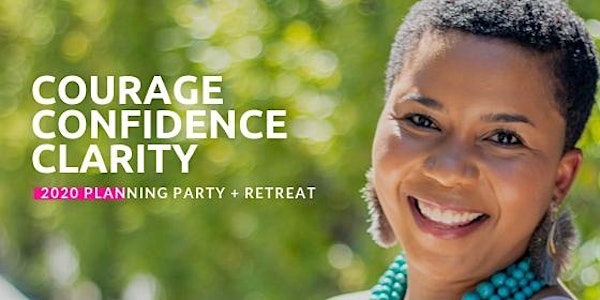 Courage, Clarity, Confidence: 2020 Planning Retreat with Coach Gala J!
It's time to GOAL GET' EM! Join me for an exclusive retreat in Atlanta as we reflect, evaluate, visualize, plan, and level-up for 2020!
About this event
It's hard to believe we are officially in the last quarter of 2019, but that means it's time for the 2020 Planner Party + Retreat!
The Planner Party was one of my absolute FAVORITE events last year, so this year I'm not just doing a planning party, I am doing a FULL RETREAT! I am so excited to share all of the new things that are included this year!
Mark your calendars and save the date:
Saturday, December 7th from 9am - 5pm EST
The NEW 2020 Planner Party + Retreat includes...
Breakfast
Bottomless Mimosas
Lunch
TedX Style Workshops on Mindset, Clarity, Productivity, Wellness, and Spiritual Growth (Y'all this alone...eeek!!!)
2020 Cultivate What Matters Powersheets ($60 value)
2020 Planning Essentials Kit + Swag Bag (filled ALL the way up with goodies)
Support as you complete your Powersheets Prep Work during the retreat
At the conclusion of the retreat, you will leave with...
2019 A Year-in-Review
A Blueprint for how to maximize the rest of 2019
Clear personal and professional goals for 2020
Detailed actions steps to accomplish your 2020 goals
Strategies to implement your goals in your monthly, weekly, and daily routines
Life Hacks to achieve clarity, productivity, wellness and spiritual growth in every season of life to ensure that you are truly the CEO of YOU
Courage, Clarity, Confidence!
A few extra prizes!
If you have any questions send an e-mail to hello@interviewsnob.com