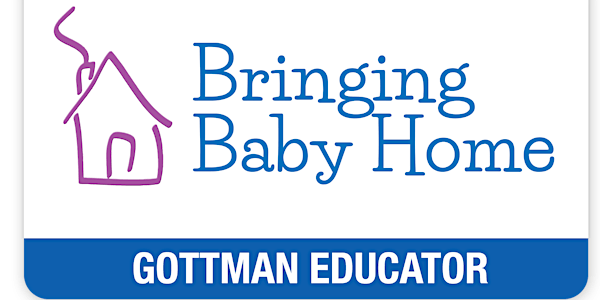 Couples Workshop: Bringing Baby Home (BBH) - by Gottman Certified Educators
Refund policy
Refunds up to 7 days before event
Eventbrite's fee is nonrefundable.
Couples + parenthood: growing your family? "Gift your child the best nest, a loving parental relationship!"
About this event
*REGISTRATION CLOSES: FRIDAY, December 17th at noon.
Bringing Baby Home®, a Virtual Couple's Workshop!

 Join us from the privacy of your own home with other couples also preparing for parenthood! 
Are you a couple parenting a newborn? Parenthood is a blessing, yet even the strongest couples are tested after bringing baby/child home.
What happens to date night?
How do you manage conflict constructively, to stay connected?
How do you agree on parenting? 
How do you prioritize sex and intimacy after baby?
What happens when WE become a family? 
Developed by the Gottman Institute, and brought to you six (6) online sessions, our research-based workshop prepares couples with the transition to parenthood! 

Strengthen your relationship and ability to bond with a new baby, together.

 Parents will learn research-based skills that enhance and strengthen their couple relationship, as well as, support a newborn baby's/child's development during this wonderfully challenging time. Watch this brief video with Dr. Gottman discussing the BBH program here: https://youtu.be/e_hNCHEmB-o
Six SESSIONS - 5:30pm to 7:30pm (Pacific)
DATES for 2022 on Thursday Evenings:
January 6, 13, 20, 27 & February 3, 10
The Bringing Baby Home® virtual workshop takes place in the privacy of your home, over six (6) zoom sessions.
Only purchase ONE ticket, for the start date of January 6th. The ticket price (US $550) covers TWO indivduals (a couple) for the SIX session series and your materials (see exceptions).
ONLY BUY ONE TICKET PER COUPLE - $550 is your checkout cost!
*Please note, a minimum of three registered couples is needed to hold two hour sessions per evening. Less than three registered couples, the program is modified to one hour of instruction (4pm to 5pm pacific (7-8pm eastern)) with home extension of 60-minute couple exercises, to be prior to the following week's session. We will inform you within a week of class start, which version will be provided.
This workshop is dyadic! This means, you engage with your parenter in all activities, to gain practice together with new skills and tools. While in solidarity with other couples, think of this more as a "couples retreat," where you are both focused solely on each other. We provide time for breakouts to do activiites. Couples will be instructed  to mute/camera off, to have privacy when practicing the skills. 
As a couple you will both experience over 12 hours of learning and engage with each other (not the group) in exercises and activities to:
strengthen your couple and parenting relationship
improve couple communication
gain research based skills + practice them, to navigate conflict
learn about how to connect as a couple and a family
recognize emotions in baby and what baby is communicating
how to keep your intimacy and passion going post-baby's birth
how to cope with baby blues and identify post partum depression
the importance of the role of fathers and mothers 
Nicole Lako, LMFT and Maryellen P. Mullin, LMFT are certified Gottman Educators for the "Bringing Baby Home" program. This adult workshop is for couples who are expectant and/or new parents. 
Event Details
Workshop will be hosted on Zoom (USA Pacific Time Zone)

Please see dates above:

Space is limited to 10 couples to provide an optimal VIRTUAL workshop experience.

Attendance for all sessions is required.

BBH KIT (retails at $39.00 + shipping) IS INCLUDED with your ticket IF you register by December 17th and live in the continental US.

*If you purchase the workshop after 12/17/2021, you will need to purchase and pay for it directly from the Gottman Institute, shipped to your home.

*VIRTUAL KIT recommend outside of the US -*There is a BBH "electronic" kit available for purchase on the Gottman website that is downloadable (in lieu of a physical kit), and that is self-pay, not included with the workshop fee.
Cost 
The six session workshop cost of $550 covers:
A couple's (two people) registration. (Please note: If you want to avoid an Eventbrite fee, please contact us to arrange for an alternate payment option 415-335-6381). This workshop occurs in the Pacific Daylight Time Zone.

No Refunds, after purchase - 1. If you have an emergency and cannot attend after registration, you may apply towards a different workshop series. 2. If one person has to miss a session, please make sure the other partner can attend. 3. If both people have to unexpectedly miss a session, you will be given instructions on material covered, the homework and how to complete the activities).

BBH KIT (retails at $39.00 + shipping) IS INCLUDED with your ticket IF you register by December 17th and live in the continental US.

Please be sure you both can make all sessions. There are no recordings.
Bringing Baby Home® Educators
Maryellen P Mullin is the founder of San Francisco Family Therapy and Messy Parenting: Progress Not Perfection®. She is licensed as a Marriage and Family Therapist in California, (LMFT 45966). She is a Certified Gottman Therapist for couples. Her clinical experience includes work in pre-school through 12th grade educational settings, non-profit mental health agencies, as a school social worker and in private practice. Maryellen is Bringing Baby Home® Educator, through the Gottman Institute, a Prepare/Enrich facilitator and has specialized training in EFT (Emotional Freedom Technique), couples relationships, family systems, child trauma and attention/behavioral issues with children. Maryellen writes, speaks and provides trainings regularly to school and parent groups and community-based non-profits on parenting and child development topics. She provides parenting coaching and workshops: Messy Parenting: Progress Not Perfection ®.
Nicole Lako is licensed as a Marriage and Family Therapist in California (LMFT 46403) with a private practice in San Francisco and online. In her private practice, Nicole focuses on helping the individual (adult or child) build a strong, positive and healthy sense of self and relationships, in all aspects of one's life roles. Throughout the Bay Area, Nicole is an infant, toddler and PreK mental health consultant, working with teachers and parents at day care centers and preschools addressing the social, emotional and learning needs of children. She is a Bringing Baby Home® Educator, through the Gottman Institute, a Prepare Enrich Facilitator for couples and owner of Happy Couple After Baby, a coaching program for new and expecting parents who want to maintain connection, communication and happiness after the baby arrives and beyond. Nicole has brought two children home with her husband! Together they navigate the joys and challenges of parenthood with all the kindness, patience and humor they can gather.