Description
===Alert===Only 2 Tickets are left===Alert===
===Alert===Only 2 Tickets are left===Alert===
===Alert===Only 2 Tickets are left===Alert===
===Alert===Only 2 Tickets are left===Alert===
ALL INCLUSIVE Couples Retreat Valentines Day Dinner Cruise (Includes Non - alcoholic Drinks - alcoholic Drinks are NOT included)
EXCLUSIVE EVENT/// ONLY 75 COUPLES ON THIS CRUISE ///ONLY 75 TICKETS WILL BE SOLD
~ADULTS ONLY EXPERIENCE
- NO PASSPORT REQUIRED TO BOARD
You are invited to join us this Valentines Day for the best Valentine's Boat Party in our Area.
This Dinner Cruise boast panoramic views of the harbor, upscale dinner.
Please remember that once we sell out, we will not have any more tickets available. This event will sell out!
Thursday February 14th 2019 @ 7pm - 11pm
Cruise in comfort on one of Canaveral Cruises's luxury boats featuring air-conditioned lounges or party rooms. These rooms boast panoramic views of Port Canaveral and other local sights. The vessel has been newly remodeled for your cruising comfort, and has a full bar and lounge area, clean modern restrooms and a large activity/event room.
Bus Loading from Walmart SuperCenter 5991 South Goldenrod Rd Orlando Fl 32822
February 14th @ 5pm.
(Add Bus Ticket to Your Cart when Checking Out. 53 Seats available)
~ FREE PARKING ON SITE - If you decide to Drive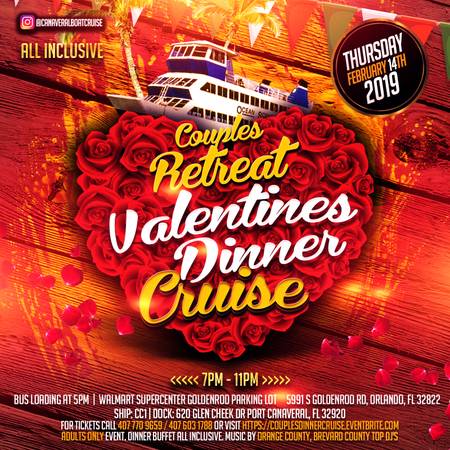 All Aboard
CANAVERAL CRUISE 1
Thursday February 14th 2019
7pm - 11pm
620 Glen Cheek Drive
PORT CANARVAL FL 32920
Our Valentine's Dinner Cruises include:
3-course meal (5 Entree selection, Stream or Grilled Veggies & selection of Rice, Pasta and Salads.

Complimentary Boarding Photo

One Long-Stemmed Rose Per Table

DJ Entertainment & Dancing

4-Hour Dinner Cruise
MENU
Appetizer
Carrot/Celery/ Red & Green Peppers
Hot Wings (blue Cheese Dressing)
Pumpkin Fritters
Cod Fish Cakes
Entree
Bourbon Chicken
Pepper Stake
Pull Pork
Jerk Chicken
Cod fish with Peppers and Onions
Sides
Rice Gandules
Fried Rice
White Rice
Vegi Lazanya
Steam Cabbage
Toss Salad
Potato Salad
Fried Plantains
*MENU SUBJECT TO CHANGE
* Cash Bar includes preimere Liquar, Wine, champagne & Beer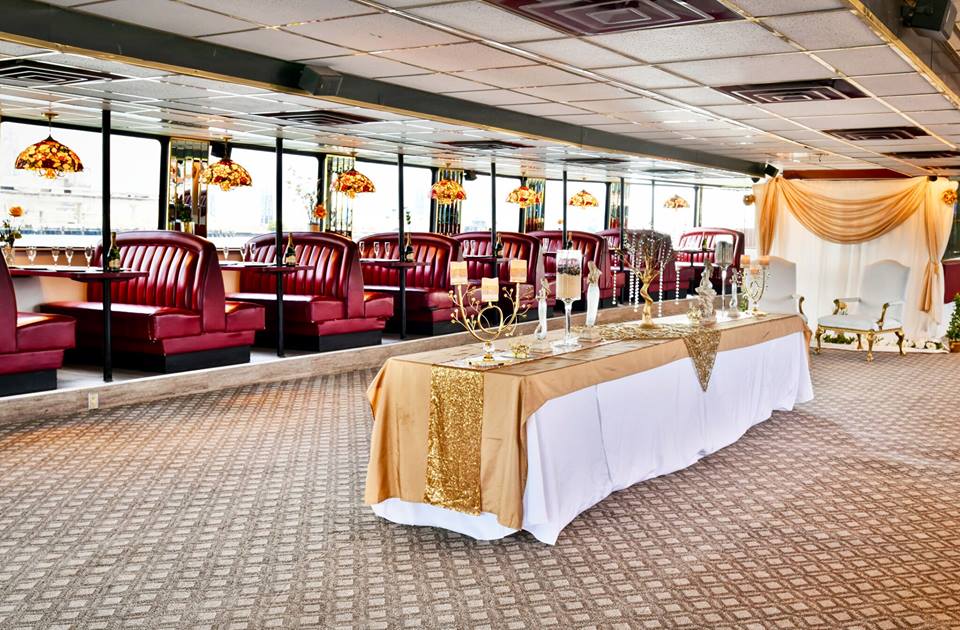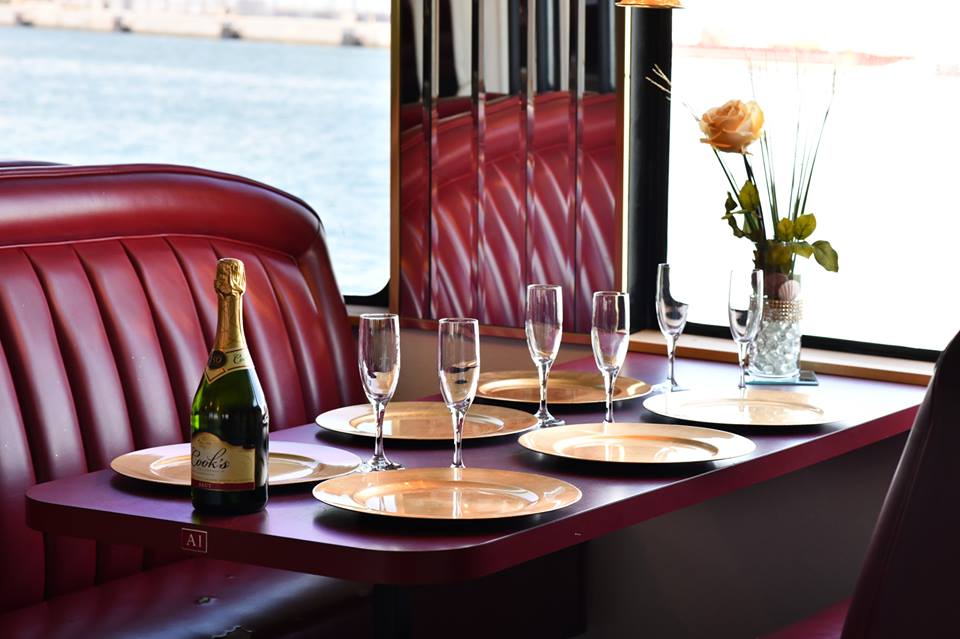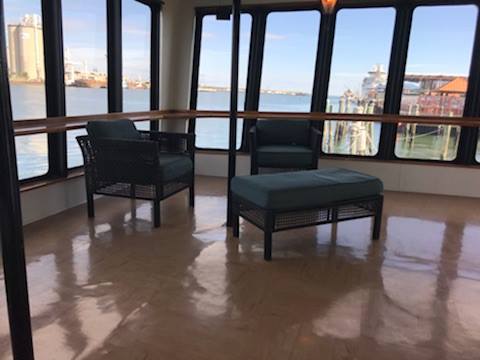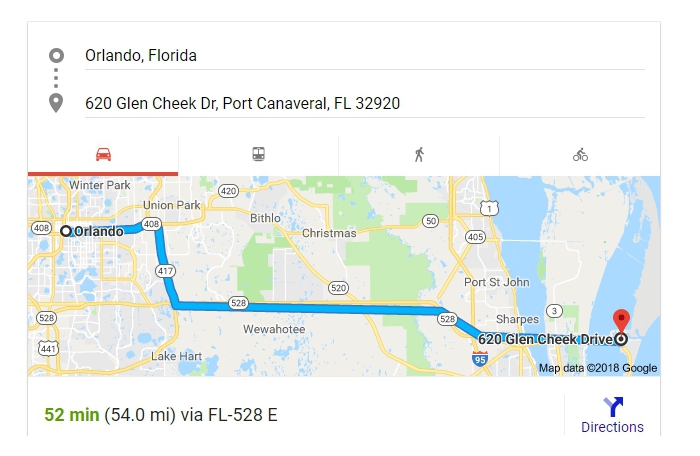 Only 52 Mins from Orlando to This Event.
FREE PARKING ON SITE!!
BOARDING @ 7:00PM
DEPARTING @ 8:00 PM
RETURNING @ 11PM
Get ready for Memorable Cruise.
Put on Your Best Outfit and
Come Out for a Cruise On the Bay.
Music By :
ORLANDOS HOTTEST DJ
Hip Hop - Top 40 - Soca - Reggaeton
Attire: Semi Formal (Dress to Impress)
Tickets are
Available Now!!
so act now
prices will go up.
For Info/Tickets/B-day Celebrations: call/text
Celebrate your birthday with us on a Cruise Boat. Calling all Scorpio's!! Discounted Rates for Party Groups. Bottles available! Celebrate in style!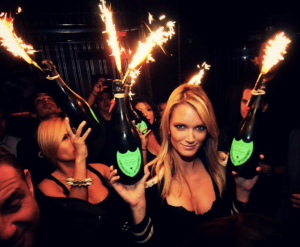 FOR MORE INFO CALL ANY TIME:
407 -770 - 9659
407 -603 - 1788
Email: Orlando.Advertising@gmail.com
*NO REFUNDS/ NO EXCHANGES / NO EXCEPTIONS*
Watch Promotional Video Here : https://youtu.be/RbkECpQ1voA