The Boyd Group & Brick House Realty presents the Couples In Real Estate BRUNCH, December 5th Sponsored by Jack Daniels Tennessee Honey
About this event
The Boyd Group and Brick House Realty present the Couples in Real Estate Brunch HOUSTON on December 5th at 11am featuring Mark & Andrea Wilson, Donovan & Dominique Boyd and Charles & Shamarah Hutchins. Special guest speaker "Wholesaling Expert" Nick Drake, Business Credit Strategist Tomika Young and Houston Residential & Commercial Realtor Chelsea Lester. Hosted/Moderated by Angel Jacobs of Hustle Is A Skill. This event is for anyone looking to grow in the real estate space and build generational wealth for their families. This event will go over the following topics:
REAL ESTATE – WEALTH BUILDING – WHOLESALING – REHABBING – OUT OF STATE INVESTING - BUSINESS CREDIT - INVESTMENTS - FINDING DEALS - NO MONEY INVESTING
The goal for this event is to educate you on the growing housing market, how to invest in your own backyard and around the country. If you're looking to become an investor or even a first-time home buyer this is an event you do not want to miss. Come out and network with industry leaders who have over 30 years of combined experience in the game.
Doors Open at 10:30am
Event Starts Promptly at 11am
Brunch will be provided by Taste of Cleveland & What the Sauce
Unlimited Mimosas sponsored by Jack Daniels Tennessee Honey
No Refunds Unless Event is Canceled
Meet Our Panelist:
Mark & Andrea Wilson "The Wilson's" are married to real estate. Mark is a successful entrepreneur and Andrea a former accountant for corporate America has built a life around real estate. Owning a real estate brokerage, running a construction company, investing in real estate, and teaching others how to invest a real estate are just a few of the many hats worn but the most important hat worn by the Wilson's is being a Mom & Dad to their 4 children and giving back to the community.
Donovan & Dominique Boyd started their real estate journey 12 years ago as homebuyers and transitioned that into a property investment business where they focus on buy and hold and property management. After being featured in Black Enterprise Magazine, the two have mentored countless people on how to navigate the home buying process, group economics and building residual income in the real estate space. Dominique, a licensed real estate agent and Donovan, a serial entrepreneur and author have 3 beautiful children who they take pride in showing them the business and the keys to financial freedom.
Charles and Shamarah Hutchins are graduates of Cleveland Heights High School class of 2003. Charles has a and Masters Finance. Shamarah has a bachelor's, Masters and completing her doctoral degree in Clinical Psychology. Charles and Shamarah's ultimate goal is to educate families on how to invest their money appropriately in order to build generational wealth for to come. To conclude Charles and Shamarah Hutchins believe the curse of generational poverty can be broken with time, knowledge and discipline.
Meet The Host:
Angel Jacobs, born and raised in Cleveland Ohio is a "freedom seeker". She has worked in Human Resources for over 20 years. As an HR Professional working specifically in recruiting & employee relations Angel found that her divine gift in life is to uplift people. In 2019 Angel lost her beloved brother, Michael D. Jacobs who left her with a list of lessons, one of them becoming her mantra in honor of him. Angel became an entrepreneur in 2019 creating HIAS ENTERPRISES LLC an Investment company, primarily in Real Efuturestate but first in Mindset. She launched an apparel line in honor of her brother called "Hustle is a Skill" in 2020 and vowed to live out the empowerment of the statement to not only honor the legacy but also give the power and authority to others to do the same! Angel would like for the world to be left with two impressions that greatest is among the inner workings of self and "HUSTLE is definitely a SKILL".
Guest Speakers
Nick Drake, Single father of 2 beautiful children Seanti (14) and Nick JR. (12). I got started in Real Estate in 2017 by wholesaling my first deal after purchasing a course on how to get into real estate without money or credit. After going to countless free classes and meetups throughout northeast Ohio I met some great individuals who were doing the exact same thing and we've done great business together only to become family. I remember working 4 jobs at one time to provide for my family only to find out that wasn't my calling, working that is. Once I connected with great individuals in the real estate arena, I noticed they were all sharp individuals who became so committed to this thing real estate that I knew if this was going to happen for me I had to develop a passion for real estate outside of the normal motivation of closings checks. For me real estate changed my life and for that I'm forever thankful God put the people in my path when the time allowed me to meet those great individuals who helped me scale my business to a 7-figure company.
Chelsea Lester, I am honored and grateful to be a Houston Baptist's University's, 2021 recipient of the TBHF Stewart Award, I cannot wait to serve and grow amongst the TBHF community. I am currently pursuing my MBA in Organizational Development and Change with the goal of growing my understanding of organizational design and becoming a successful change agent among organizations providing mental health services and resources to underserved communities. I am currently growing my company Building Bridges with Love to be a mental health resource that expands beyond the walls of the schools and serve Houston's underserved youth. In addition to Building Bridges, I am realtor and love educating all communities about the power of homeownership and equipping these communities with the tools needed to become a homeowner. Once completed, I desire to put my master's to use by becoming a professor at local college's, combining my interest and leveraging my network to help the students grow their minds and future career through exposure.
Tomika Young is a multi-six figure business strategist who specializes in helping entrepreneurs get their companies up and running. She has taught hundreds of budding business owners in more than seventeen different countries how to monetize their social media platforms, save money on their products by cutting out the middleman by taking trips to china, and make as much as half a million.Tomika's unique approach combines her inspiring ability to motivate students and passion for educating them about the art of building businesses through her in- person seminars, webinars, mentorship program, E-books, and sold-out international trips.Tomika's expertise has been featured in the media in Voyage LA, Times Herald & MSN. In September 2020, Tomika opened the doors to her self-named school, Meek University, in Vallejo, California. It will offer both free and paid classes on entrepreneurship to people within the community.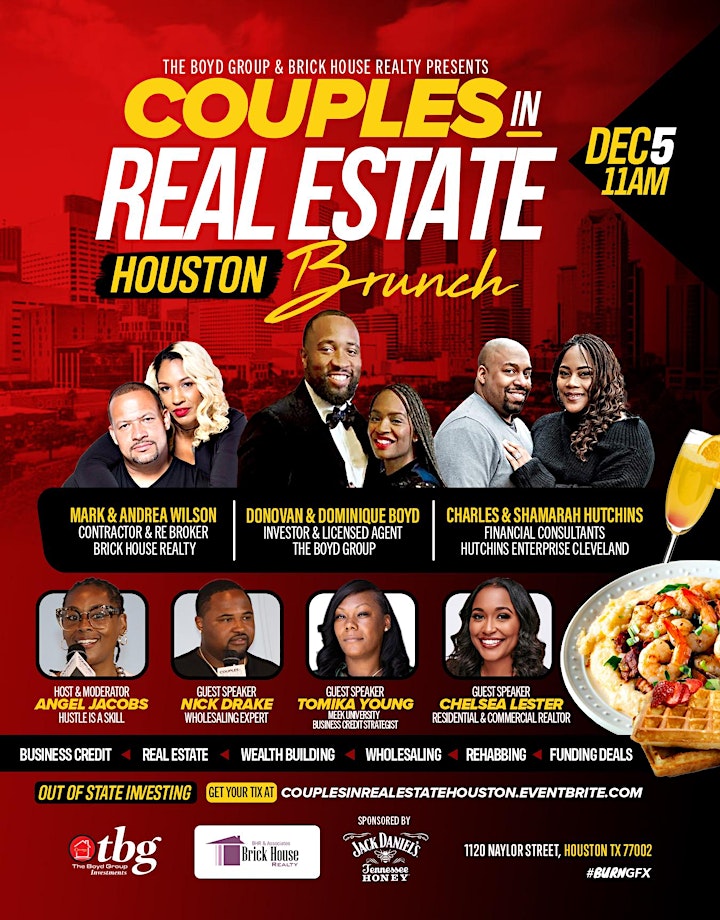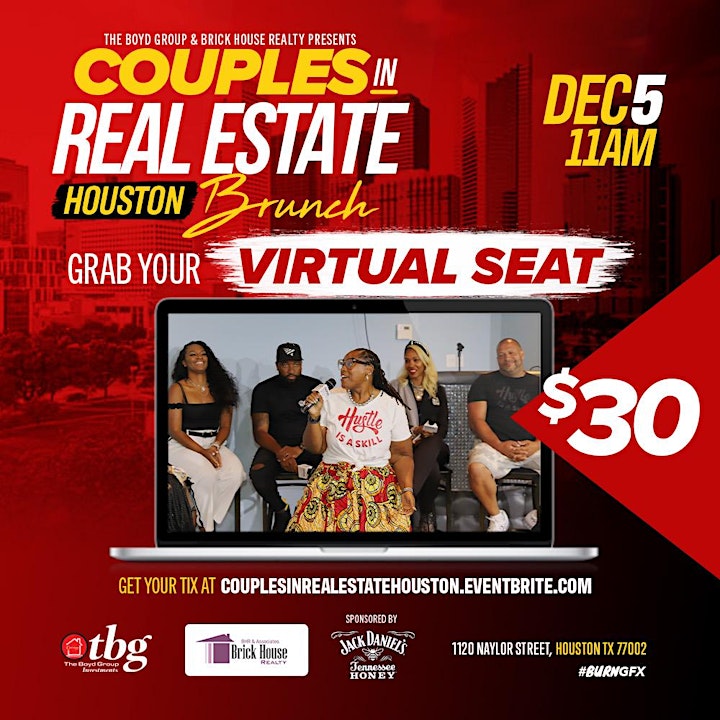 Organizer of Couples In Real Estate Brunch HOUSTON