Description
Black Love Events is partnering with The Alumni Group to bring you our first monthly Couples Brunch.
Join us Sunday Morning at our Rhythm & Brunch All-R&B brunch and day party. Rhythm & Brunch will feature your favorite slow jams while you enjoy the brunch food and drink specials you've come to love at our events. It's all going down on Sunday, 8/13, at Mist Harlem.
You're going to love it! The perfect date to set the week off.

***From 12-2pm brunch will be served in the restaurant from 2-7pm brunch will be served in the studio***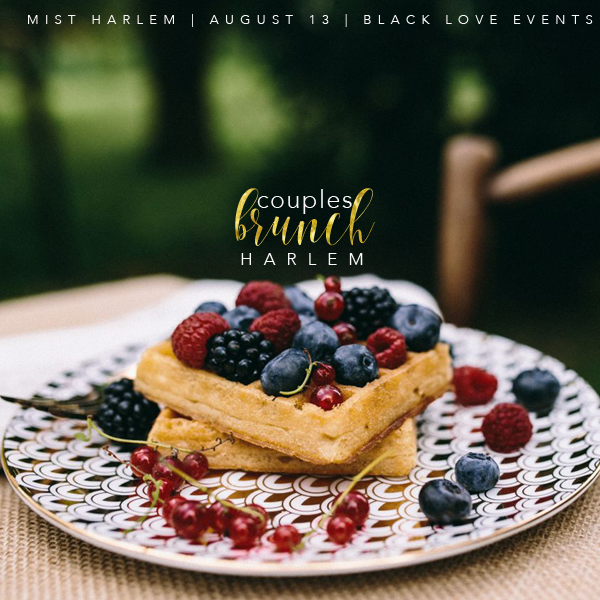 Mist Brunch Menu $35 Prix Includes Appetizer, Entrée and 90 minutes of bottomless brunch cocktails.
*Prices per item are for those who DO NOT wish to partake in the prix fixe menu*
-Starters Choice of One-
Caribbean Seafood Soup $10
Kale & Mixed Green Caesar Salad $7
Pholourie Vegetables with Chadon Beni Aioli $10
Entrees
Steak & Eggs With Crispy Potatoes $18
Barbecue Jerk Chicken Rice and Peas, Plantains, and Vegetables $15
Chicken & Waffles $17
Lemon Butter Shrimp with Crispy Coo Coo and Tomato Fondue $15
Butter Milk Fried Chicken Sandwich with Handcut Fries $15
Mist Burger With Handcut Fries $15
Curry Cauliflower with rice and peas, plantains, and vegetables $15
Sides
2 Eggs Any Style $4
Turkey Bacon $4
Pork Bacon $4
Home Fries $5
Sweet Potato Fries $7
Hand-cut Fries $7
Plantains $4
Extras
Fried Calamari $12
Cheese Fries $11
Add Jerk Chicken $4, Shrimp $5, Vegetables $4
Mac & Cheese $10
Bottomless Brunch Cocktails (1.5 Hours)
Mimosa
Tropical Bellini
Sangria (White or Red)
Champagne/Birthday Specials
Moet White Star $120 (2 for $200)
Moet Rose $150 (2 for $275)
Moet White Star & Bucket of Bubbly $10
Chandon Selfie Bottles $9 each, $40 bucket of 5
Find out more about our Partners here: Rhythm and Brunch