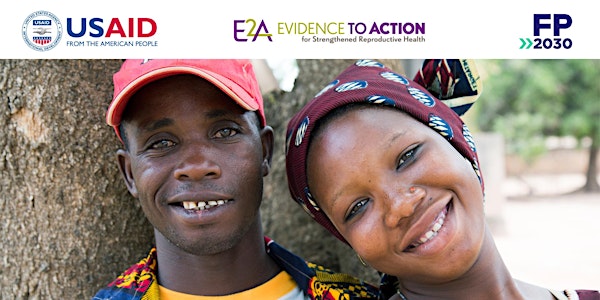 Couple-Focused Interventions: A Global Opportunity to Advance RH
Don't miss this technical exchange on couple-focused interventions in reproductive health!
About this event
Join the Evidence to Action (E2A) Project and FP2030 for a technical exchange on the potential of couple-focused interventions to accelerate progress toward achieving reproductive health goals. Get new evidence and insights about how couple-focused interventions promote communication and shared decision-making among young and older couples, and alter the perception of the male partner's role in family planning and reproductive health.
We'll Share Knowledge You Can Use
Insights on the effectiveness of couple-focused interventions in reproductive health
An analysis of key global health policies and how they address couple-based approaches
A new theory of change that can help program decision-makers and implementers be systematic in their approaches to couple-focused interventions, define and prioritize strategies, and monitor and evaluate specific interventions
Featuring…
Hosted by Cate Lane, Director for Adolescents and Youth, FP2030
Opening remarks from Patricia MacDonald, Senior Family Planning/Reproductive Health Technical Advisor at the Office of Population and Reproductive Health, USAID
Presentations from Eric Ramirez-Ferrero, Technical Director, E2A; Erica Mills, Program Officer, E2A; and Connie Lee, Senior Monitoring, Evaluation, and Learning Advisor, E2A
Panel conversation moderated by Michal Avni, Senior Director of Programs, The Iris Group, and featuring:
Afeefa Abdur-Rahman, Senior Gender Advisor & Team Lead, USAID
Giovanna Lauro, Vice President for Programs & Research, Promundo
Tabinda Sarosh, Country Director, Pathfinder International, Pakistan
Hosted by E2A, USAID's global flagship for strengthening family planning and reproductive health service delivery, and FP2030