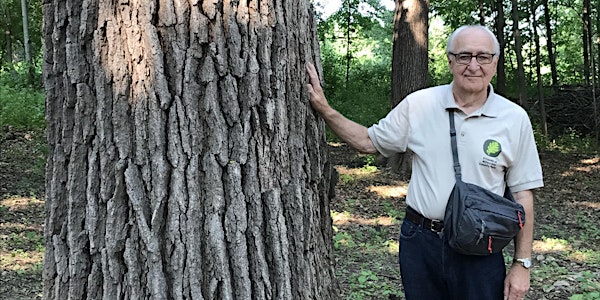 County Grounds Park / Sanctuary Woods - Forest Tour 8/20/2022 @10am
~1 mile free guided hike of Wauwatosa Sanctuary Woods and surrounding area
When and where
Location
Do not use this address - see directions embedded in event 8624 West Watertown Plank Road Milwaukee, WI 53226
About this event
**Important location information in bold below**
Get to know the magnificent big old native trees.
This tour will help participants identify and appreciate the most significant and handsome species in this remnant of "old growth" forest that survived the rampant deforestation of the 1800s. You will see fine large specimens of sugar maple, white oak, burr oak and basswood, many of them hundreds of years old. Also to be noticed are smaller trees, shrubs and ground cover.
Charlie Mitchell is a guy who loves the forest and has a lifetime of knowledge of trees and experience in woodlands to share. Living in Eagle River 1991 - 2013 he owned and managed an 11-acre woodlot. Charlie serves on the board of directors of Partners in Forestry, a forest management oriented non-profit organization with headquarters in Conover. He will reflect on the stewardship that will be needed to insure the health of the woods.
Charlie has co-led the Sanctuary Woods tree survey including thousands of trees - he will be able to show you the most majestic examples of trees in this forest.
Tours are free, donations are appreciated. The tour guides are volunteering in support of the non-profit Friends of County Grounds Park (initiatives include conservation, invasives removal, signage, trail building, and communications). Donations to the Friends group of any amount are appreciated and $4/person per tour is a wonderful value. If so inspired, donations can be made:
Again, these tours are free, any donations are based on your inspiration.
County Grounds Park has no formal address, but can be found and navigated to via Apple/Google/Waze Maps searching "Sanctuary Woods Parking". That parking circle is 0.5 mile north and west of 87th & Watertown Plank Road. Eventbrite requires an address, but this address only gets you close. The tour begins and ends at the parking lot in the center of the park, see park map at: www.countygroundsfriends.org
Dress for the weather, there are no onsite restrooms. Tours are suitable for people of all ages.
~1 mile, with regular stops. The paths are not suitable for mobility impaired. Special access tours can be facilitated by contacting the email below.
Friendly pets on leash are welcome .
Got questions? Send email to friendsofcountygroundspark@gmail.com