About this Event
Come paint with Jens Creative Painting with Artist Jen Beckwith at The Anthony D's, Milford, CT. Anthony D's is one of Milfords favorite hang outs. They offer a great bar menu and drinks. Come to paint @ 6:30 and stay to play trivia...trivia night are every tues at 8:30
Registration includes step by step painting instruction while enjoying food, drink, and friendship. All the needed supplies... Acrylic paint, 16x20 canvas, eisel, paint brushes and so on are provided.
This painting has all the country look we love. Ideas for this one, you can use a different color in background, maybe one that meets a certain motif. Intimidated by the flowers, then I have Ideas and techniques to create almost any idea you have, even just the jars alone are pretty. Make it your own, I encourage it, get out of your box and create. Its like hanging with your friends and doodling.
Drinks and food are purchased additionally at the bar or with waitress at the time of the venue.
Come early to check in, get some food and drinks, seating is first come first serve.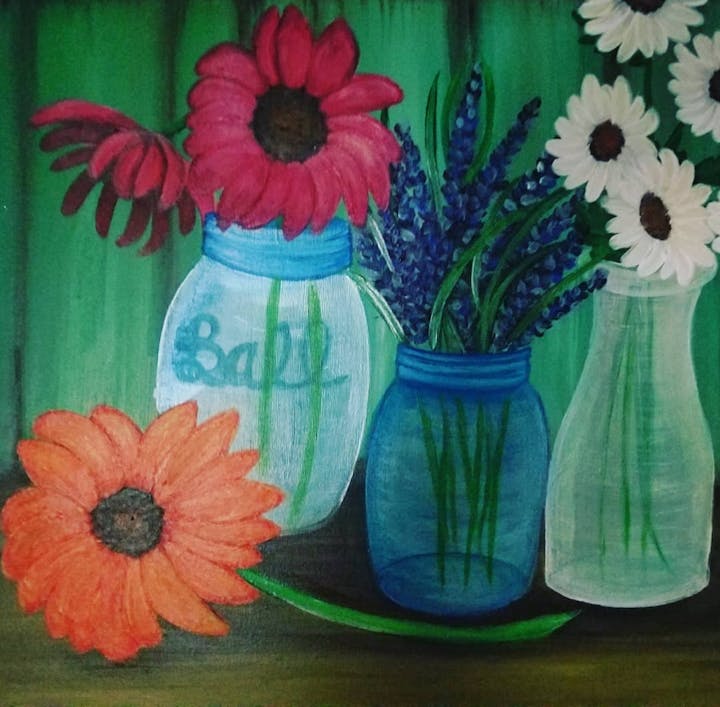 Country flowers in jars