Countersurveillance DiscoTech & Hackathon, Cambridge
When and where
Location
MIT Media Lab 75 Amherst Cambridge, MA
Description
The MIT Center for Civic Media Codesign Studio team is organizing, hosting, participating in, and supporting several countersurveillance DiscoTechs (short for "Discovering Technology" events) during the spring of 2014, mostly on March 1st and 2nd.
Cool! What's a DiscoTech?
Our DiscoTechs follow the model developed by the Detroit Digital Justice Coalition:
A DiscoTech is a community-based, community-organized, multimedia workshop and fair. At a DiscoTech, participants learn more about the impacts and possibilities of technology, and take part in fun, interactive and media-based workshops. Discotech workshops are designed to demystify technology and create a space where we can inform and engage our community [...] A Discotech utilizes the unique skills and expertise within each community, and morphs to adapt to changing needs. [See http://detroitdjc.org/zines]
Our countersurveillance DiscoTechs are free, open, multi-site events, with confirmed locations in Boston, San Francisco, Palestine, and additional locations TBA (as well as online). This registration page is for the Cambridge event.
What will happen at the Countersurveillance DiscoTechs?
At the countersurveillance DiscoTechs, we'll focus on creating welcoming spaces where a wide range of people (not just techies and activists!) will feel welcome exploring, learning about, and sharing each others' experiences with surveillance. At the same time, we're inviting community organizations, technologists, developers, and designers to come to the DiscoTechs to sprint/hack on projects together. There will be speakers and workshops. We'll dive in deep to understand surveillance tools, systems, and histories. We'll also get hands-on with tools and approaches that can strengthen our communities' privacy, safety, and security. We'll break down structural inequality in surveillance regimes that disproportionately target people of color, working people, immigrants, and activists. Our goals will be to understand surveillance in everyday life, and to work hands-on with community-based organizations to strengthen countersurveillance strategies and tools.
Awesome! How can I participate?
In Cambridge? We'd love to see you at the event. Just register above. A full list of locations can be found at the DiscoTech page of the Codesign website. If you don't see a place near you, we'd love to support you in starting one where you are!
---
Projects to be Hacked:
---
TBD, based on project partners and the codesign studio.
---
Hosts:
---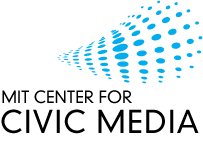 The MIT Center for Civic Media works hand in hand with diverse communities to collaboratively create, design, deploy, and assess civic media tools and practices.

OpenITP improves and increases the distribution of open source anti-surveillance and anti-censorship tools by providing the communities behind these tools with many kinds of support.



RightsCon features thought leaders, highlights emerging voices, hosts strategy and implementation sessions, and provides opportunities to showcase new strategies and initiatives.
---
Note for Technical Folk:
---
We are all used to going to events designed for us as activists, as hackers, as designers. We get great things done when we're around people we share a language with, and who "get it." But we also need to talk to users who come from different backgrounds. It is important to spend time with people who are unlike you, to be sure the futures we build are more accessible. We all need specific things our usual crowd can't provide - and similarly, you provide skills others don't have at their disposal.
---
Agenda
---
See http://surveillance.hackpad.com