Join us for a panel discussion and virtual open house to celebrate the launch of Counterpoints!
About this event
Counterpoints combines work from within the Anti-Eviction Mapping Project (AEMP) with contributions from dozens of local artists, organizers, scholar-activists, and residents—from longtime community members who have been fighting multiple waves of racial dispossession to elementary school youth envisioning decolonial futures.
As an atlas co-created with community, Counterpoints expands knowledge on displacement and resistance in the Bay Area with, rather than for or about, those most impacted. With over 225 illustrations, photographs, and data visualizations; and 120,000 words of essays, poetry, oral histories, and more, Counterpoints is full of data to get organized around; stories to be inspired by; and essays and artworks to imagine a more just future with.
This atlas is the work of many hands over many years. To celebrate the launch of Counterpoints, the Anti-Eviction Mapping Project is hosting a virtual launch party featuring a panel discussion reflecting on the promise and pitfalls of the atlas, followed by an interactive open house where attendees can learn more about AEMP's ongoing work.
Corrina Gould (Lisjan Ohlone) is the chair and spokesperson for the Confederated Villages of Lisjan​— she was born and raised in Oakland, CA, the village of Huichin. A mother of three and grandmother of four, Corrina is the Co-Founder and Lead Organizer for Indian People Organizing for Change, a small Native run organization that works on Indigenous people issues and sponsored annual Shellmound Peace Walks from 2005 to 2009. These walks brought about education and awareness of the desecration of sacred sites in the greater Bay Area. As a tribal leader, she has continued to fight for the protection of the Shellmounds, uphold her nation's inherent right to sovereignty, and stand in solidarity with her Indigenous relatives to protect our sacred waters, mountains, and lands all over the world.
Her life's work has led to the creation of Sogorea Te' Land Trust, a women-led organization within the urban setting of her ancestral territory of the Bay Area. Sogorea Te' Land Trust works to return Indigenous land to Indigenous people. Based on an understanding that Oakland is home to many peoples that have been oppressed and marginalized, Sogorea Te works to create a thriving community that lives in relation to the land. Through the practices of rematriation, cultural revitalization, and land restoration, the Land Trust calls on native and non-native peoples to heal and transform legacies of colonization, genocide, and to do the work our ancestors and future generations are calling us to do.
Tony Roshan Samara is the Program Director of Land Use and Housing at Urban Habitat, in Oakland, CA. In that role, he supports organizing and advocacy campaigns for housing justice in the Bay Area and across the state. Since 2014 he has been involved with the growing tenant movement across the Bay. Currently, he coordinates a regional tenant organizing network, comprised of over 25 member organizations across seven counties, and serves on the planning committee of California Renter Power, a statewide network that convenes tenant organizations from across the state. At Urban Habitat he has authored or co-authored two reports, Race, Inequality and the Resegregation of the Bay Area (2016) and Rooted in Home: Community-Based Alternatives to the Bay Area Housing Crisis (2018).
Tony has been involved with the Right to the City Alliance since its founding in 2007 and currently serves on the Alliance's national steering committee. He is also a co-coordinator of the California chapter of Homes for All, the national housing justice campaign launched by Right to the City in 2011. He is the principal author of Rise of the Renter Nation: Solutions to the Housing Affordability Crisis, Right to the City's 2014 report about the ongoing housing crisis in working class communities and communities of color.
Tony has a PhD in Sociology from the University of California, Santa Barbara and an MA from the Graduate Center at the City University of New York. Before joining Urban Habitat, he was an associate professor of sociology at George Mason University. His early research focused on Cape Town, South Africa and the reproduction of race and class inequality from the apartheid era through the democratic transition. Later he expanded his work to examine comparative urban development in South Africa, China, and India. His concern with this research was on urban inequality and the marginalization of low-income communities, with an emphasis on housing, gentrification, and displacement.
Mauricio Quijada was born in El Salvador and migrated to San Francisco when he was 8 years old in the early 80's. He grew up in the Mission District. As many working-class immigrant youth of color did in that time, he took part in street activities – both for protection and as a response to economic realities. When he was in his early 20's, he worked as a Teacher's aid at Real Alternatives Program (R.A.P.) High School in the Mission, and began his own journey away from the streets toward community power building. In 1999, he along with other youth,
began the process to found a new organization for the youth in our neighborhoods, Homies Organizing the Mission to Empower Youth (HOMEY). Now, he runs HOMEY's social enterprise, Native Graphix, designing and hand screen-printing shirts and other clothing for sale, producing revenue to support youth programming.
Toshio Meronek's writing on the Bay Area, housing, prisons, and queers appears in publications such as In These Times, The Nation, and Truthout, and anthologies including Captive Genders: Trans Embodiment and the Prison Industrial Complex and Trap Door: Trans Cultural Production and the Politics of Visibility. Their next project is Miss Major Speaks, a collaborative book with activist Miss Major.
Webinar participants will have the opportunity to engage in any of the hands-on breakout sessions listed below:
Collective Mural Design Workshop
A space to get hands-on experience in a collective mural design process. Our themes will focus on creative integration of what has emerged for you through the Counterpoints launch and panel discussions. Bring paper and pencil (or any drawing supplies).
COVID-19 Mapping & Oral History
"In the COVID-19 Project breakout room we will reflect on the power of storytelling in addressing four key themes: Eviction, Debt, Retaliation, and Action. We will introduce you to the AEMP COVID-19 Project (its intention, design, and infrastructure) and then listen to one of the interviews we collected during the earliest stages of this project. By doing so, we hope to encourage others to join us in collecting stories of tenant resistance and experiences, at a time when these stories need to be heard and engaged most."
Evictorbook Tool for Tenant Organizing
In this workshop, members of the Anti-Eviction Mapping Project will share a tool that they've been developing for two years: Evictorbook. Evictorbook has been developed in collaboration with the Anti-Displacement Coalition in San Francisco in order to create a look-up tool for tenants and tenant organizers. Bringing together eviction data, parcel ownership data, and corporate ownership data, users can look up addresses of shell company landlords to see all other properties and evictions associated with that landlord, and how the landlord's various companies are connected. While the tool has been private and password protected for the last year, we are now launching a public version. This will be shared with workshop attendees as we demonstrate how to use it.
Artwashing in Boyle Heights: Documenting Resistance
The Los Angeles chapter of AEMP and members of what was formerly known as the Boyle Heights Alliance Against Artwashing & Displacement created a website and map to document the movement against gentrifying art galleries and real estate developers in Los Angeles' Boyle Heights neighborhood. These struggles and protests began in Boyle Heights in the 2010s to highlight the role that the collaboration between city development plans and art galleries plays in gentrification of the city. One of the key functions of artwashing is the way gallerists double as proxy real estate developers while city agencies and other interested parties encourage the redevelopment and "cleaning up" of working-class communities. As galleries began to open in Boyle Heights in the mid 2010s—from Nicodim to PSSST to 356 Mission—their spaces contributed to the criminalization of Boyle Heights community members and exacerbated the real estate speculation, rent increases, and evictions of longtime tenants in pursuit of a higher-paying base. Creators of the map will present more about the process of collecting historical knowledge of the protests and discussion of current pressures in Boyle Heights.
(Dis)location: Black Exodus Zine and Website
(Dis)location: Black Exodus was a print zine that began in 2017, as a repository for storytelling about the past, present, and possible histories of San Francisco as experienced by Black residents and allies. Join us to reflect on the process of creating an archive of community-powered histories. We'll also discuss the project's next iteration as an interactive, digital resource for educators and activists. The zine is now available at two Bay Area bookstores: Moments Co-op in Oakland and Green Arcade in San Francisco.
Counterpoints is being published by Friends of PM, the 501(c)3 nonprofit wing of PM Press, an independent publisher based in Oakland, CA. Place your pre-orders here:
https://www.pmpress.org/index.php?l=product_detail&p=1140
Special thanks to the San Francisco Arts Council for their generous support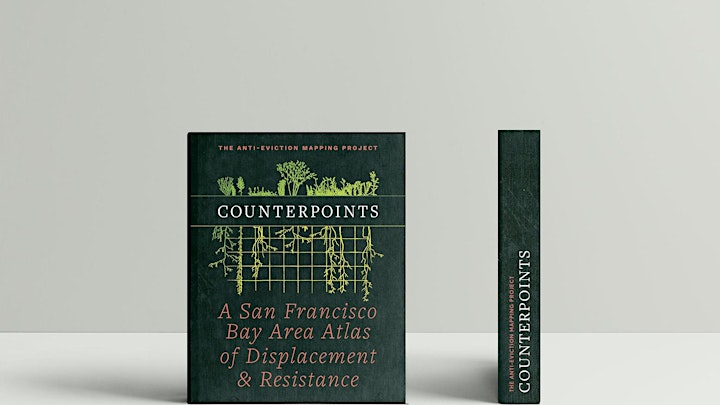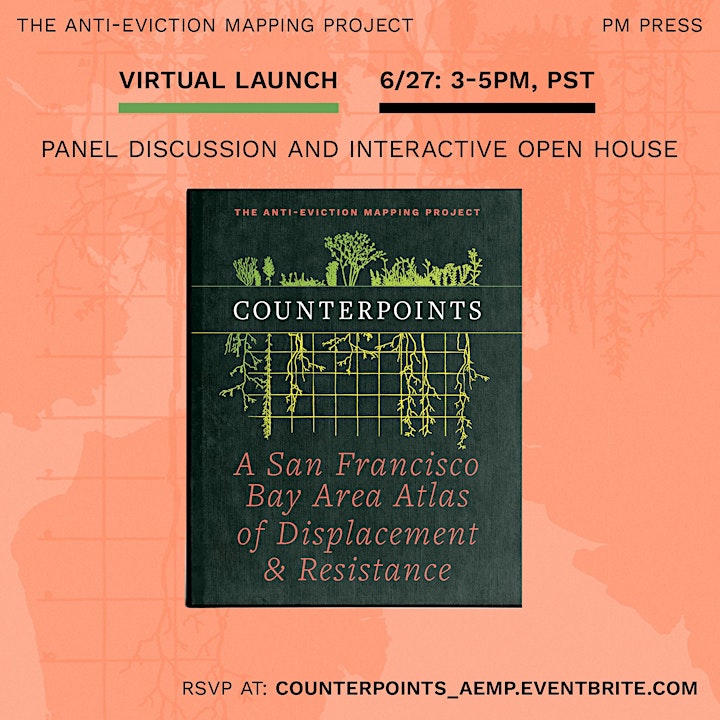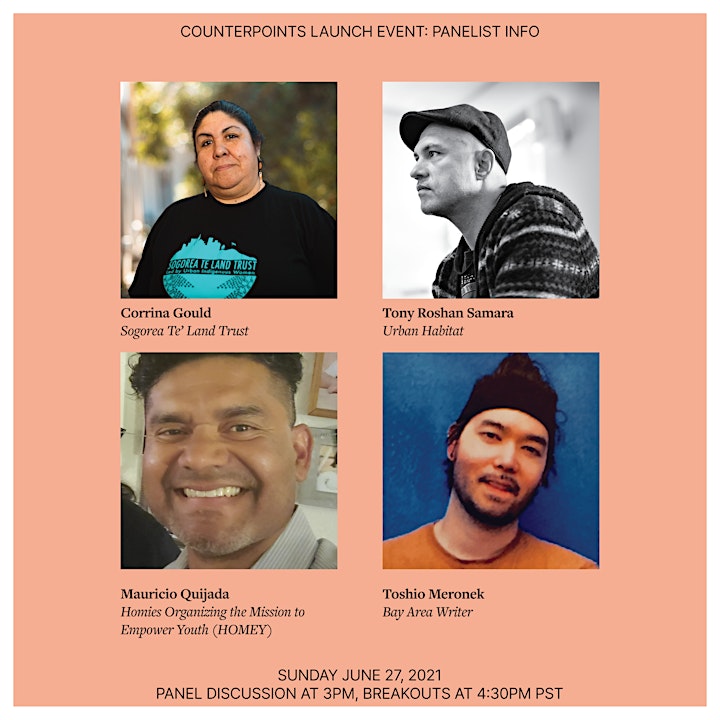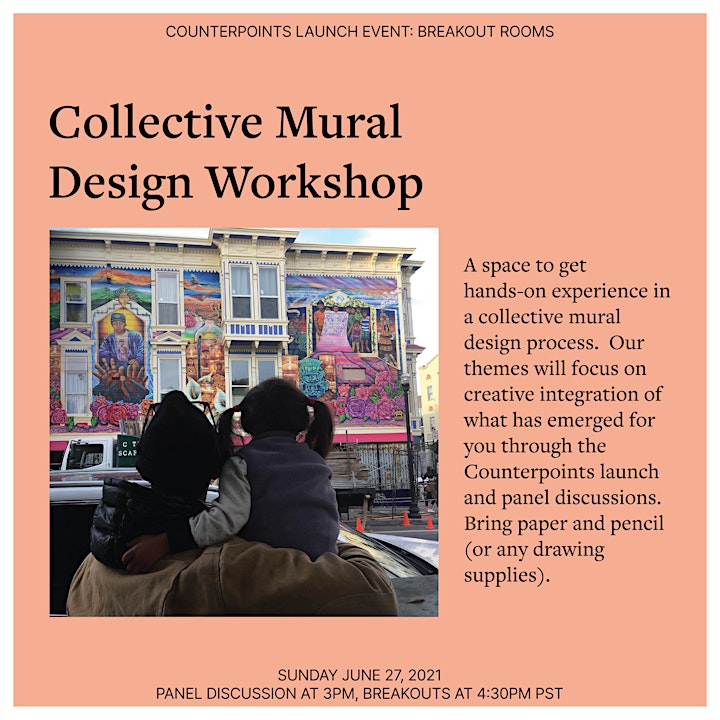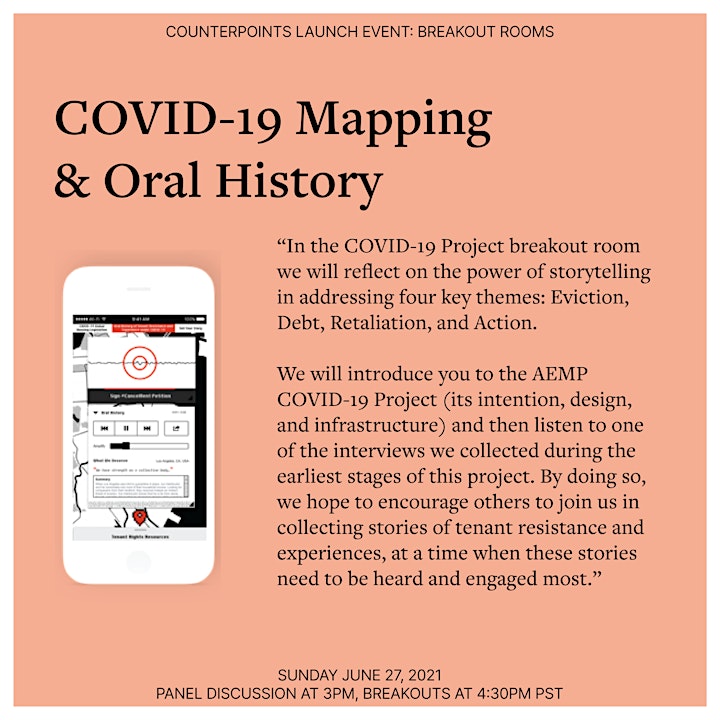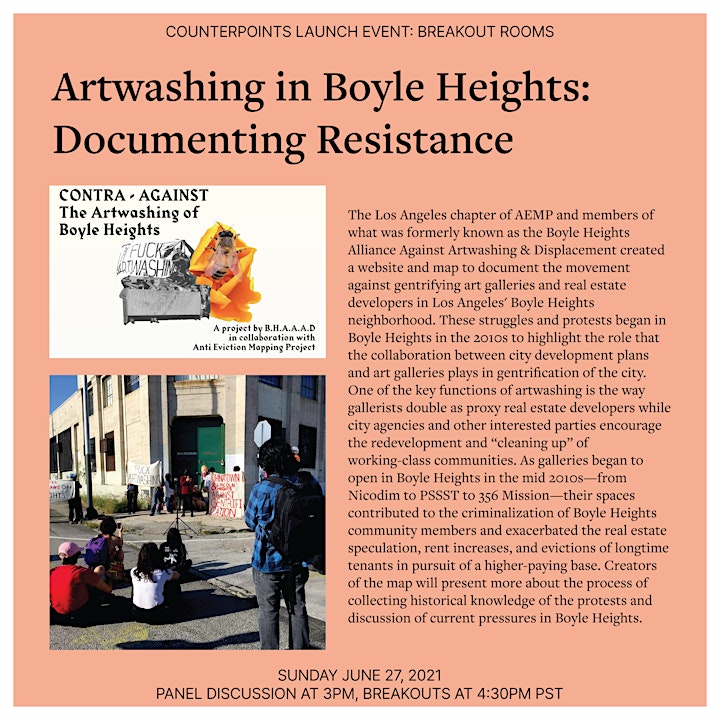 Organizer of Counterpoints: An Atlas of Displacement and Resistance