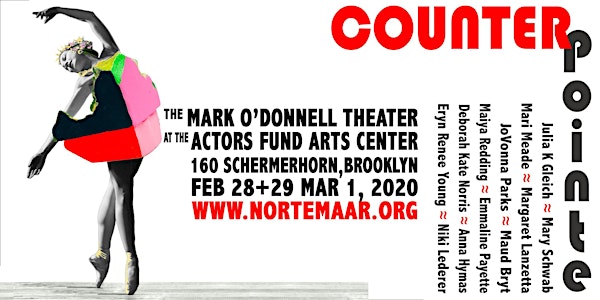 Multiple dates
CounterPointe8: new work by women choreographers & collaborating women artists
Date and time
February 28, 2020 · 7:30pm - March 1, 2020 · 5:30pm EST
Location
The Mark O'Donnell Theater 160 Schermerhorn St New York, NY 11201
Refund Policy
Refunds up to 7 days before event
Description
new work by women choreographers
and their collaborating artists
Fri, Feb 28 at 7:30pm
+ Post Performance Cast Party
Sat, Feb 29* at 7:30pm
+ Post Performance Q&A with guest moderater
Sun, Mar 1 at 4pm
*As we mourn the loss of past artist collaborator, Sarah Bednarek (CP '16 collaboration with choreographer Ursula Verduzco), we will dedicate the February 29th performance to her memory... and her birthday.
General Admission: $25 / Students+Seniors $20
The Mark O'Donnell Theater at the Actors Fund Arts Center
160 Schermerhorn Street, Brooklyn
Directions by Subway:
A, C, G Train to Hoyt-Schermerhorn. 2, 3 Train to Hoyt Street
Collaborating choreographers and artists:

JoVonna Parks with Maud Bryt
Maiya Redding with Emmaline Payette
Mari Meade with Margaret Lanzetta
Julia Gleich with Mary Schwab
Eryn Renee Young with Niki Lederer
And London CP Alumna
Deborah Kate Norris with Anna Hymas
CounterPointe image designed by Jason Andrew featuring artwork by Mary Schwab. Used by permission. All rights reserved.
Produced by Norte Maar

In collaboration with Brooklyn Ballet | www.brooklynballet.org


This program is supported, in part, by public funds from the New York City Department of Cultural Affairs in partnership with the City Council.
---
About CounterPointe
Brooklyn, NY—Norte Maar in collaboration with Brooklyn Ballet presents CounterPointe, the annual curated performance series featuring women choreographers making new work on pointe. Series will run three nights at The Mark O'Donnell Theater at the Actors Fund Arts Center (160 Schermerhorn Street, Brooklyn, NY).
CounterPointe is an annual performance series dedicated to presenting the latest experimental, innovative, risk-taking choreography that shows a depth of investment in ballet by women dance makers working with the pointe shoe. Investigating new and old territory the series highlights new work, opening up discussion, and creating a forum for women, young or old, emerging or established, to take risks. Since 2016 Norte Maar has paired choreographers with visual artists, presenting their new collaborations at CounterPointe.
Dance and art luminaries who have moderated a panel discussion following Saurday's CounterPointe have included Karole Armitage, Ashley Bouder, Antonia Franceschi, Claudia Jeschke, Kat Wildish, Gabrielle Lamb, and Kathryn Posin. In 2018 award-winning artist and writer Sharon Butler led the discussion. Stay tuned to find out who will lead a talk back with choreographers and their collaborating artists following the Saturday February 29 performance of CounterPointe.
The series made its inaugural presentation in Brooklyn at the Actors Fund Arts Center in 2012. In June 2013, the series made its London debut at the Broadway in Barking.
I remember one of my first ideas in these early punk pointe pieces was to think of pointe shoes as weapons. – Karole Armitage, 2013 CounterPointe Panelist
I think what you are doing is fantastic for the continuation of the exploration of choreography on pointe. – Susan Jaffe 2012 CounterPointe guest choreographer
Past choreographers include:
Julia K. Gleich/Gleich Dances
Lynn Parkerson/Brooklyn Ballet
Sheena Annalise/Arch Contemporary Ballet
Nikki Hefko
Brenda Neville
Janice Rosario
Ursula Verduzco
Alexa Valentine
Eryn Renee Young/XAOC Contemporary Ballet
Briar Adams/Hack Ballet
Carys Applebee
Deborah Kate Norris
Jennifer Jackson
Marie Renee Bennett
Eve Chan
Emily Bufferd
Susan Jaffe
Morgan McEwen/MorDance
Sophie Adams/Aisling Cook Ballet Ensemble London
Mishi Castroverde
Kristin Draucker
Kayla Harley
Jennifer McGinn
Katie Rose McLaughlin
Melissa Padham (Brooklyn Contemporary Ballet Collective)
Donna Salgado
Elisabeth Schilling
Genevieve Grady
Brandi Marsh
konverjdans
Margaret Wiss
Dasha Schwartz
Zhong-Zing Fang
Courtney Cochran


Past artists include:
Rachel Beach
Sarah Bednarek
Amanda Browder
Kara Daving
Michelle Forsyth
Noël Hennelly
Elana Herzog
Leslie Kerby
Emily Noelle Lambert
Courtney Pucket
Lizzie Scott
Cornelia Thompson
Jessica Weiss
Melissa Dadourian
Audra Wolowiec
Karen Schifano
Priscilla Fusco
Liz Atz
Lindsay Packer
Jeri Coppola
About the organizer
Norte Maar for Collaborative Projects in the Arts is a 501(c)3 non-profit arts organization founded in 2004 by curator Jason Andrew and choreographer Julia K. Gleich with a mission to create, promote, and present collaborations in the disciplines of the visual, literary, and the performing arts: connecting artists, choreographers, composers, writers, and other originating artists with venues and each other. Norte Maar encourages and supports innovative and educational projects in the arts by offering unique exhibitions, unusual performances, workshops and lectures for artists and residents of our community. Norte Maar aims to be a leader in building collaborative partnerships between originating artists and other organizations thereby uniting cultural forces to foster artistic expression and raise the imaginative energy in us all. Norte Maar is all about blurring the lines that distinguish artistic practices.