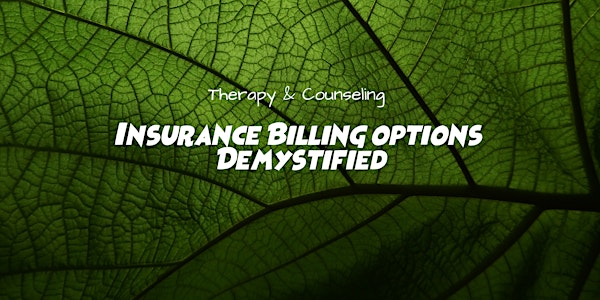 Multiple dates
Counseling Insurance Billing Demystified
1 hour presentation Insurance Reimbursement, out-of-network billing, deductibles and superbills all explained in one area.
Date and time
Sat, Jan 1, 2022 6:00 PM - Tue, Dec 12, 2023 10:00 PM PST
Refund Policy
Contact the organizer to request a refund.
Eventbrite's fee is nonrefundable.
About this event
1 hour presentation
Insurance can be so intimidating. This is done on purpose by insurance companies to keep you "in network" which makes them money. Most people don't go anywhere if their insurance can't be charged directly because it's hard to understand how it all works, and how to get started.
In this info course we cover:
Why should you even bother with reimbursement?
Insurance terms demystified
Ways to pay for counseling
Why would a counselor not take insurance?
How to choose the best billing option for you
How to check your Insurance network options
How to verify your benefits
File a claim Form. Step by step explanation
Budgeting for therapy
About the organizer
Villain Esteem strives to create a place where people can get information about mental health and counseling through helpful articles and podcasts. While also providing affordable courses on various mental health aspects like how technology affects mental health, and thought-challenging skills, for people who can't afford to go through formal therapy or can't due to lack of resources like being rural or an inability to find a good therapist fit.
We promote resilience and empowerment of individuals by creating a more inviting, relatable informational platform that increases accessibility for all people. A place for the misunderstood. For the people who want to break societal standards and confront who they want to be, and discard what someone says they should be. For the people who can't find what they need in the self-help sections.
The name Villain Esteem comes from the idea of radical acceptance. We all have light and dark sides to us. A hero and also a villain. We are here to embrace all sides of ourselves to be the Roger Banister of Mental Health. Who doesn't relate to the Villain of the story every once in a while? There's a Villain inside of everyone. The choices you make determine who you become, not what you're capable of. Accepting your Villain as part of your Self-Esteem, allows you to unlock a Level Self-Insight that was previously locked for you.