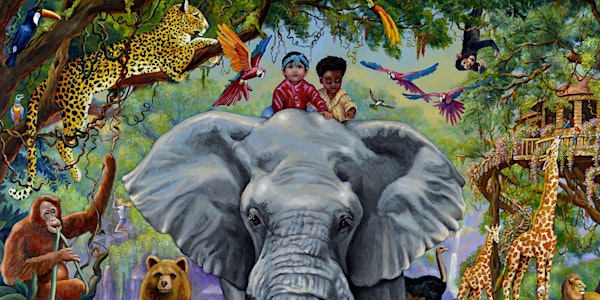 Council of All Beings
Connect to the Guidance the Earth has for YOU!
About this event
What quality is most needed in your Life, at this time of Deep Transformation upon the Earth?
Join Matthew Kocel, Throat Singer/Sound Healer and Sofia LightJewel, Empowered Love Coach and Healer, for a healing evening of connection to the wisdom of nature.
The Earth holds wisdom and guidance for you.
Step to new levels of connection, presence, and love. The evening has two parts, the Sound Healing and the Council.
The primordial sound vibration, guided by an intelligence that is everywhere and in all things, organizes energy into form.
Through the conscious application of sound as a tool for transformation, we can access the core part of ourselves that knows everything is connected; all is one.
Matthew's musical approach to sound healing includes hauntingly familiar melodies and tones that bypass mind chatter, emotions, blockages and touch that core of your being.
This core is where perfect balance and connection exist. From this place healing can occur.
Regardless of your ancestral lineage, if we travel on our DNA chain back in time we will find our ancestors gathered around a fire chanting and singing to access expanded states of consciousness.
The ancient medicine people used sound and music to help us heal our bodies, communicate with nature, and make contact with the spiritual realm.
The Council of all Beings is an opportunity to come together to remember your connection with all life, and allow a Being of Nature; an animal, a plant, a crystal, an element... to guide you forward into what is most needed at this time. Knowing that your message will also benefit the greater whole.
This virtual gathering will be on Zoom.
** Given the current global situation and its potential financial impact, we are offering a SLIDING SCALE $15-$50 using the honor system. SUGGESTED $20.
Upon registration, you will be provided with your opportunity to invest what calls to your heart.
"Imagine. Before you were born you were just a little spark of light connected to the creative force of the universe. You looked down on this great earth. What a beautiful planet filled with wondrous life forms.
You started to ponder the possibilities of life on earth.... Do you remember the preciousness of life and that all life was created to experience love, light, joy, harmony, peace, equality, and abundance for all?
If you can feel this in your bones, then you know it is true. If you cannot, do not despair for I will help you to remember. We are a community of people who can gather our spiritual light and energies together to remember and to create a wondrous life for all living beings.
We must remember our vision and then focus on it and hold the vision together. This is how we thrive together in changing times."
- Excerpt from How to Thrive in Changing Times by Sandra Ingerman
In love, unity, and cooperation,
Matthew Kocel & Sofia LightJewel