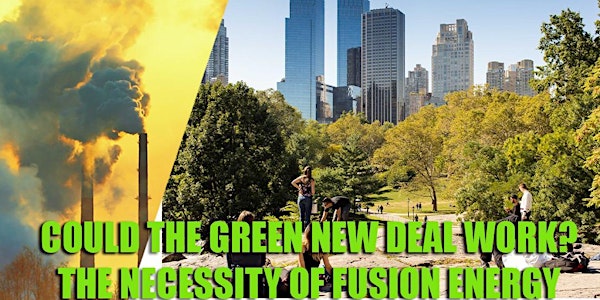 Could The Green New Deal Work? The Necessity of Fusion Energy.
Greater New York Mensa, as part of our public lecture series, presents: "Could the Green New Deal Work? The Necessity of Fusion Energy"
When and where
Location
1204 Broadway 1204 Broadway New York, NY 10001
About this event
Presentation by Ivy Karamitsos and Eric Lerner from LPPFusion, a New Jersey based clean-energy R&D company, which is developing a revolutionary new source of energy called "Focus Fusion". Focus Fusion is LPPF's approach to fusion power that uses a dense plasma focus device and hydrogen-boron as its fuel. In this free lecture open to all who are interested, come learn how the future of "Green Energy" will involve much more than just wind and solar.
-The Green New Deal proposes massive investment by the government in infrastructure that meets our needs for a cleaner environment and healthier life, by making a transition from fossil fuels to pollution-free, safer, and cheaper energy sources. But is this technically possible? Ivy Karamitsos, Director of Communications for LPPFusion, will show why solar and wind alone can't replace fossil fuels, and how fusion energy could make the Green New Deal work. While one approach to fusion energy has taken decades, other approaches could succeed in the next ten years. Such new approaches could lead to a safe and clean energy source that is cheaper than any existing today. LPPFusion Chief Scientist Eric Lerner will be available for technical discussions regarding the latest fusion energy research devices.
Location & Time: NomadWorks Annex, 1204 Broadway, NY, NY, 2nd Floor, (between W30th and W29th Streets, near Herald Square), May 30th, 7:00 - 9:00 PM.
If you have any questions, please email the event's organizer: David Szalyga at david.szalyga@bod.gnym.org
Speaker Bios:
-Ivy Karamitsos has been with LPPFusion since 2010 as Director of Communications and Chief Information Officer, overseeing and implementing its IT operations ranging from proprietary DB development, to a social media outreach. She lead the WeFunder crowdfunding campaign project that succeeded in reaching near $1 million dollars from 400 international investors by creating short videos that explain the latest developments in fusion and what it means for our environment and health, along with how it works.
-Eric Lerner, President and Chief Scientist of LPPFusion, has been active in fusion research for 35 years. He has developed detailed theories of the functioning of the plasma focus fusion device. For the past ten years, he has led the research team in Middlesex, NJ that has demonstrated record fusion temperatures more than 200 times those in the center of the sun. This research was published in leading peer-reviewed journals. His research is closely connected to studies of plasmas in the universe and he is the author of the book "The Big Bang Never Happened".