Nationally-ranked BYU Cougars are coming to Washington!
About this event
Show your true-blue BYU pride and join us for the BYU vs. WSU Football Game on October 23, 2021!
Cougars look better in blue! You've always known it, but now you can show it at the BYU vs. WSU game on Saturday, October 23rd. Kickoff at 12:30 p.m. Pacific Time. We're going to fill the Palouse with blue! Get your tickets for the exclusive BYU Cougar section now before they're all gone!
*All proceeds above costs will help pay for local inland northwest students to attend BYU.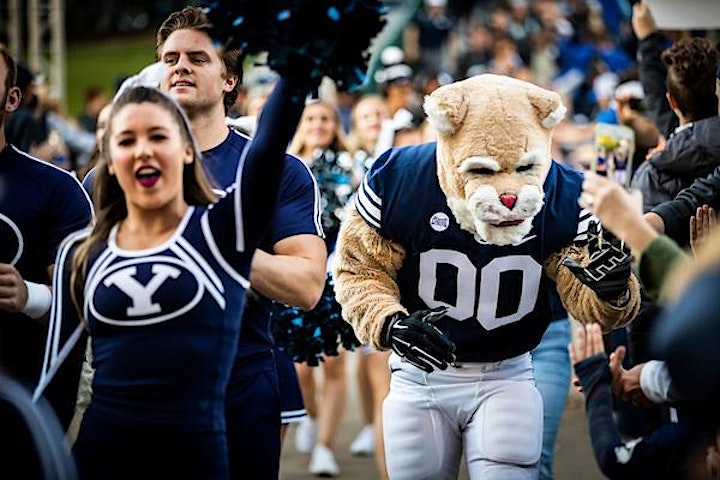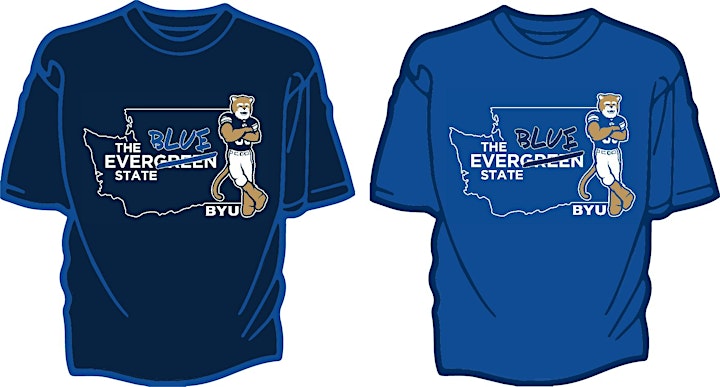 Custom Game Day T-Shirt:
To commemorate this historic meeting between the BYU Cougars and the WSU Cougars, purchase your limited edition "Everblue State" t-shirt. Pre-sales have ended, but a limited supply will be available for sale at the Cougar Country Tailgate for $20.. Venmo payments only. The Cougar Country Tailgate will be at the Gladish Community Center (115 NW State Street, Pullman). The tailgate party is sold out, but you can stop by to purchase a shirt.
What else?
Who needs a ticket?
All fans ages 2 and up need a ticket to enter the stadium.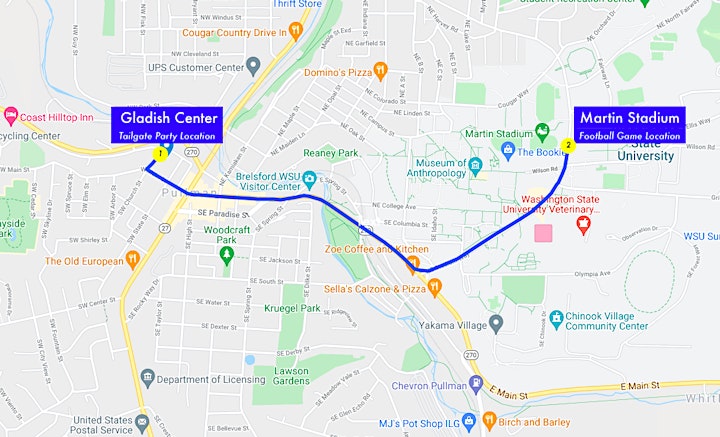 Parking and Game Transportation Options:
At the Gladish Center, there is ample free parking for both the tailgate and game. It is approximately a 30-minute walk (1.5 miles) from the Gladish Center to the stadium.
Park at one of the Park & Ride Lot Locations. WSU runs a free game-day bus service. Busses cycle through every 12-15 minutes. The two closest lots to the Gladish Center are Lot 5 and Lot 7. Park & Ride Info and Map
Pay for parking closer to the stadium (WSU parking map). Parking permits can be purchased in advance of game day via the WSU website.
A limited number of first-come-first-served parking spots will be available at the Church of Jesus Christ of Latter-day Saints chapel at 1055 NE Orchard Drive for tailgate attendees. This parking lot is a 5-minute walk to the Martin Stadium.
Stadium COVID Policy:
The current policy states: "All guests 12 years of age and older attending...Football games will need to be verified by providing proof of vaccination or proof of a FDA-approved negative COVID-19 test taken within three days of the event. Fans under 12 years of age are exempt from providing proof of vaccination or proof of a negative COVID-19 test." Click HERE for more details.
Stadium Clear Bag Policy:
Martin Stadium has a clear bag policy for all events.
All bags must be see-through (plastic, vinyl, or PVC) and cannot exceed 12" X 6" X 12". A one-gallon clear plastic freezer bag is acceptable.
Clear bags containing logos must have logos no larger than 4.5" tall X 3.4" wide.
NOTE: BYU clear bag totes will be available for purchase at the Cougar Tailgate.
Refund policy:
Refunds are allowed if the football game is cancelled and if WSU allows refunds for BYU tickets.
Organizer of Cougar Country - BYU vs. WSU Football Game