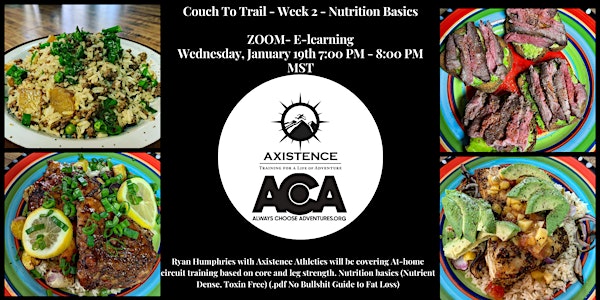 Couch To Trail - Week 2 - Nutrition Basics
Join us via ZOOM for week 2 of Couch To Trail, Ryan Humphries will cover Nutrition basics (Nutrient Dense, Toxin Free) and At-home circuit t
About this event
It's hard to start new routines, meet new people, and develop new healthy habits.
E-LEARNING: WEDNESDAY, JANUARY 19TH 7:00PM, 1 HOUR SESSION. At-home circuit training based on core and leg strength. Nutrition basics (Nutrient Dense, Toxin Free) (.pdf No Bullshit Guide to Fat Loss)
This is the 2022 Couch To Trail Program with Always Choose Adventures. The 6 week challenge is priced at only $75.00 and each participant gets entered to win a Fitbit Sense!
To attend this event, or any 2022 Couch To Trail events, please enroll as a Couch To Trail member.
2022 Couch To Trail Program please register online at: https://www.alwayschooseadventures.org/couchtotrail
The 6 Week Couch To Trail program will be a combination of both virtual learning, and in-person meet-ups. Whether it's been a little while since you've taken a hike, or this is your first time, this 6 week program will provide you with the knowledge to not only keep you safe, but to also make sure that you actually enjoy your next adventures
Over a six-week period we'll cover the foundations of:
-Nutrition
-Fitness
-Recovery
-Adventure planning
- Yoga
These topics will be covered via Zoom and downloadable .pdf worksheets. Although this is not a "Challenge" you can use it to challenge yourself. Living one's most adventurous life doesn't happen in 6 week challenges. However, this is an excellent opportunity to "kick-start" things in the right direction and the right education to make sure that good habits stick.
LIMITED SPOTS AVAILABLE - Please only register if you are certain you can attend.
ZOOM LINK: Please register via Eventbrite, by clicking tickets. The ZOOM link with passcode will be sent out prior to event start time automatically by you registering.
By registering and attending this event you agreed to Always Choose Adventures terms and conditions. To view visit: https://www.alwayschooseadventures.org/terms-conditions