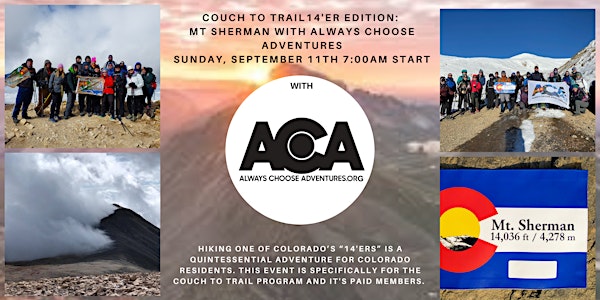 Couch To Trail 14er Edition: Hike Mt Sherman with Always Choose Adventures
Event Information
Location
Mt. Sherman Trailhead
9700 4 Mile Creek Road
Fairplay, CO 80440
Hiking one of Colorado's "14'ers" is a quintessential adventure for Colorado residents. This event is for Couch To Trail Members Only.
About this event
Hiking one of Colorado's "14ers" is a quintessential adventure for Colorado residents. Join the Couch To Trail Program and Always Choose Adventures to hike Mount Sherman.
In order to participate in this event you must be a paid ACA Member, and subscribe to our Couch To Trail program. https://www.alwayschooseadventures.org/couchtotrail
Always Choose Adventures has several leaders that are wilderness first responder certified, however, we are not AMGA certified and cannot guarantee your safety on the mountain.
Due to health conditions we recommend consulting with your physician prior to attending this event.
Trailhead: Fourmile Creek
Difficulty - Class 2
Elevation Start: 12,000 feet
Summit: 14,036 feet
Total gain: 2,100' starting at the 12,000-foot gate
Round trip length: 5.25 miles starting at the 12,000-foot gate.
PLAN: Saturday, September 10th. ACA to set up camp on road up to Sherman. We will clearly mark our campsite with orange cones, flags, and ACA. Please arrive when you are able to.
GPS Location: Dispersed Camping Coordinates: 39°12'29.0"N 106°10'07.0"W
Start Time: 7 AM Sunday.
End Time: Afternoon. Whenever we safely descend the mountain as a group.
Pack up camp & head home! Please double check your area, and practice Leave No Trace.
Recommendations: 24 hours prior to hike:
Hydrate, sleep, eat well. No alcohol.
Kids: Not recommended
GEAR: ( Don't have gear? Grab something from the ACA Gear Library) https://www.alwayschooseadventures.org/gearlibrary
Grab your official ACA 2.0 Adventure Flag: https://www.alwayschooseadventures.org/shop
Grab your official Mt Sherman Summit Flag: https://www.peakflags.com/store/p15/product/sherman/peak-flag.html#/
Water (plenty of water) (3 liters minimum)
Gatorade / Powerade / Electrolytes
Food (High carb snacks and Lunch)
Aspirin (Helps with elevation sickness, etc)
Dress in layers and either wear or carry:
Hat Warm Hat/Bennie and baseball cap
Buff / Neck Gaiter
Gloves
Hiking Poles
Hand Warmers
Kahtoola Microspikes
Synthetic shirts Cotton not recommended
Synthetic long underwear Cotton not recommended
Fleece or Wind-Block jacket
Waterproof shell/jacket
Hiking pants
Hiking boots/scrambling shoes
Smart wool hiking socks (Spare pare in your pack)
Pack (that fits the hike/climb) 30l to 40l size pack
Headlamp
Sunglasses / Snow goggles
GPS (optional our team leaders will have them)
Maps (optional our team leaders will have them)
30 spf sunscreen
TP (in Ziploc bag)
Personal First Aid Kit (team leaders will each have first aid kits)
Personal Medications
Highly recommended: thermos for hot beverage [ Hot green tea for the summit!]
Important notice re COVID-19: Please note any interaction with the general public poses an elevated risk of being exposed to COVID-19 and we cannot guarantee that you will not be exposed while in attendance at the event. Eventbrite, Always Choose Adventures INC and it's Officers, Directors, Agents, and affiliates from any claims, damages, losses, liabilities, including without limitation, all costs and expenses of defense, attorneys' fees resulting directly or indirectly from a claim by direct first party or third party, arising is not responsible for the health and safety of this event. We encourage you to follow the safety policies, as well as local laws and restrictions.
By registering and attending this event you agreed to Always Choose Adventures terms and conditions. To view visit: https://www.alwayschooseadventures.org/terms-conditions
Date and time
Location
Mt. Sherman Trailhead
9700 4 Mile Creek Road
Fairplay, CO 80440