Cottage Conversation: Monument Man: The Life and Art of Daniel Chester Fren...
Description
On Wednesday, June 12, 2019, join us as Harold Holzer discusses his new book, Monument Man: The Life and Art of Daniel Chester French, which chronicles the life of the sculptor of the Lincoln Memorial.

Cottage Conversations offer relaxing evenings to socialize and learn something new about our 16th president from authors, collectors, and artists. The program begins with a cocktail reception, is followed by the conversation, and concludes with a book signing.
Reception: 6:00 pm, Robert H. Smith Visitor Education Center
Conversation: 6:30 pm, President Lincoln's Cottage
Admission: $10 for the lecture and $10 for the reception. Free for Cottage members at the $250 level or above. If you're a Cottage member at the $250 level or above, email Joan Cummins to reserve your ticket: JCummins@lincolncottage.org
About the Book:
The artist who created the statue for the Lincoln Memorial, John Harvard in Harvard Yard, and The Minute Man in Concord, Massachusetts, Daniel Chester French (1850-1931) is America's best-known sculptor of public monuments. Monument Man is the first comprehensive biography of this fascinating figure and his illustrious career. Full of rich detail and beautiful archival photographs, Monument Man is a nuanced study of a preeminent artist whose evolution ran parallel to, and deeply influenced, the development of American sculpture, iconography, and historical memory.

Monument Man was specially commissioned by Chesterwood / National Trust for Historic Preservation. The release will coincide with the fiftieth anniversary of the opening of Chesterwood, his country home and studio, as a public site and with a major renovation of the Lincoln Memorial. The book includes a comprehensive geographical guide to French's public work.
About the Speakers:
Harold Holzer
Harold Holzer, winner of the 2015 Gilder Lehrman Lincoln Prize, is a Lincoln scholar and the author of numerous books on Civil War era art and history. He currently serves as the director of the Roosevelt House Public Policy Institute at Hunter College, City University of New York. In 2008 he was awarded the National Humanities Medal.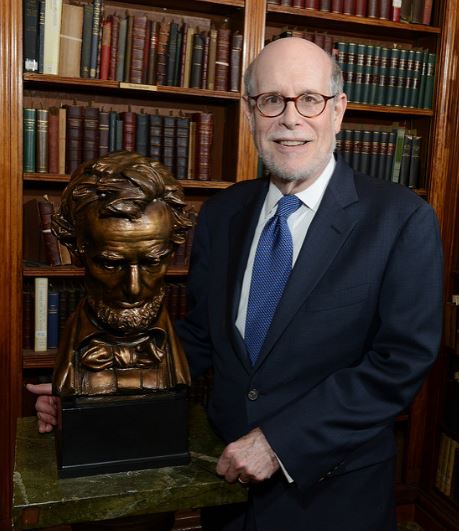 *Originally scheduled for Thursday, April 25, 2019. Date changed on Tuesday, March 19, 2019.