Côte D'Ivoire Trade & Development Conference: Senior Minister's Delegation
When and where
Location
WESTIN OAKS (Galleria) 5011 Westheimer Road Houston, TX 77056
Description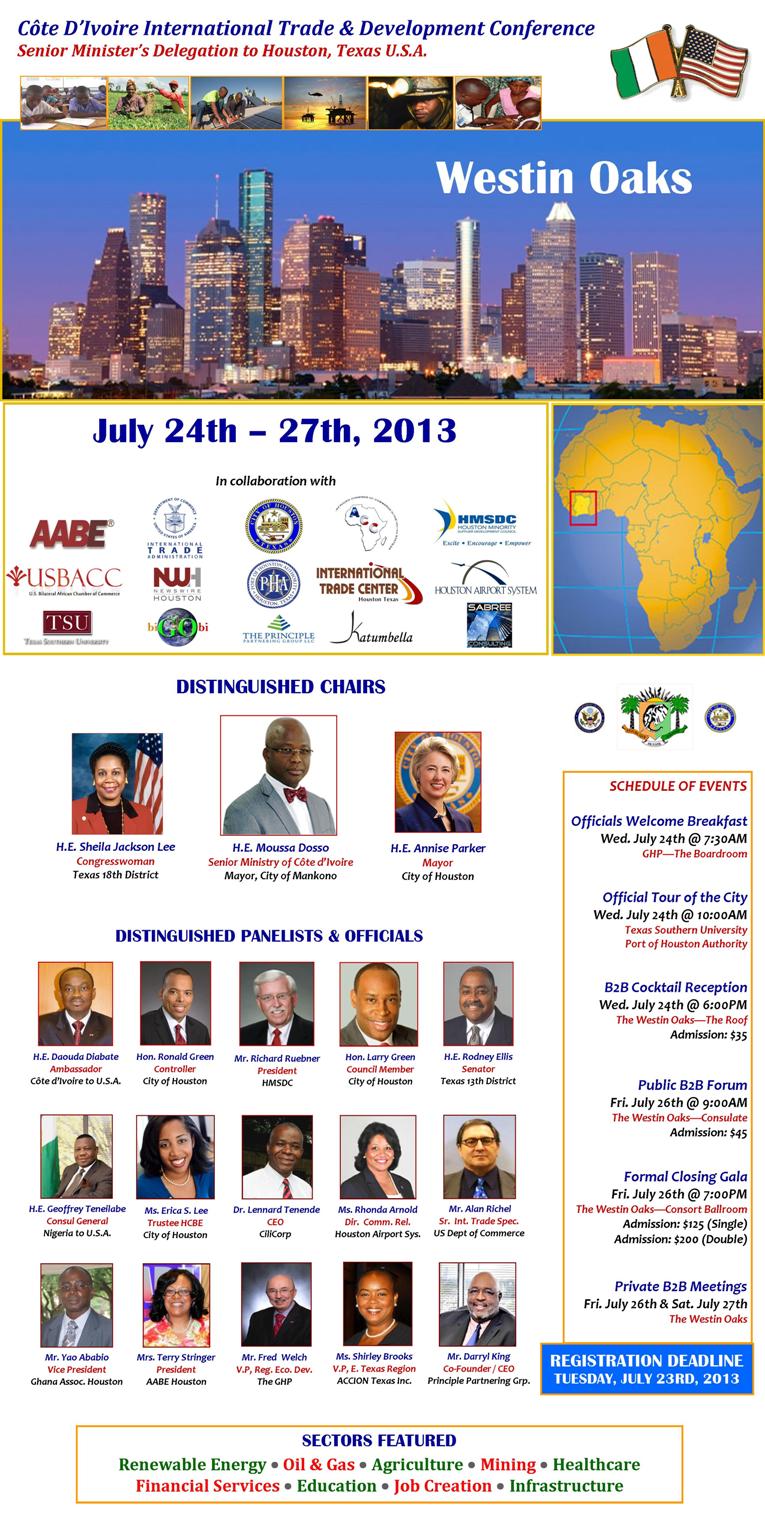 MEMBERS OF THE DELEGATION FROM COTE D'IVOIRE
CHAIR: His Excellency Moussa Dosso
4th Ranking Official of Cote D'Ivoire
Minister of State; Minister of Labour, Social Affairs & Professional Development
Mayor of Mankono
OTHER MEMBERS OF THE DELEGATION
His Excellency Daouda DIABATE: Ambassador of Cote D'Ivoire to the U.S.A.

Hon. Namisata FOFANA: Deputy Mayor of the City of Mankono

Mr.

Diaby

IBRAHIMA: Managing

Director

of Hydrocarbon, Ministry of Mining, Petroleum & Energy


Mr. Lancine DIOMANDE: Special Advisor to the Senior Minister

Mr. Karim BAMBA: Director, Dept. of Social Affairs

Mr. Inza SOUMAHORO: Director, Dept. of Coordination and Execution of

Projects

(SERCEP)
Mr. Lacine TOURE:

Managing

Director (Interim) of Civil Servants and Govt. Officials (MUGEF)


Mrs. Pascale KOUAME: Director of Communication

Mr. Franck M. DOGOH: Chairman of the Board for Professional Training Fund (FDFP)

Mr. Theodore HOEGAH, Esq.: President of Social Employment and Commission


Mr. Hilaire Marcel LAMIZANA: Managing Director of the Autonomous Port of San Pedro

Mr. Lakoun OUATTARA: Director of the General Confederation of Enterprises (CGECI)
EXECUTIVE SUMMARY OF THE MISSION:

The economy of Cote d'Ivoire is in the process of taking off. Macroeconomic stability has been restored and external debt, following attainment of the HIPC initiative performance is much better than expected. Indeed, the growth rate in 2012 was adjusted upward to 8.6 percent, as agreed with the IMF. As a result, Cote D'Ivoire has become one of the countries with the strongest growth rates in Africa. Thanks to a return to political, social and institutional normality and efforts to rebuild and rehabilitate basic infrastructure, economic activity picked up, with growth estimated at 8.6% in 2012, expected to reach 8.9% in 2013 and 9.8% in 2014. In June 2012 the IMF and the World Bank announced $4.4 billion in debt relief for Côte d'Ivoire under the Highly Indebted Poor Countries Initiative.
Côte d'Ivoire's Plan National de Development (PND), "National Development Plan", was launched in 2011 in the wake of the 2010 post-election violence to outline the government's development priorities. The plan, which spans the period from 2011 to 2015, focuses on four crucial pillars: Energy and Industry Development; Infrastructure and Transport; Agriculture; and Health and Education.
The government intends to primarily use public sector funds to finance the health and education pillars, while relying on private-public partnerships (P3's) and private sector funding to grow the infrastructure and energy/industry sectors.
Energy and Industry: The Ivorian government has identified an estimated $27 billion worth of investment opportunities in 170 projects in energy and mining. Côte D'Ivoire aims to become an energy hub for the region by developing energy infrastructure, including hydroelectric and solar. The country is also seeking investment in oil and gas, particularly to build a distribution pipeline that can supply the region.
Infrastructure and Transport: The country is ready to leverage public funds to construct basic infrastructure. For the most advanced projects, the government is seeking private investments to develop road network, railways, bridges, airfields and ports.
Agriculture: Because Côte d'Ivoire is heavily dependent on agriculture and related activities, which engage roughly 68% of the population, the government plans to invest $3.9 Billion on farming through 2015 to improve crop yield for the cocoa sector. Côte d'Ivoire is the world's largest producer and exporter of cocoa beans and a significant producer and exporter of coffee and palm oil. Consequently, the economy is highly sensitive to fluctuations in international prices for these products, and, to a lesser extent, in climatic conditions. Cocoa, oil, and coffee are the country's top export revenue earners, but the country is also producing gold.
Health and Education: In the PND, the Ivorian government has committed to building and/or renovating schools, universities, clinics and hospitals. This suggests that there may be opportunities available for construction and renovations firms.
HIGHLIGHTS OF THE CONFERENCE
DAY 1: Wed. July 24th 7:30AM - 9:30AM: DELEGATES WELCOME BREAKFAST

For Delegates &

Confirmed

Officials ONLY

Hosted By the Greater Houston Partnership
Location: GHP - The Boardroom
DAY 1: Wed. July 24th 10:30AM - 4:30PM: DELEGATES OFFICIAL TOURS

For Delegates & Confirmed Officials ONLY

TEXAS SOUTHERN UNIVERSITY JESSE JONES SCHOOL OF BUSINESS
PORT OF HOUSTON AUTHORITY

Hosted By the Texas Southern University and POHA
DAY 1: Wed. July 24th 6:00PM-8:00PM: B2B COCKTAIL RECEPTION
Location: Westin Oaks - The Roof
Attire: Business or Business Casual
OPEN TO PUBLIC - MUST REGISTER ONLINE OR ONSITE
Registration: $35 (1 Complimentary Drink; Live Entertainment; Hor D'oeuvres)

DAY 2: DELEGATES VISIT TO SAN ANTONIO (ALL DAY)

DAY 3: Fri. July 26th 9:00AM - 12:00PM: PUBLIC B2B FORUM
Location:

Westin Oaks - The Consulate Room

Attire: Business
OPEN TO PUBLIC - MUST REGISTER ONLINE OR ONSITE
Registration: $45
DAY 3: Fri. July 26th 1:00PM - 4:00PM: PRIVATE B2B MEETINGS

SESSION #1: Education (Youth & Professional Development; Vocational Training) and Job Creation Strategies
SESSION #2: Agriculture; Energy (Renewable Energy) and Mining
PRESCHEDULE: Contact Organizers for details and location
Attire: Business
DAY 3: Fri. July 26th 5:00PM: OFFICIAL VISIT TO MAYOR ANNISE PARKER

DAY 3: Fri. July 26th 7:00PM: FORMAL CLOSING GALA

Location: Westin Oaks - The Consort Ballroom
Attire: Business, Formal or Traditional
OPEN TO PUBLIC - MUST REGISTRATION ONLINE OR ONSITE
Registration: $125 (Single) or $200 (Doubles)
DAY 4: Sat. July 27th 9:00AM - 12:00PM: PRIVATE B2B MEETINGS

SESSION #3: Pension Fund Management; Infrastructure; and Construction
Prescheduled: Contact Organizers for details and location
OFFICIAL COMMITTEE MEMBERS (U.S.):
Ms. AMA LOVE: TEXAS TRADE REPRESENTATIVE (832.429.4561)
Mr. GNOLEBA SERI, Esq.: NEW YORK TRADE REPRESENTATIVE (646.326.

8500

)
Hon. LANCINE DIOMANDE: COTE D'IVOIRE SPECIAL ADVISOR TO SENIOR MINISTER
Ms. SEBLE YITBAREK: SPECIAL EVENTS COORDINATOR (832.607.3543)
Mr. NKEM OJI: ELECTED & VIP OFFICIALS COORDINATOR (281.380.5910)
Mr. EUGENE NGALLE: NGO COORDINATOR (832.351.0766)
Mr. YAW ACHEAMPONG: CORPORATE COORDINATOR (757.295.1351)
ORGANIZERS:
African Chamber of Commerce in the U.S. (New York)
HOTEL CHOICES:
CONTACTS: +1 832.429.4561 | AMA@AMALOVEINC.COM