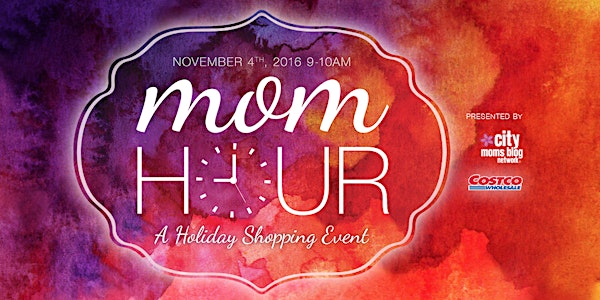 Description
Mom Hour – the holiday shopping event of the season is fast-approaching and will be even more exciting and enticing than last year. Have you ever wished Costco opened a bit earlier? Join City Moms Blog Network and Costco and shop at 9:00am on Friday, November 4th BEFORE Costco opens its doors to all of its members!
Become a Costco member with an exclusive membership offer created specifically for you – our readers. Start shopping and saving when you claim this offer before the event. Click "REGISTER" to access this offer.
Existing Costco members are also in for a treat when they refer friends to join! This refer-a-friend offer is only available on the day of the event. If you are a current Costco member and bring a friend to the event who becomes a new member, you will be eligible for a $10 Costco Cash Card.

Best of all, Mom Hour is for YOU and all your friends (and kids) to shop together. The more the merrier! Enjoy swag, snacks, samples and giveaways with other families in your city.

This event will be taking place in 98 warehouses across the US - hope to see you there!: http://www.citymomsblog.com/national-costco-mom-hour-event/

**If it's not happening in your city or if you can't attend on the 4th, you will still be able to take advantage of the exclusive membership offer by registering for the Non-Attendee Membership Offer (that's for EVERYONE!) Click "Register" to access this offer.**
Please note: A new member is someone who has NOT been a Costco member for at least 18 months.
Feel free to share this event with your friends.
Participating Warehouses:
Albuquerque, NM
9955 Coors Bypass NW, Albuquerque, NM 87114 (NW Albuquerque)
Anaheim, CA
900 S Harbor Blvd, Fullerton, CA 92832 (Fullerton)
11000 Garden Grove Blvd, Garden Grove, CA 92843 (Garden Grove)
115 Technology Dr, Irvine, CA 92618 (Irvine)
2655 El Camino Real, Tustin, CA 92782 (Tustin Ranch)
Atlanta, GA
645 Barrett Parkway NW, Kennesaw GA (Town Center)
1550 Mall of GA Blvd, Buford GA 30519 (Mall of Georgia)
Austin, TX
10401 Research Blvd, Austin TX 78759
4601 183a Toll Rd, Cedar Park TX 78613 (Cedar Park)
4301 W William Cannon Dr Bldg A Ste, Austin, TX 78749 (S Austin)
Baton Rouge, LA
10000 Dawnadele Ave Bldg A, Baton Rouge LA 70809
Boston, MA
2 Mystic View Road, Everett, MA 02149 (Everett)
200 Legacy Blvd, Dedham, MA 02026 (Dedham)
71 2nd Ave, Waltham, MA 02451 (Waltham)
11 Newbury St, Danvers, MA 01923 (Danvers)
120 Stockwell Dr, Avon, MA 02322 (Avon)
Burlington, VT
218 Lower Mountain View Dr, Colchester, VT 05446 (Colchester)
Charleston, SC
3050 Ashley Town Center, Charleston SC 29414
Cincinnati, OH
800 Heights Blvd, Florence, KY 41042 (Florence)
1100 East Kemper Road, Springdale, OH 45246 (Springdale)
9691 Waterstone Blvd, Cincinnati, OH 45249 (Deerfield Township)
Collin County, TX
11220 Dallas Pkwy, Frisco, TX 75033
Colorado Springs, CO
5885 Barnes Rd, Colorado Springs CO 80922 (CO Springs East)
5050 N Nevada Ave, Colorado Springs, CO 80918 (CO Springs West)
Columbia, SC
507 Piney Grove Rd, Columbia, SC 29210
Columbus, OH
3888 Stelzer Rd, Columbus, OH 43219 (Easton)
7300 State Route 161 E, Plain City, OH 43064 (NW Columbus)
1500 Gemini Place, Columbus, OH 43240
Dallas, TX
1701 Dallas Pkwy, Plano TX 75093 (W. Plano)
3800 N Central Expy, Plano, TX 75074 (E. Plano)
Dayton, OH
5300 Cornerstone North Blvd, Centerville, OH 45440 (Centerville)
Denver, CO
8686 Park Meadows Center Dr, Littleton, CO 80124 (Douglas County)
5195 Wadsworth Blvd Arvada, CO 80002 (Arvada)
Des Moines, IA
7205 Mills Civic Parkway, West Des Moines, IA 50266
Detroit, MI
2343 S Telegraph Rd, Bloomfield MI 48302 (Bloomfield)
45460 Market St, Shelby Twsp MI 48315 (Lakeside)
771 Airport Blvd, Pittsfield MI 48108 (Pittsfield Township)
27118 Gratiot Avenue, Roseville MI 48066 (Roseville)
Fort Worth, TX
8900 Tehama Ridge Pkwy, Fort Worth TX 76177 (N. Fort Worth)
2601 E State Hwy 114, Southlake TX 76092 (Southlake)
5300 Overton Ridge Blvd, Fort Worth, TX 76132
Gilbert, AZ
2887 S Market St, Gilbert AZ 85295 (SE Gilbert)
Green Bay, WI
5401 W. Integrity Way, Grand Chute, WI 54913 (Grand Chute)
2355 Costco Way, Bellevue, WI 54311 (Bellevue)
Houston, TX
3836 Richmond Ave, Houston TX 77027 (Galleria)
1150 Bunker Hill Rd, Houston TX 77055 (Bunker Hill)
3500 Business Ctr Dr, Pearland TX 77584 (Pearland)
23645 Katy Fwy, Katy TX 77494 (West Katy)
17520 Southwest Fwy, Sugar Land, TX 77479 (Sugarland)
Indianapolis, IN
4628 E County Line Rd, Indianapolis, IN 46237 (S. Indianapolis)
6110 East 86th Street, Castleton, IN 46250 (Castleton)
9010 Michigan Rd, Indianapolis, IN 46268 (Fortune Park)
Iowa City, IA
2900 Heartland Dr, Coralville, IA 52241 (Coralville)
Jacksonville, FL
4901 Gate Pkwy, Jacksonville FL 32246 (E. Jacksonville)
Kansas City, KS
241 East Linwood Blvd, Kansas City, MO 64111
12221 Blue Valley Parkway, Overland Park, KS 66213 (Overland Park)
Knoxville, TN
10745 Kingston Pike, Knoxville TN 37934 (Farragut)
Madison, WI
2150 Deming Way, Middleton WI 53562 (Middleton)
2850 Hoepker Rd, Sun Prairie WI 53590 (Sun Prairie)
Memphis, TN
2431 N Germantown Pkwy, Cordova TN 38016 (NE Memphis)
3775 Hacks Cross Rd, Memphis TN 38125 (SE Memphis)
Milwaukee, WI
950 Port Washington Rd, Grafton WI 53024 (Grafton)
443 Pewaukee Rd, Pewaukee WI 53072 (Pewaukee)
7707 94th Ave, Pleasant Prairie, WI 53158 (Pleasant Prairie)
15300 West Grange Ave, New Berlin, WI 53151 (New Berlin)
New Orleans, LA
3900 Dublin St, New Orleans LA 70118
North Phoenix, AZ
4570 E Cactus Rd, Phoenix, AZ 85032 (Paradise Valley)
Orlando, FL
741 Orange Ave, Altamonte Springs FL 32714 (Altamonte Springs)
4696 Gardens Park Blvd. Orlando Fl. 32839 (S. Orlando)
3333 University Blvd. Winter Park Fl. 32792 (E. Orlando)
Pittsburgh, PA
1050 Cranberry Square Dr, Cranberry Township, PA 1606 (Cranberry)
501 Waterfront Dr W, Homestead, PA 15120 (West Homestead)
202 Costco Drive, Pittsburgh, PA 15205 (Robinson)
Portland, OR
4849 Ne 138th Ave, Portland, OR 97230
6720 Ne 84th St, vancouver, WA 98665 (Vancouver)
13130 Se 84th Ave, Clackamas, OR 97015 (Clackamas)
1255 Ne 48th Ave, Hillsboro, OR 97124 (Hillsboro)
Raleigh, NC
2838 Wake Forest Rd, Raleigh NC 27609
1021 Pine Plaza Dr, Apex, NC 27523 (Apex)
Rio Grande Valley, TX
1501 W Kelly Ave, Pharr TX 78577 (Pharr)
Rochester, MN
2020 Commerce Dr Nw, Rochester, MN 55901
San Antonio, TX
5611 Utsa Blvd, San Antonio TX 78249 (NW San Antonio)
1201 N Loop 1604 E, San Antonio TX 78232 (Sonterra Park)
15330 Ih-35 N, Selma TX 78154 (Selma)
San Diego, CA
895 E H St, Chula Vista, CA 91910 (Racho del Rey)
8125 Fletcher Pkwy, La Mesa, CA 91942 (La Mesa)
San Francisco, CA
1600 El Camino Real, S. San Francisco, CA 94080 (El Camino)
Scottsdale, AZ
15255 N Hayden Rd, Scottsdale, AZ 85260
Seacoast, NH
311 Daniel Webster Hwy, Nashua, NH 03060 (Nashua)
Sonoma County, CA
300 Vintage Way, Novato, CA 94945 (Novato)
Syracuse, NY
120 Township Blvd, Camillus, NY 13031 (Syracuse)
Twin Cities, MN
12011 Technology Drive, Eden Prairie, MN 55344 (Eden Prairie)
1431 Beam Ave, Maplewood, MN 55109 (Maplewood)
14050 Burnhaven Dr, Burnsville, MN 55337 (Burnsville)
5801 W 16th St, St. Louis Park, MN 55416 (St. Louis Park)
Westchester County, NY
1 Westchester Ave, Port Chester, NY 10573 (Port Chester)
Glendale, AZ
17550 N 79th Ave, Glendale AZ 85308 (Glendale)
Wichita, KS
9700 E Kellogg, Wichita KS 67207
*Your email will be added to the City Moms Blog Network newsletter. You may opt out at any time.