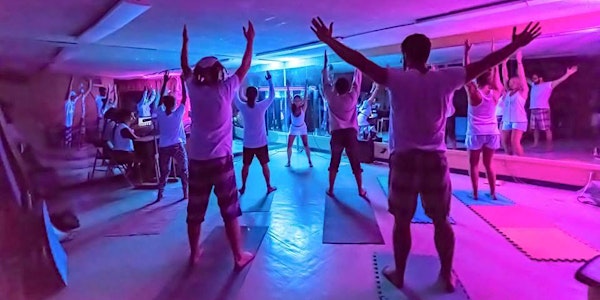 Cosmic Yoga: A Journey Within
When and where
Location
Hawaiian Brian's Electron Room 1680 Kapiolani Boulevard Honolulu, HI 96814
Description
Cosmic yoga is a journey within, guided by the talented Alicia Grand of Rising Eagle Wellness.
Through movement, you will be guided to release what no longer serves you, and replace it with any intentions or affirmations that will promote further growth in your life!
The journey begins with a yoga flow and dance warm-up, suitable for all levels. This leads into intention setting and flows into ecstatic movement and dance. During this portion of the journey, there is a partner exercise where you can practice nonverbal communication and listening. This is optional and you may simply continue to dance through the movement if this part doesn't suit you. Students may be as social with their movement practice or as introspective as they wish. The journey concludes with a cool down and guided meditation.
Our state of bliss continues with the Pau Hana party! Your TICKET INCLUDES vegan pupus, organic kombucha and water kefir. We will also offer a small marketplace with local, handmade items available for purchase, including lip balms, sunscreen, kombucha, water kefir and more!
WHAT TO BRING:
- Yoga Mat (Limited mats available for $5 rent)
- Water
- Blanket/ Sweater
- Bottle/Jar for Kombucha
PARKING DETAILS:
Validated parking at the Hawaiian Brians Garage. $2 for 4 hours with stamp.
EVENT DETAILS:
Doors at 7pm: Mix and Mingle, Find your Space and Settle in.
7:30pm: The Journey Begins
9:00pm: Pau Hana Party
MAHALO TO OUR EVENT SPONSORS:
Mahalo to ʻUlu Mana, Hawaiian OLA and RAW ELEMENTS USA for donating their vegan, non-gmo and sustainably sourced products to our Pau Hana Marketplace.