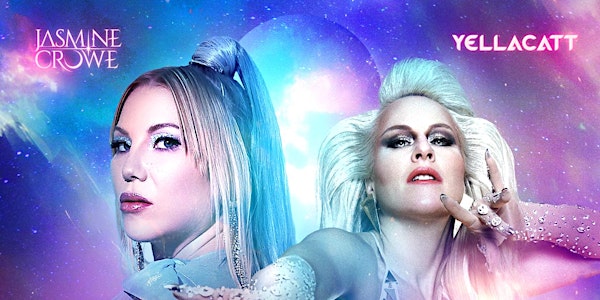 COSMIC QUEENS TOUR: JASMINE CROWE + YELLACATT (21+)
JASMINE CROWE live at The Griffin Friday June 16th, with special guest YELLACATT!
Date and time
Starts on Friday, June 16 · 8pm PDT
Location
The Griffin 511 East Fremont Street Las Vegas, NV 89101
About this event
Born and raised on the Big Island of Hawaii, pop artist, singer-songwriter, and producer Jasmine Crowe speaks to her audience about relatable topics such as mental health and addiction, all set to the tune of upbeat and strong pop melodies. Crowe took Grand Prize "Song of the Year" in the John Lennon Songwriting Competition with her 2018 single "Breaking Things." After releasing her debut album "Symptoms" in November 2019, she made her first Billboard appearance, hitting #28 on the dance club charts with "Chess Game." Her music video for "Sky is Falling" won a California Music Video award in 2021 and her pride anthem "Love is Love" received the social justice award in 2022, also for best vocal performance in the UO International Song Competition. Following up "Symptoms" with a string of singles, she has been featured in Artsy, Billboard, American Songwriter Magazine, Hollywood Life, Flaunt Magazine, Guitar Girl Mag and on Spotify's Fresh Finds playlist with her powerful anthem "Red Flags." Currently based in Los Angeles, Crowe is a multi-instrumentalist skilled at piano, guitar and violin, and puts her talent as a producer to use, incorporating all of her skills into every song she creates.
YellaCatt is an electropop songstress from the shores of the Salish Sea. She is a vocalist, a sound healer, and a visual artist who creates headpieces under the name The Plumed Serpent. Her focus is empowerment for all.
About the organizer
Pulsar Presents started in the summer of 2005, out of a desire to bring bands to the Las Vegas area who might otherwise skip the market. Over the last 17 years we have worked with everyone from household names to DIY up-and-comers, from death metal to J-Pop, punk rock to country. In that time we have expanded to book shows in the hyper-competitive Los Angeles market as well. We LOVE live music and we love bringing the bands YOU want to see to town!