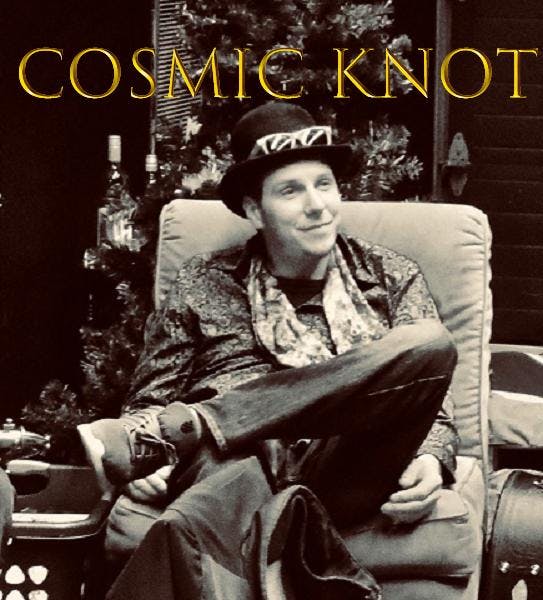 About this Event
Friday, August 30th
Doors 7pm
Show 8pm
Tickets
$8/12
COSMIC KNOT
Cosmic Knot was founded in 2015 by band leader Tom Wall. The band has been quickly gaining attention after headlining the 2017 Hash Bash on the steps of the University Of Michigan Library to a crowd of 10,000, throwing their own grassroots festival and having members that have either jammed or shared the stage with the likes of P-Funk All Stars Muruga Booker and Tony P-Funk Strat, Jazz Great Perry Robinson, University of Michigan Music Professor Ramon Satyendra, Joel Cummins from Umphrey's McGee, Misty Love (back up singer for Kid Rock and Sheryl Crow), and Rock And Roll Hall Of Fame inductee Billy Davis. Teaming up with world touring drummer Hayaman Tzach, and the recording team for Bill Chrysler (sound engineer for Adam Levine and John Mayer); front man Tom Wall manifested Cosmic Knot's debut album, "Inner Space" over the course of the 2017 at Bill Chrysler's Third Coast Recording Studio from songs he had been working on throughout his life. Channeling influences from the loss of dear musical friends, Mother Nature, esoteric intuition, light and love, a story began to emerge; a story of a person on a journey of transcendence. After going through many changes, fighting off ghostly entities and losing very dear friends, the subject sets out on a mission to bring light to the world. 
Cosmic Knot's debut album Inner Space was mastered at Capitol Studios by Ian Sefchik. It's composition is based on patterns found in Mother Nature and incorporates the flow of the seasons throughout the album. It starts off with the thawing waters of Spring and ends with the sounds of the song birds leaving in Autumn. Inner Space was released to the world on Aug. 28th, before the album was even released it received a best song award for, "Like A Gypsy." Within the first 2 months of radio release, Inner Space hit the national Relix Chart at #7, hit #1 on WYCE, #8 on WBNY and was in the top 20 on multiple other stations across the country. They have been featured on Local Spins and NPR. Cosmic Knot is Hayaman Mana Tzach on Drums and Keys, Zach Gregory on Bass, Rolly Smith on Sax and Frontman Tom Wall Singing and playing Guitar.
The music is a cosmic blessing -P -Funk All Star Muruga Booker
"Inner Space" may be the most surprising regional release of 2017 … if not one of the best. – John Sinkevics 
There really is no other band quite like Cosmic Knot - Mix Tape, NPR
Album Link: https://cosmicknot.bandcamp.com/releases
SAXSQUATCH & BRIDGE BAND
Saxsquatch & Bridge Band has been a cohesive music unit since 2009. Based in Kalamazoo, Michigan, they seek to bring their special brand of #apocalypsefunk to the ̶n̶a̶t̶i̶o̶n̶ w̶o̶l̶r̶d̶ universe.