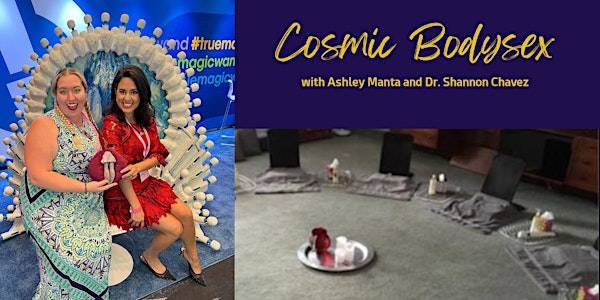 Cosmic Bodysex® Retreat
Cosmic Bodysex® Retreat - October
When and where
Location
Mountain House Retreats TBD Frazier Park, CA 93225
Refund Policy
Contact the organizer to request a refund.
Eventbrite's fee is nonrefundable.
About this event
Taking a Bodysex® workshop is transformative. We focus on overcoming negative body image and pleasure anxiety.
Yes, they're done in the nude but it's not sexual. Betty Dodson® developed these workshops using the consciousness raising model of second wave feminism where women-identified folks and vulva owners got together and shared their experiences first person.
Whatever your race, orientation, upbringing, or country of origin, we have wounds to heal. All are welcome.
The two-day retreat will be held in Frazier Park, California and hosted by Ashley Manta and Dr. Shannon Chavez.
The retreat will run from 1pm to 6pm Saturday October 8th and Sunday October 9th.
The workshops include specific rituals, such as Genital Show and Tell, Group Massage, and Erotic Recess.
You are responsible for booking your own travel and hotel accomodations. Below are some nearby hotels/Airbnb's for your convenience:
Closest airports:
Bakersfield (BFL) - About an hour from the venue
Burbank (BUR) - About an hour and 20 mins from the venue
Nearby hotels:
California Mountain Inn | Forest Hotel | Retreat Getaways
Dream Weaver Ranch Retreat (Airbnb)
Holiday Inn Frazier Park
Investment:
The investment for this retreat is $600. We offer a student/hardship sliding scale where you pay what you can ($400 minimum, email us for details).
We will provide almond and coconut oil. Please bring a bathrobe, towel, and anything else you need to feel comfortable. As a reminder, this entire retreat is conducted NUDE.
Frequently asked questions:
Who is this for?
This is an empowerment and sexual pleasure workshop designed for people with vulvas to learn how to love and celebrate their pussy power! It doesn't matter how you identify your gender, if you have a vulva and you want to discover ways to shed shame and embrace joy, this retreat is for you!
What if I have my period?
No problem. Someone has their period at almost every workshop. You can use a tampon, menstrual cup, or a piece of natural sea sponge during genital show & tell and erotic recess.
What if I have a yeast infection?
No problem. I would recommend some cranberry pills or the monistat egg to treat your yeast infection then head over to the retreat location.
What if I can't orgasm?
If you orgasm, great. If you don't, that's ok too. Orgasm is NOT the goal. We're here to heal body shame, overcome sexual guilt and experience true sisterhood. There's no agenda and no expectations.
Can I keep the vibrator?
The price of the barbell is included in the workshop fee. If you want to keep the Rechargeable Magic Wand you used during the workshop, you can and the price is $124.95.
Can I bring my own barbell and wand?
Yes. If you've already purchased the barbell and the wand, you can bring them with you to the workshop.
Can I bring something to eat?
Of course. We provide beverages (filtered water--bring a water bottle!) and some veggies, cookies, fruit, and nuts.
If you have any other questions, you can email me directly: ashley@ashleymanta.com
I wish every vulva owner could take a workshop and connect with themselves as part of their sexual rite of passage. Hope to see you!
About your facilitators:
Ashley Manta is an award-winning sex educator and coach and has become a sought-after authority on mindfully combining sex and cannabis as part of her CannaSexual® brand. She is the author of The CBD Solution: Sex, published in 2020 in conjunction with Merry Jane and Chronicle Books. She completed her certification as a Bodysex® Facilitator after studying with legendary pleasure pioneer Betty Dodson®. She is a brand ambassador for Sybian. She is the creator of the Activating Your Cosmic Pussy sisterhood and series of online intensives and retreats.
Ashley has presented at mainstream, adult, and cannabis events like SXSW, The Emerald Cup, Woodhull Sexual Freedom Summit, Sexual Health Expo, and the Cannabis Nurse Network Conference. She was a contributing writer to Leafly.com from 2015-2017, and for Dope Magazine from 2016-2018. She wrote for Playboy as a Playboy Advisor.
Shannon Chavez, PsyD, CST is a nationally recognized expert, therapist, and educator specializing in "all things sexuality" including sex education for conservative religious and cultural groups; sexual trauma and abuse; and compulsive behaviors surrounding love, romance, and sex.
She is a Licensed Clinical Psychologist in California (PSY26924) and Arizona (PSY004290) with a private practice in Beverly Hills, California (SHAPE Center) where she works with individuals and couples (of all genders and orientations) to address sexual concerns and build sexual awareness through therapy, coaching, and education.
Dr. Shannon is also a national speaker on women's sexual health and has been featured on major news, radio, and television programs as a sex and relationship expert. She has been featured in Cosmopolitan, Glamour, HuffPost, Refinery29, Prevention, Reader's Digest, Shape, Women's Health, Men's Health, Latino Perspectives, and Self Magazine; and is a frequent contributor to the websites SheKnows.com, Kinkly.com, and SimplySxy.com.