COS September 2019 Foster Parent & Expecting or First Time Parent/Grandpare...
Description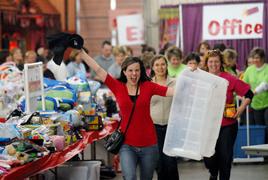 Foster Parents and Expecting or First Time Parents/Grandparents are invited to shop our exclusive Presale before we open our doors to the public.
Find all you need from maternity items, newborn clothing, nursery gear, bathtime essentials, safety must-haves, swings, bouncy chairs, strollers, high chairs, pack 'n plays and so much more!
Everything to set up your nursery and house... and don't forget the need to set-up grandma and grandpa's house in preparation for your new bundle of joy.
To be eligible for this FREE pass you must either be pregnant or your child/grandchild is less than one year old.
We would LOVE it if you shared this on FACEBOOK.
After you register with your email...share! Thank you in advance!
We look forward to having you at the sale!