Cortical Connections Symposium 2018
Description
REGISTRATION CLOSES ON JUNE 19, 2018 AT 5:00PM PACIFIC
The Cortical Connections Symposium is a scientific meeting for physicians and clinical professionals who treat individuals with developmental malformations of cortical connectivity (specifically the corpus callosum) and researchers studying these conditions.*

With an emphasis on improving quality of life (and quality of care), speakers will provide an overview of what is currently known about these conditions, our active research questions, and current best treatment practices.
The program consists of a series of brief presentations arranged in general progression from cellular & molecular studies, to neural diagnostics in humans, and finally to higher-level cognitive and behavioral issues related to malformation of cortical connectivity. Speakers include scientists and clinicians from around the world; leading experts from the fields of developmental neuroscience, laboratory genetics, clinical genetics, paediatric neurology, neuroimaging and neuropsychology. Preliminary schedule below.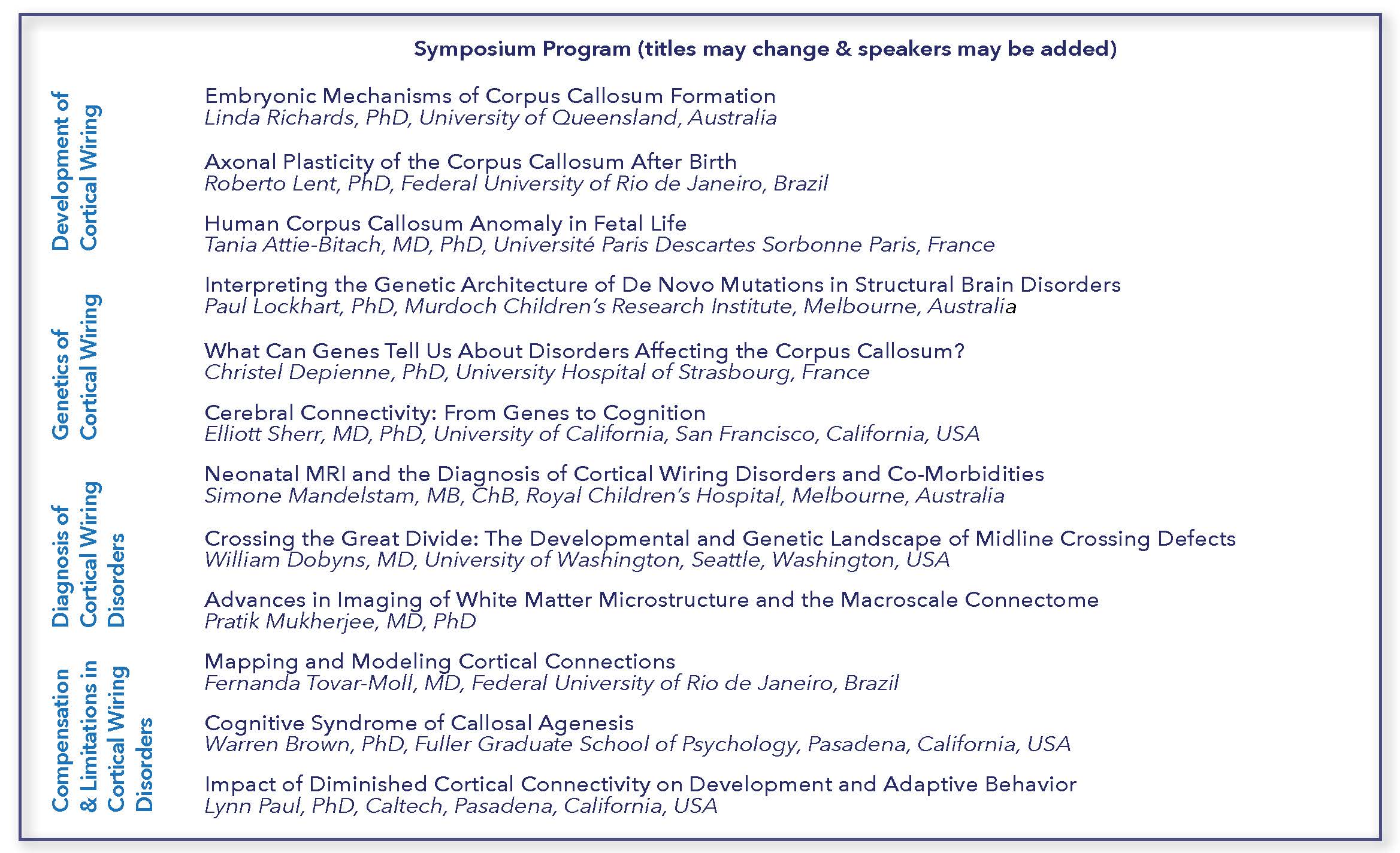 ---
*Parents and adults with developmental malformations of cortical connectivity (i.e. agenesis of the corpus callosum or hypoplasia) are welcome to register and attend the symposium. Must register for this event to attend; it is not part of the DCC Conference registration. (No one under age 18 will be admitted. Childcare is not provided for this event.)

Please note that the presentations will be quite technical, as the program was designed for physicians, clinical professionals and trainees in these fields. Several of the symposium speakers will provide less-technical presentations at the DCC Conference (June 29-July 1).
---
Registration is due by June 5th, including payment of a $50 per person.
Linda Richards, PhD, FAA, FAHMS

Queensland Brain Institute

Professor

Paul Lockhart

Murdoch Children's Research Institute

Associate Professor of Neurogenetics

Simone Mandelstam

Florey Neurosciences

Paediatric Radiologist & Clinical Associate Professor

Bill Dobyns, MD

University of Washington




Tania Attie-Bitach, MD, PhD

Université Paris

Professor

Warren Brown, PhD

Fuller Graduate School of Psychology

Professor

Christel Depienne, PhD

Institüt für Humangenetik, Universitätsklinikum Essen




Roberto Lent, PhD

Federal University of Rio de Janeiro, Brazil

Professor

Pratik Mukherjee, MD, PhD

University of California San Francisco

Professor

Lynn K. Paul, PhD

California Institute of Technology

Senior Research Scientist

Elliott Sherr, MD, PhD

University of California San Francisco

Professor

Fernanda Tovar-Moll, PhD

D'Or Institute for Research and Education