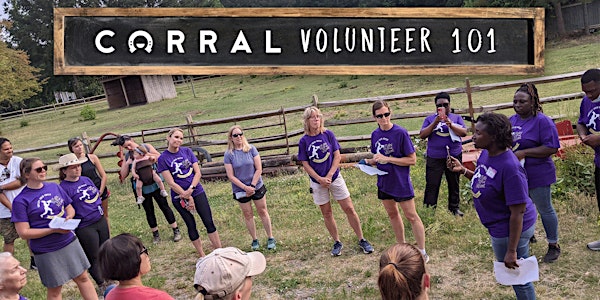 CORRAL Volunteer 101 Event
Join our epic mission and help make a difference in our community as a volunteer!
When and where
Location
CORRAL Riding Academy 3620 Kildaire Farm Road Cary, NC 27518
Refund Policy
Contact the organizer to request a refund.
About this event
Thank you for your interest in volunteering with CORRAL!
Volunteer 101 is a virtual event
We have recently revamped our volunteer teams and have exciting new opportunities for you to serve in your area of interest and within your capacity/availability. Whether you are interested in working with our horses, girls, corporate development team, or on our land, you will have a great time! You can choose to volunteer at either our Kildaire Farm (Cary) or Southeast Raleigh Campus (SE Raleigh). CORRAL's Volunteer 101 is a perfect combination between CORRAL's historical first-timer experience Farm Day and CORRAL's second step to our volunteer path, Volunteer Orientation.
At CORRAL's Volunteer 101, you will experience:
A comprehensive virtual tour of our Kildaire Farm Campus
A walk down memory lane to learn how CORRAL got started
A volunteer orientation presentation, including CORRAL's mission, vision, and volunteer opportunities.
Volunteer Age Restrictions with CORRAL:
Volunteers must be 18 and older to volunteer on the farm by themselves. Children ages 13-17 may volunteer on the farm with their parents on their farm. Children under 13, must be at their side at all times.
Registration Restrictions:
ONLY ADULTS SHOULD USE THE REGISTRATION FORM. Your children may attend the event with and may volunteer with you on the farm, but we do NOT want their information in our database, as they are minors. They will attend the Vol 101 event and volunteer in the future under their parent's name.
Again, DO NOT REGISTER IF YOU ARE UNDER 18. USE THE INFORMATION AND REGISTER FOR THE PARENT/GUARDIAN WHO WILL BE ACCOMPANYING YOU TO VOLUNTEER 101. On the form, let us know that you have a minor in your party and they will be a volunteer with you.
Any teens needing or requesting proof of their volunteer hours can be obtained by request by emailing volunteer@corriding.org.
We are excited to see you on the farm soon.
Volunteer Management.