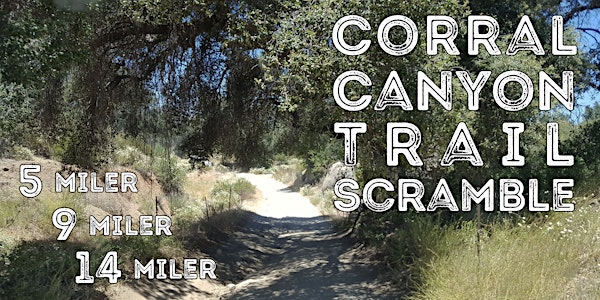 Corral Canyon Trail Scramble
When and where
Location
Corral Canyon Corral Canyon Campsite Campo, CA 91906
Refund Policy
Refunds up to 7 days before event
Description
ALL DISTANCES REDUCED TO $45!!
The Courses
The Corral Canyon Trail Scramble is being staged at Corral Canyon Campground in the Cleveland National Forest. If you are interested there is camping available on site. Please check out the USFS website for info. After the campground parking is full we will have overflow parking at Four Corners and shuttle you to the starting line campground. All 3 races will start at 7:30 am. There will be aid stations on the course and refreshments at the finish line. A coffee truck will be at the campground from 6am to 1pm. At this time of year the weather could be anything, please come prepared. All 3 courses have rocky areas, sandy footing in some places, and a bit of fire road. The courses will be well marked with ribbon, flour, and signs, as well as some volunteers giving directions and encouragement.
It's time for Recess, come out and play!
5 Miler
The 5 mile loop leaves Corral Canyon Campground and will go up and over some big rocks for about 3/4 mile. That's where the scramble part comes in. Then it becomes technical trail downhill before making a right hand turn onto a smooth jeeping trail. This part is fun! You'll eventually make a right turn and follow the dirt road back to Corral Canyon Campground and the finish line.
9 Miler
The 9 mile course starts down a forest access rd. After about a mile and a half you'll make a left hand turn onto some really fun OHV trails!
Eventually hitting another dirt road and making a left, you'll head onto some single track trail where uphill, rocky obstacles will get you to scramble. Eventually when you get to the end of this trail you will make another left and it's downhill trail for another mile and a half to the finish line.
14 Miler
If running the 9 miler isn't enough, head out and try 5 mile course afterwards before you hit the finish line! Woo hoo!
Prices
ALL DISTANCES REDUCED TO $45!!
Surf Club Members enter promotional code to receive 10% off
5 Miler - $45
9 Miler - $45
14 Miler - $45
Bib pickup
6am-715am race morning
Refunds available up to May 18th with $15 process fee. Bib transfer available til May 22nd with no fee.