Actions and Detail Panel
Corporate Wellness 2.0 - Wellness That Works
Thu, January 19, 2017, 8:30 AM – 10:30 AM EST
Description
Is your wellness program getting you results? Get the information you need.
Join us for an enlightening and engaging speaker series designed to help you create a wellness program that works for your culture.
This series is designed to:
Share the most recent information about the science and best practices of effective corporate health and well-being programs to get better engagement

Provide actionable steps that leaders can use personally and in their organizations.

Networking with fellow business leaders that want to create more impactful health and well-being programs for their organizations
Why attend:
You will hear from innovative leaders in multiple aspects of corporate health and well-being. You will leave with knowledge that will empower you to make positive changes and help you keep your own and your company's competitive edge.


Series Co-Faciliated By Industry Experts:
Mim Senft, Motivity Partnerships and James Brewer, Steelcase
SCHEDULE FOR ALL EVENTS:
08:30 - 09:00 AM - Light breakfast/networking
09:00 - 09:15 AM – Introduction to Topic
09:15 - 10:00 AM – Featured Speakers
10 :00- 10:30 AM - Learning/experience/interactive
DATES FOR SERIES:


2. Jan. 19, 2017 –
Minding The Business of Mindfulness
Speakers:
Melissa Britt Forsgren, MBA RD Corporate Director, Benefits Health & Wellbeing, NY Presbyterian

Karina Muller, Co-Founder of Maripossa Wellness

Gary Strehlke, MS KinesiologyPhysiology, Wellbeing Navigator, Steelcase, Inc.
Learning Objects:
Know why mindfulness is becoming such a large part of the worksite wellness discussion

Discover the benefits by experiencing a few easy to use practices

Understand how different industries are implementing mindfulness to support their employees
Mindfulness has become a buzzword as the must have wellness program to keep a competitive edge. Business schools across the country are incorporating mindfulness into their curriculums to better position future business leaders. Mindfulness is being used in technology companies, financial firms, hospitals, fashion and sports. You'll hear about NY Presbyterian's program to support their employees and get background in how it's being used in other industries. The session will also include the opportunity to learn about practices you can use for yourself or for your team.
Bios:
Meslissa Brit Forsgren: Britt is the Corporate Director, Benefits, Health and Wellbeing at NewYork-Presbyterian Hospital. In this role, she develops strategy for providing a comprehensive, company-wide program of employee benefits and services to ensure the attraction, retention and motivation of all employees. This includes the development of NYPBeHealthy, the Employee Health & Wellbeing program. Britt has direct responsibility and oversight for the development and operational management of the program and providing comprehensive integrated programs and services that are proactive, relevant and effective in managing the highly complex, diverse and ever-changing health needs of our workforce.
Britt graduated from Colorado State University with a Bachelor's of Science in Nutrition and Dietetics, completed a dietetic internship at Ball Memorial Hospital in Indiana and is a Registered Dietitian. She later received her Masters of Business Administration from Montclair State University.
Karina Muller, Co-Founder of Maripossa Wellness. Karina has over 15 years experience within the Sports Industry and Health and Wellness Industry. Having personally experienced traumatic and stressful orthopedic surgeries, Karina was able to heal her body and mind by her own practices. Karina truly learned the value of these tools in her recuperation and her focus was redirected to teach others these powerful techniques. Karina is a certified Corporate Wellness Specialist, a certified RYT-500 Urban Zen Integrative Therapist, a certified Vinyasa Yoga teacher, certified in Body Tuning (alternative physical therapy techniques) a Reiki level II practitioner as well as a Stress Management provider for the Dr. Ornish Reversal of Heart Disease program. Karina has utilized all of these techniques working with adult patients as well as children, at Beth Israel Hospital, St Damien's hospital in Haiti and Dr Tazt's physical therapy office in Manhattan.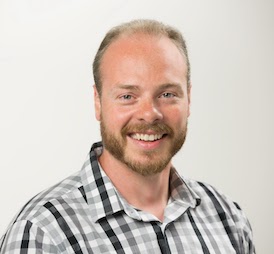 As the Wellbeing Navigator at Steelcase, Gary Strehlke works with employees to imiprove all dimensions of their wellbeing. With a BS in Exercise Science and an MS in Kinesiology/Physiology, Gary has worked in the Wellness field for over 15 years in a variety of roles including exercise physiology, corporate wellness, fitness management, neuroscience and mental health. Gary also teaches exercise science courses as an adjunct professor at Grand Rapids Community College.
3. March 8, 2017 –
More Than Words: Creating An Effective Communication Strategy
Speaker: Jennifer Benz of Benz Communications
Learning Objectives:
Know why a lack of strategy and integration means less engagement

Understand some of the basic "must haves" to create a program that will drive engagement

Have an idea of what "best in class" communications look like and basic steps towards putting them together
Build it and they will come does not apply to health and wellbeing programs and resources. If employees and their dependents do not know how and when to access a resource, in a way that makes sense to them, you have a barrier that is keeping people form the resources they need. Jennifer Benz has been creating highly engaging communications strategies combining a knowledge of benefits design, wellness and marketing/branding. You'll have an opportunity to see real life examples of what other companies have done and a chance to rate your own communications against best in practice.
Bio:
Jennifer Benz is Founder and CEO of Benz Communications, a boutique consulting and marketing firm, headquartered in San Francisco. Nationally known for her employee benefits and communications expertise, Jen has testified twice about retirement education before the Department of Labor's ERISA Advisory Council. Workforce magazine named her an industry "Game Changer," and the International Association of Business Communicators (IABC) and the Profit Sharing Council of America, among other leading industry organizations, have also recognized her visionary work. At Benz Communications, Jen leads a 26-member team that creates results-focused and data-driven benefits communication strategies and campaigns, including custom websites, videos, and print materials. Several Benz clients are Fortune 500 companies, with many ranked among Fortune magazine's Top 100 Best Companies to Work For.
4. April 26, 2017 –
Addressing the Stigma of Mental Health in the Workplace
Speaker: Nancy Board
Learning Objectives:
Gain an understanding of the how mental health issues impact the workplace

Review the connection between mental health drugs, stress, and RX drug abuse

Costs

Understand how to get better engagement for your Employee Assistance Program (EAP)
Mental health issues are often ignored or stigmatized in the workplace. Though most companies have EAP programs to help address mental health issues, they rarely get the type of engagement we'd like to see. Researchers analyzing results from the U.S. National Comorbidity Survey, a nationally representative study of Americans ages 15 to 54, reported that 18% of those who were employed experienced symptoms of a mental health disorder in the previous month. If not addressed, mental health issues lead to high rates of lost productivity and absenteeism. Learn how to effectively address mental health issues that will help your employees get to the resources they need.
5. May 18, 2017 -
We Need A Hero: The Power of Leadership –
The Why and How of Leadership That Gets Engagement
Speakers: TBD
Learning Objectives:
Gaining an understanding of the power leadership can have in driving positive health, wellbeing and engagement

Knowing how you can individualize your own "walking the talk"

Identify two or three actionable steps for you and/or your team
We know that happier, healthier, more engaged employees can have a very positive impact on the bottom line. That can mean being more of an employer of choice and attracting the talent you need to stay competitive. But leaders need to know how to visibly lead these initiatives. Renee Moorefield PhD has more than 20 years working senior leadership at companies like Coca Cola. She has worked with companies in the U.S. and internationally to help managers become leaders.
6. July 20, 2017 –
The Risk Factors –
Making Sure You Don't Get Sued Because of Your Wellness Program
Speakers: Barbara Zabawa – Center for Health Law Equity and Linda Howard, NWI Board Member, Lawyer, Wellness Expert
Learning Objectives:
Basic understanding of laws that impact health and wellbeing programs

Knowing where companies/organizations have gotten in trouble legally

How to avoid risk factors in your own organization
As more companies start or expand a wellness program, it's important to recognize the risks a company should be aware of when designing and implementing a program. Too often issues like worker's compensation. professional liability for providers and general design red flags are not reviewed. Health and wellbeing programs can have a very positive impact for your organization, but knowing what to watch out for will ensure your program is not only impactful, but legally compliant.
7. September 14, 2017 -
Better Buy In for Wellness: Stakeholder Engagement for Well-Being –
Connecting Beyond the Benefits Team
Speakers: Rita Stafford, BPC Expert from CBS
Learning Objectives:
Gain an understanding of how different stakeholders can be engaged to be a partner to the wellness program

Review what key stakeholders do and how wellness can support them

Have samples of communications that are customized to connect to each stakeholder's needs
Too often wellness is in a silo and not connected to the company's bottom line or overall strategy. By building alliances with stakeholders in different parts of the company, wellness can be seen as a valuable asset to meeting each stakeholder's goals. This session will review key stakeholders roles and how to position wellness to support them. By building alliances, wellness can be seen as a key partner in creating an engaging, productive working environment.
8. November 16, 2017 -
21st Century Success: The Head, Heart and Hands Driven Company
Speakers: TBD
Learning Objectives:
Hear the research around leading with knowledge and heart and how it can drive a more positive financial result

Know what companies are adopting this approach and why

Have a list of potential next steps for you and/or your team towards becoming a head, heart, and hands leader.
Companies that have both an internal dedication to values driven leadership and a commitment to being positively connected to their communities are outpacing those that don't. Because the research shows that head/heart/hands leadership gets results, The Harvard MBA program is now teaching the value of connecting knowledge, caring and giving back as a strategic imperative for companies in the 21st century. Bendictine College in Chicago has a PhD program in values driven leadership. You'll learn how to incorporate this methodology into your leadership style.
---------------------------------------------------------------------------------------------