Corporate Venture Capital - Miami with Andrew Romans (Half Day Seminar)
Actions and Detail Panel
Corporate Venture Capital - Miami with Andrew Romans (Half Day Seminar)
Wed, April 26, 2017, 8:00 AM – 2:00 PM EDT
Description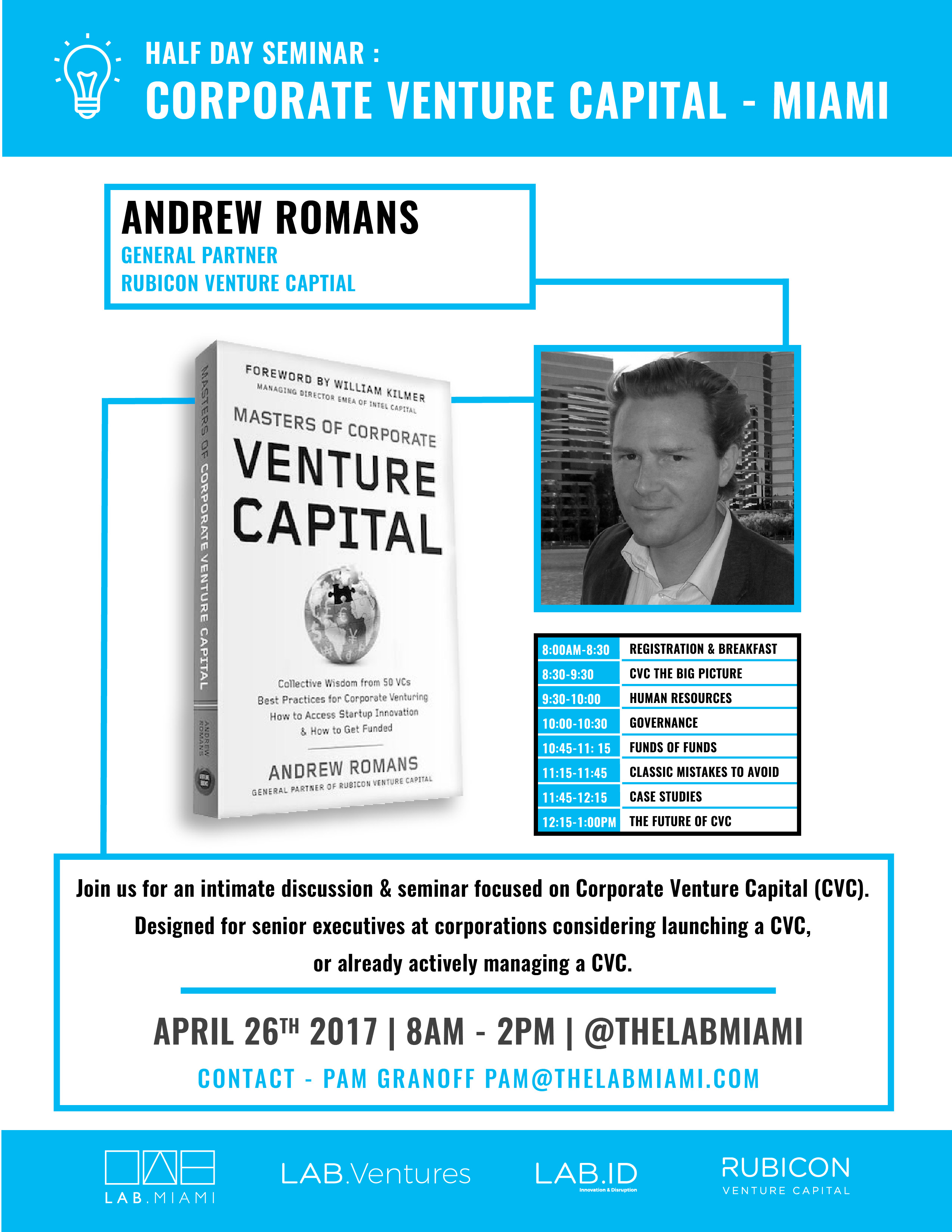 Join us for "Miami: Masters of Corporate Venture Capital (CVC)" Hosted by Rubicon Venture Capital
Featuring a moderated panel discussion with leading CVCs plus time for networking, drinks and hors d'oeuvres. CVC is more important than ever with 1 out of 5 venture financings including at least 1 CVC.
How can entrepreneurs raise funding for their startup from a CVC?

Avoid classic mistakes and learn from past case studies

How can startups partner with a large corporate for rapid global growth?

How can angels partner with a CVC?

How can corporates create a winning CVC and use it to drive M&A?
Romans will discuss key findings from his research interviewing over 100 CVCs, and moderate a live panel of leading startups who have experienced CVC first hand, join the conversation with Rubicon VC in Miami. https://www.rubicon.vc/
Ticket includes 1 copy of Romans' new book. Find it and review on: Amazon.com and on Kindle.
Andrew Romans is the co-founder and General Partner of Rubicon Venture Capital, an early stage VC fund with offices in San Francisco and New York City focused on backing consumer and enterprise technology companies in the internet, software and connected hardware verticals at Late Seed, Series A and B stages. Also author of Masters of Corporate Venture Capital and The Entrepreneurial Bible to Venture Capital: Inside Secrets from the Leaders in the Startup Game. Founder and President of The Global TeleExchange (The GTX), where he raised $50m from VCs. General Partner at Georgetown Venture Partners (GVP), Georgetown Angels & The Founders Club. Advisor to corporates on CVC programs.