Description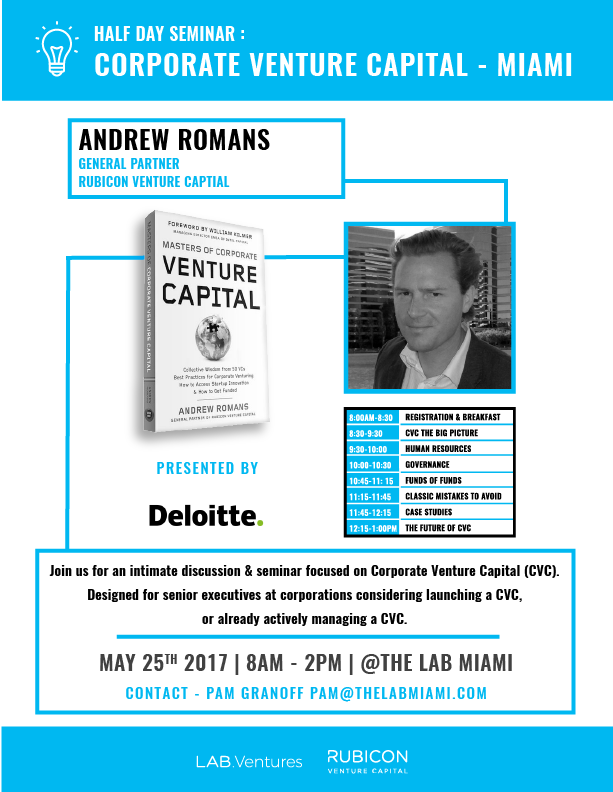 Join us for an intimate discussion and seminar focused on Corporate Venture Capital (CVC).
Designed for board members and senior executives at corporations considering launching a CVC or already actively managing a CVC. This half day semiar will dive deep into the details of why and how to best run CVCs.
Author of the leading book covering this topic and General Partner at VC fund Rubicon Venture Capital will lead a seminar and interactive discussion collapsing decades of experience and wisdom into a half day session. The Seminar will cover:
Why Corporates establish CVC groups and establishing a list of top priorities of strategic and financial objectives
How to convince your board to commit to a CVC program
Case studies highlighting best practices, classic and expensive mistakes to avoid
Understand specific mistakes CVCs make and specific strategies to avoid these and achieve stated objectives
Romans will discuss key findings from his research interviewing over 100 CVCs, and moderate a live panel of leading startups who have experienced CVC first hand, join the conversation with Rubicon VC in Miami. https://www.rubicon.vc/
Ticket includes 1 copy of Romans' new book. Find it and review on: Amazon.com and on Kindle.
Andrew Romans is the co-founder and General Partner of Rubicon Venture Capital, an early stage VC fund with offices in San Francisco and New York City focused on backing consumer and enterprise technology companies in the internet, software and connected hardware verticals at Late Seed, Series A and B stages. Also author of Masters of Corporate Venture Capital and The Entrepreneurial Bible to Venture Capital: Inside Secrets from the Leaders in the Startup Game. Founder and President of The Global TeleExchange (The GTX), where he raised $50m from VCs. General Partner at Georgetown Venture Partners (GVP), Georgetown Angels & The Founders Club. Advisor to corporates on CVC programs.
Organizer of Corporate Venture Capital - Miami with Andrew Romans (Half Day Seminar)
Located in the heart of the vibrant Wynwood Arts District, the LAB is Miami's original coworking community. In 2012, the founding members of the LAB teamed up with the Knight Foundation and a group of angel investors to convert a 10,000 square foot warehouse into a shared office space and event venue. Since then, a growing number of Miami's brightest and most forward-thinking entrepreneurial minds have converged here to share their ideas, learn from one another, and build amazing companies and projects.