Description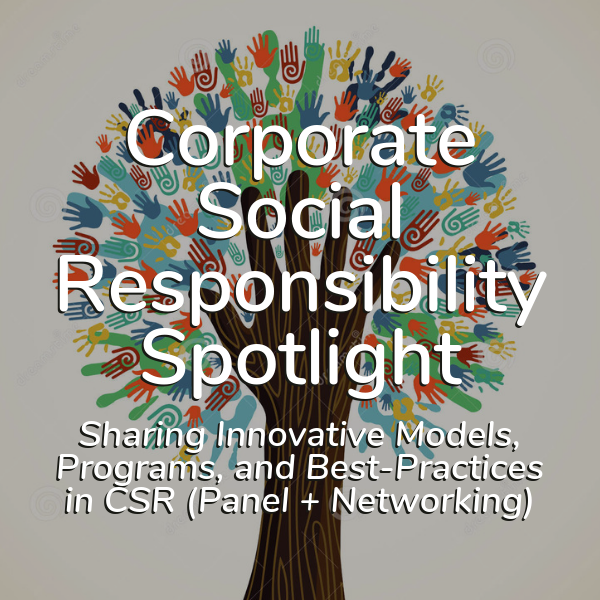 The Be Social Change Corporate Social Responsibility Spotlight brings together experts, practitioners, and thought-leaders in CSR, corporate foundations, B Corps, socially-conscious businesses, and nonprofits for in-depth conversations about CSR trends, innovative models, social impact campaigns, and best-practices in using business as a force for good.
Our diverse set of speakers will share insights on how core business capabilities can be leveraged to address society's most pressing needs while also creating economic value for businesses.
What You'll Learn
A deeper understanding of current CSR trends and how companies are integrating it into their business strategy
What are the major challenges businesses face when building and growing CSR programs and initiatives
How technology is influencing CSR growth and impact measurement
What career paths and opportunities are available within the CSR sector
About Be Social Change Events
In addition to gaining a better understanding of how you can make an impact through your career and life, you'll also have an opportunity to build your network by connecting with like-motivated people from the Be Social Change community.
Healthy + Sustainable Snacks Provided – Gluten-Free and Vegan Options Available. We strive to produce as minimal waste as possible during Be Social Change events – help us by bringing a reusable water bottle to the event.



THANK YOU TO OUR EVENT SUPPORTER
CleanChoice Energy is a clean energy supplier with a mission to make clean energy accessible for everybody. Our goal is to make it as easy as possible for customers to make a big impact on the air we breathe and on the environment. You don't need to install solar panels or even own your home, apartment, or business space—you simply make the switch, and we make sure all the energy you use is replenished on the grid with 100% clean wind and solar power.
Bring your latest energy company utility bill (or pull it up on your mobile device) to the event for a free bill analysis and receive a $25 gift card when you sign up.



SCHEDULE
6:30 – 7:00 pm –

Networking

7:00 – 7:15 pm – Intro + Collaborative Q&A

7:15 – 8:00 pm – Panel Discussion

8:00 – 8:30 pm – Q&A

8:30 – 9:00 pm – Networking


FEATURED PANELISTS
Kate Raulin, Senior Associate of CSR, TIAA
Bahar Gidwani, Co-founder, CSRHub
Chris Villari, Senior Manager – Communications, NY/Tri-state Metro Region, Skanska


PANELISTS BIOS
Kate Raulin, Senior Associate of CSR, TIAA
Kate Raulin has over seven years of experience working in the public, private, and nonprofit sectors. She currently is a Senior Associate of CSR at TIAA where she manages community engagement and CSR initiatives for NYC and the Northeast region.

Prior to joining TIAA, she worked and lived in Haiti for a year where she founded the nonprofit Write to Be, that provided mentorship and skills training for adolescent girls living at an orphanage in Southern Haiti. Kate also worked as a Legislative Assistant for a U.S. Representative from Ohio where she advised on and managed a portfolio of national policy issues.
Kate has a Master of Public Policy degree from the University of Maryland and a Bachelor of Arts from Ohio Wesleyan University.
Bahar Gidwani, Co-founder, CSRHub
Bahar Gidwani has advised, financed, founded, bought, and sold software and media services companies for the past thirty years. He is currently the CTO of CSRHub, which provides access to sustainability information. He also serves on the board of Privacy Communications, a supplier of wi-fi encryption services and participates in several local angel networks.

Over the past twelve years, CSRHub has built the world's largest database of sustainability information. CSRHub provides information on corporate social responsibility (CSR) performance of more than 31,000 companies in 141 countries to corporate managers, investors activists, not-for-profit organizations, and students. Bahar designed CSRHub's data aggregation system and leads the company's business development activities. He also serves on the Stakeholder Council of the Global Reporting Initiative (GRI), is a member of the American Sustainable Business Council, and has spoken on sustainability issues in many venues, to a wide range of audiences. He holds both the CFA and FSA designations.
Before his time on Wall Street, Bahar worked for McKinsey & Co. in both the U.S. and Europe. His assignments included work in the banking software, mainframe software, and software services areas. Bahar graduated from Harvard Business School as a Baker Scholar. He did his undergraduate work in Physics and Astronomy at Amherst College. Bahar is a champion bridge player and sails competitively throughout the year.
Chris Villari, Senior Manager – Communications, NY/Tri-state Metro Region, Skanska
Since starting with Skanska in 2016, Chris Villari has lead dozens of community-based projects for Skanska, one of the largest construction companies in New York. Living up to the company's motto that "we build for a better society", highlights of the program include partnerships with the Queens Variety Boys and Girls Club to teach young kids the fundamentals of 3D design, a $2M partnership with the Elmjack Little League to improve their baseball facilities, and educational programs with the NY Academy of Science, the NY Hall of Science, and NYC Free Arts Program.
In 2018, City and State Magazine named Chris as one of "New York's Responsible 100" leadership list.



MODERATOR
Marcos Salazar (@marcossalazar) is a serial social entrepreneur, career coach, speaker, and community-builder. For as long as Marcos has been working in the social impact space, he has also been building businesses.
Marcos has worked in research and leadership development at the American Psychological Association, Girl Scouts, and the White House Project (promoting women to run for office). He is also the founder of two t-shirt companies, a number of social impact blogs, and the author of two books.
Through Be Social Change, Marcos taps into his entrepreneur's creativity and social good inspiration to help people find and do meaningful work and lead more sustainable lifestyles.
Marcos earned a degree from Amherst College and a masters in Organizational Management and an Executive Leadership Coaching certificate from The George Washington University. You can learn more about him at www.marcossalazar.com.
EVENT ORGANIZER
Be Social Change is a membership community helping people across all sectors build lives and careers of social impact. For its members, Be Social Change hosts weekly professional development workshops and social impact events, as well as curates discounts to sustainable businesses to inspire and guide people to make a difference through their careers and lifestyles.
Be Social Change Membership is $19 a year.
THANK YOU TO OUR SPONSOR
Founded in 2010, Harmless Harvest is a progressive food & beverage initiative set to demonstrate that ecosystem-based businesses can outcompete the conventional model. By integrating the long term welfare of all its stakeholders – from plant to customer – Harmless Harvest has taken the food and beverage world by storm, rising to the top of the industry in record time.
Harmless Harvest is dedicated to generating positive feedback loops between people and plants. Their vision is a world where nutritious, clean, organic and healthy food and beverages are the standard rather than the exception; where all people involved in the chain of custody are treated with fairness; and the planet is treated harmlessly.


SPACE PARTNER
A guild for 21st-century craft promoting slow entrepreneurship and intentional service. Unequal parts cafe, living room, workshop, collaboratory, rooftop garden, and upstate retreat space on a biodynamic farm. Learn more about visiting or renting at https://www.primeproduce.coop/.
===================================
Refunds can be issued in full up to 48 hours prior to the start of the event by contacting Be Social Change at support@besocialchange.com.
Photography, Video & Recording Policy: Photography, video and audio recording may occur during Be Social Change events. If you have an issue with being recorded, please let us know.