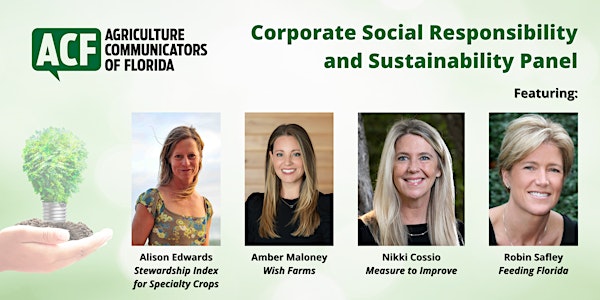 Corporate Social Responsibility and Sustainability Panel
Join us for a virtual panel discussion on corporate social responsibility & sustainability. Get tips to implement at your organization!
Refund Policy
Contact the organizer to request a refund.
Eventbrite's fee is nonrefundable.
About this event
In today's market, having a corporate social responsibility (CSR) and/or sustainability plan in place is no longer a "nice to have," it's a must. Consumers are more aware than ever of where their food comes from, what their favorite brands stand for and how all of this plays into overall sustainability efforts. And, agriculture plays an important role in these conversations.
Join the Agriculture Communicators of Florida on August 25 at 10 a.m. for a virtual panel discussion as we dive into these topics and share actionable tips for you to take back to your company/organization and implement.
Meet our panelists
Alison Edwards | Director, Stewardship Index for Specialty Crops
Alison Edwards is the Director of The Stewardship Index for Specialty Crops, a multi-stakeholder collaborative, which spans the food industry, including brands, buyers, growers, industry groups, and environmental NGOs. In her role, Alison facilitates collaborative solutions across supply chains, leading to measurable improvement of natural resource stewardship on the ground.
By helping companies design programs for competitive advantage and reduced environmental impact, her work builds policies and practices to enhance the resilience of the food industry. Ms. Edwards has a history of working at the center of collaborative efforts to build more resilient futures. Over the last 20 years, she has helped build more sustainable systems with corporations, communities, local and regional government agencies, and large nonprofits. Drawing from her experience at the intersections of food and agriculture, organizational development and leadership, and sustainability and resilience, she helps organizations collaborate to build the healthy future they want to see.
A California native, Ms. Edwards holds an MA from UC Berkeley and a BA from UC Santa Cruz.
Amber Maloney | Director of Marketing, Wish Farms
Amber Maloney joined Wish Farms in 2011 as the Director of Marketing, developing the company's marketing department from the ground up. She leads the public relations and marketing efforts focusing on three key audiences: customers, consumers, and the grower community. Over the years, her innovative programs have taken the Wish Farms brand to new heights; contributing to the highest sales in company history. Most recently, Maloney led a brand refresh complete with new brand messaging, label designs, website, and corporate giving program.
Maloney has served as President of the Agriculture Communicators of Florida, Treasurer of the Florida Blueberry Growers Association and is a graduate of the Florida Fruit & Vegetable Association's Emerging Leader Development Program (ELDP). In 2014, she was honored with a Produce Business 40 Under 40 award.
Nikki Cossio
| Founder and CEO, Measure to Improve, LLC
Nikki Cossio is the founder and CEO of Measure to Improve, LLC. She is a recognized and awarded leader, educator, and visionary in the produce industry and is most well-known for building successful sustainability programs that implement innovative solutions. Her professional career has always been about building synergy among the three crucial aspects of a successful agriculture business: People, Planet, and Profit. Often times, her work centers around supply-chain-wide collaboration and takes a systems approach to addressing problems. In 2019, Nikki was recognized in the Packer 25 Profiles in Leadership for the ag industry.
As a member of a long-standing California farming family, Nikki understands what sustainability means across four generations. Nikki currently serves on the Board of Directors and Chairs the Sustainability Council for IFPA and is a member of the Stewardship Index for Specialty Crops Coordinating Council, which supports the emerging on-farm sustainability metrics for specialty crops. Prior to that, she served on the sustainability committee and Board of Directors of the Produce Marketing Association (PMA), and chaired the Center for Global Produce Sustainability. In 2011, Nikki founded the Monterey County Sustainability Working Group, an effort to share current and successful sustainability efforts among agricultural producers and processors on California's Central Coast.
Robin Safley | Executive Director, Feeding Florida
Robin Safley is Executive Director of Feeding Florida. In her role she oversees the lead organization in the fight against hunger in Florida with a statewide network of 12 member food banks and over 2,500 partner agencies that feed every community every day. Safley works to raise awareness of hunger, acquire food and financial donations, as well as work with state policymakers to garner additional support to find solutions to end hunger.
Previously the Director for the Division of Food, Nutrition and Wellness under Commissioner Adam Putnam, Safley integrated Child Nutrition Programs from the Florida Department of Education into The Florida Department of Agriculture and Consumer Services.
Previous public service included stints as Chief of Staff to the Florida Senate President and Chief of Staff to the Commissioner of Education. Safley holds a Juris Doctor degree from the FSU College of Law.