Description
A well groomed person with appropriate business etiquette is a must in business today. As we become more visually incline and image conscious, the need for confident positive image, visually pleasant and the ability to relate to effectively to others will result in higher opportunity for success.
This workshop introduces the participants the essential elements and techniques associated with projecting a professional and business etiquette in the workplace.
The selected modules encompass on the right image, grooming, business etiquette; while emphasis is set towards the business context relaying on positive interpersonal communication for effective results.
Workshop Learning Objectives
• Develop a confident, polished professional image
• Increase success with professional personal image and projection;
• Develop powerful first impressions and lasting impressions;
• The Importance of the right look – Clothing, Hair and other accessories in developing a professional image that relates with the corporate image
• Leverage on our physical appearance to enhance our communication.
• Learn how to use image to enhance client-relations and impression
• Enhance confidence and influence as personal and professional development translates into a positive change in attitude, appearance and actions.
• Gain new insights on how to make better selections and how to co-ordinate their personal colors, styles, fabrics and accessories in ways that flatters the individual, which are appropriate for the business in the communication industry and will enhance their goals.
• Learn the fundamentals of grooming and tips.
• Learn to identify skincare products for different skin types.
• Learn the Business Make-Up Technique (Hands-On)
Who Should Attend?
(Workshop is for Ladies Only)
• Front Liners
• Executives
• Managers
• Business Development / Sales Professionals
---
Your Program Facilitator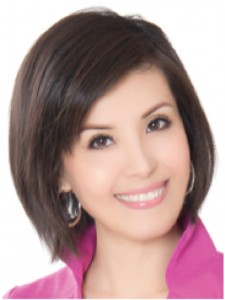 Michelle Son
Michelle Son is a certified Image & Style CoachTM with IASC (International Association of Style Coaches) UK, a certified Professional Image Consultant trained by ByFERIAL, a member of AICI (Association of Image Consultant International) and a Trained Beauty Therapist. She has a Graduate Diploma in Business & Management, a Diploma in Private Secretaryship and obtained her Train-The-Trainer Certification from PSMB.
Michelle has 20 years of working experience. She started working as a Personal Assistant for a premier private education institution, than a leading hotel and ending in a large French oil & gas corporation. She then worked as a Sales Coordinator for a large US Freight. There, she worked her way to be the Territory Sales Manager for Southern Region (from Seremban to Johor). Later she was headhunted to join a US courier service company as an Account Manager. Within a short period of 6 months, she turned her region to profitability and one of top sales region country wide. After 5 years in Sales for Logistics industry, Michelle decided to try something different and joined Malaysian Airline as a cabin crew for just over a year.
In 2006, Michelle got involved in the beauty and aesthetic industry. She started in the industry by joining the Business
Development Team for one of the largest and leading international OEM (HQ based in Switzerland and Italy) for cosmetics, skincare and personal care. She was the key liaison point for their clients in SEA and the Asia Pacific countries. Later she was headhunted to join a Malaysian/Korean retail outlet as part of their Product Development team. Her last position was with a large local FMCG as Head of the Product Development Team.
Over that 6 years, Michelle conceptualized skincare, cosmetic and personal care products for the companies she worked with. She is well-verse with product development processes from conceptualize of product range to finish product and know how ingredients in beauty products. Her international exposure and interaction with different brands and OEM from various Asia countries like Singapore, Korean, Japan, Taiwan, Hong Kong and China. Some of the products she developed are still sold in the market today.
Since 2012, Michelle started to help her clients (Man and Woman) look great by getting clear on their personal image aspirations and move that clarity into visual expression to their wardrobe, grooming, mannerism and etiquette. She aims for every client interaction to be authentic, positive, memorable and long lasting.
Date and Time
Location
Vistana Kuala Lumpur Titiwangsa
9 Jalan Lumut
Kuala Lumpur, Wilayah Persekutuan Kuala Lumpur 50400
Malaysia