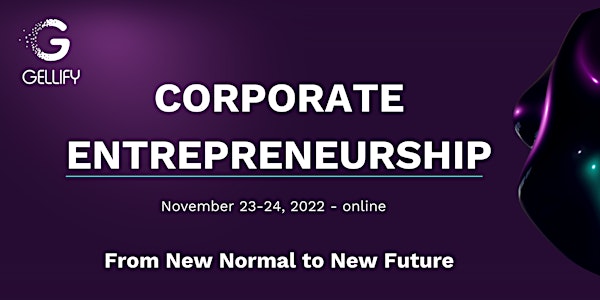 CORPORATE ENTREPRENEURSHIP 2022
Embark on a new adVenture towards innovation through Corporate Entrepreneurship. Become a future-ready company and generate growth
About this event
From New Normal to New Future
🚀 𝗖𝗼𝗿𝗽𝗼𝗿𝗮𝘁𝗲 𝗲𝗻𝘁𝗿𝗲𝗽𝗿𝗲𝗻𝗲𝘂𝗿𝘀𝗵𝗶𝗽 is an 𝗼𝗽𝗲𝗻 𝗶𝗻𝗻𝗼𝘃𝗮𝘁𝗶𝗼𝗻 𝗺𝗼𝗱𝗲𝗹 that leverages the entrepreneurial skills of organizations with the goal of entering new markets or launching new products and services. It is a path that is neither easy nor obvious: innovating requires starting with cultural and organizational change, but often this change is not understood by everyone, might be inhibited by traditional rigid models or opposed.
🌪️ In rapidly changing socio-economic contexts, such as those we are facing, 𝗖𝗼𝗿𝗽𝗼𝗿𝗮𝘁𝗲 𝗘𝗻𝘁𝗿𝗲𝗽𝗿𝗲𝗻𝗲𝘂𝗿𝘀𝗵𝗶𝗽, our 𝗼𝗻𝗹𝗶𝗻𝗲 𝗲𝘃𝗲𝗻𝘁 𝗼𝗻 𝗡𝗼𝘃𝗲𝗺𝗯𝗲𝗿 𝟮𝟯 𝗮𝗻𝗱 𝟮𝟰, becomes a crucial opportunity to discuss - through the bright voice of international experts - what are the international best practices, trends and success stories of companies and organizations that are addressing these issues through investments and venturing initiatives but also through the enhancement of human capital, with an important look at the very topical issue of the energy crunch and sustainability.
😎 Some of the great minds that will be participating in 𝗖𝗼𝗿𝗽𝗼𝗿𝗮𝘁𝗲 𝗘𝗻𝘁𝗿𝗲𝗽𝗿𝗲𝗻𝗲𝘂𝗿𝘀𝗵𝗶𝗽:
𝗔𝗹𝗲𝗰 𝗥𝗼𝘀𝘀, best-selling author of "The Raging 2020s: Companies, Countries, People – and the Fight for Our Future"; he also worked as Senior Advisor for Innovation to Hillary Clinton and as coordinator of the Technology & Media Policy Committee in Barack Obama's 2008 presidential campaign. Today, he is Distinguished Adjunct Professor at the Bologna Business School of the University of Bologna.
Fabio Vaccarono, former Google Vice President and Managing Director Google Italy; today, he is President, CEO and General Manager of Multiversity Group, Università Telematica Pegaso and Universitas Mercatorum. With his speech entitled: "Cultivating A Culture That Nourishes Talent: the importance of the human journey towards innovation" he will talk about the human talent and how to make it thrive.
Dario Mancini, now Regional Manager for Italy and the entire EMEA market for Waze, previously worked for more than 10 years at Google handling online partnership development in Ireland, Poland, Brazil and Argentina. He will focus on partnership development with the talk "Implementing the organization's service offerings through smart partnerships"
⏰ Hurry, there is no better time than now to promote your strategy and build a successful future!
Format: Online event
Two immersive events consisting of online plenaries which allow you to participate from all over the world.
Be sure to sign up for both days on Eventbrite!