Description
You are invited to a special evening honoring e-discovery excellence, presented by Zapproved, and featuring special guest speaker, Nina Totenberg.
The Corporate E-Discovery Hero Awards Celebration will recognize the individuals making big strides in solving e-discovery in-house. These are the e-discovery experts and in-house legal professionals at corporations and governmental agencies demonstrating excellence in e-discovery strategy, process and success.
Finalists were nominated by peers like you through Dec. 23, 2016. Join us in awarding these heroes during an inspirational evening of networking and storytelling. You'll meet the best and brightest e-discovery professionals working to make in-house e-discovery better.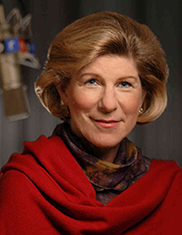 Special guest Nina Totenberg, NPR's award-winning legal affairs correspondent who has reported on issues surrounding the Supreme Court since 1975, will be the featured speaker at the awards celebration. Ms. Totenberg will share insights from her extensive career covering the court as well as her thoughts on the Supreme Courts' direction in light of the incoming Trump administration.

Corporate E-Discovery Hero Award Categories:
Corporate E-Discovery Hero Award for Strategy
Honoring in-house professionals who've developed and implemented cost-effective and creative policies and practices that reduce corporate risk and demonstrate e-discovery excellence.


Corporate E-Discovery Hero Award for Technology
Honoring in-house professionals who leverage new and emerging technology and information systems to reduce corporate risk and improve efficiency in their overall e-discovery and compliance responsibilities.


Corporate E-Discovery Hero Award for Process
Honoring in-house legal professionals or consultants who guide in-house teams in improving their processes to yield more defensible, repeatable, and efficient workflows and cultivates a culture of compliance.


Corporate E-Discovery Hero Award for Teams
Honoring in-house teams who consistently improve their e-discovery efficiency, security and compliance performance to demonstrate measurable results for the company.


Corporate E-Discovery Hero Award for Lifetime Achievement
Honoring individuals in the e-discovery community whose actions over the lifetime of their careers have significantly influenced and elevated the practice of e-discovery.


---