Description
This fall Runners Forum should take the opportunity to participate in Indy Sports Corp's Corporate Challenge. There are many sports for Runners Forum team to compete in.
This is for Runners Forum staff to create teams and not the actual Corporate Challenge.
---
21st ISC Corporate Challenge Presented by Anthem Blue Cross Blue Shield Up to 165 companies from central Indiana are expected to vie for titles in the 2017 Corporate Challenge sponsored by Anthem Blue Cross and Blue Shield. Preliminary events will be conducted on September 9, September 13 and for the fourth year, the main event will be at the Indianapolis Motor Speedway, this year on September 16. The ISC Corporate Challenge is a fun-filled community event that emphasizes healthy lifestyles, friendly competition and company camaraderie. The competition offers something for each member of the company: distance runs, sprints, a fitness walk, tug-of-war, and field activities (called "Good Sport Events") such as basketball shootout, football accuracy throw, golf chipping challenge and soccer shootout, to name a few. Each participating company is placed in one of four divisions based on its company size (total number of employees in Indiana). Each company also competes in one of 10 Industry Challenges and "Compassion Events" by providing donations for several great causes, including the Indiana Sports Corp Susan Williams CHAMPS Grant Program and Geared For Health: Sports Equipment for Kids, as well as the Indiana Blood Center. In 2016, nearly 8,000 competitors representing 160 companies participated in everything from volleyball to bowling and running to parallel parking. Last year, dodgeball debuted as a new Corporate Challenge event to the delight of our participants! This year, we will be hosting our Cycling Time Trials at the Indianapolis Motor Speedway on Wednesday evening, September 13. This will be the first time we hosted this event on a weeknight!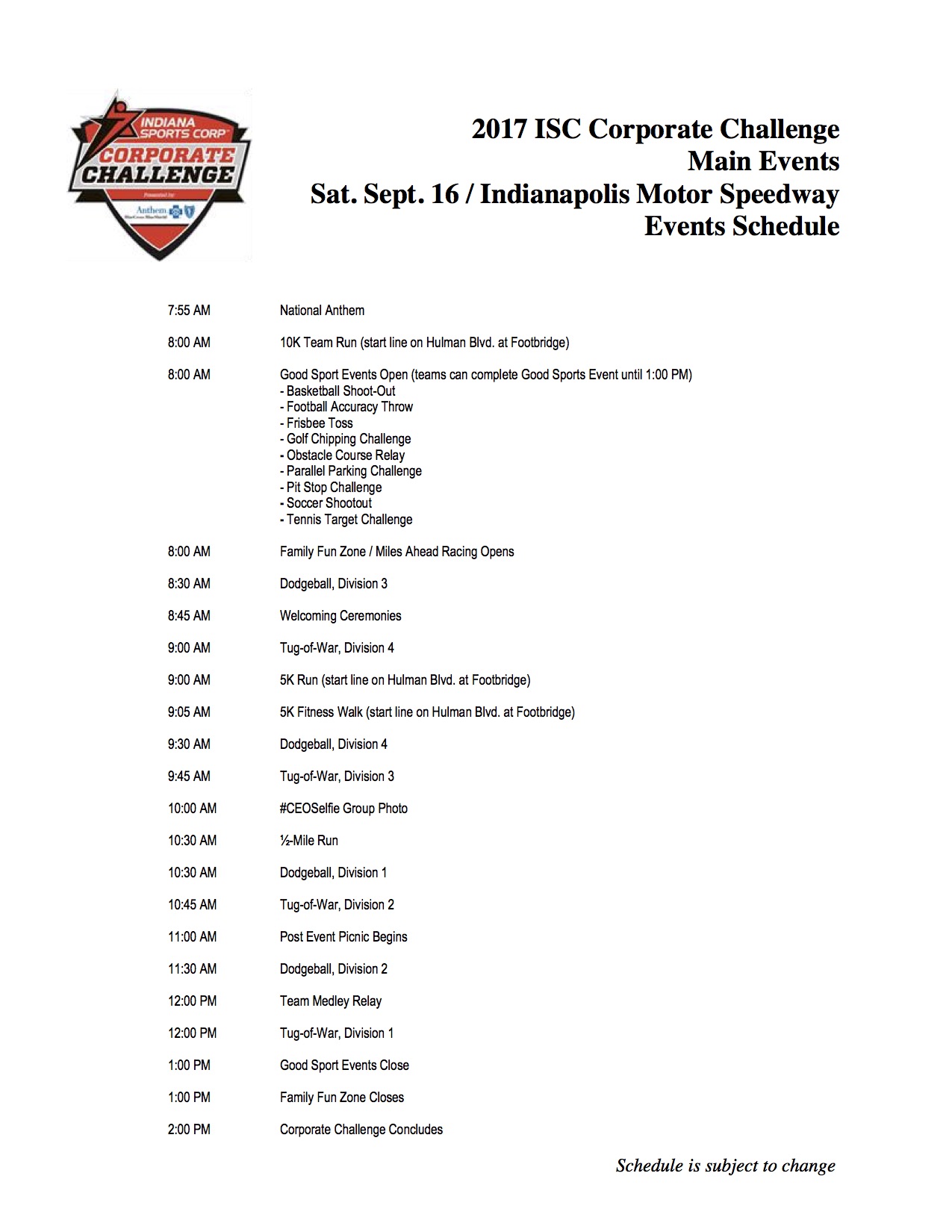 Save
Save