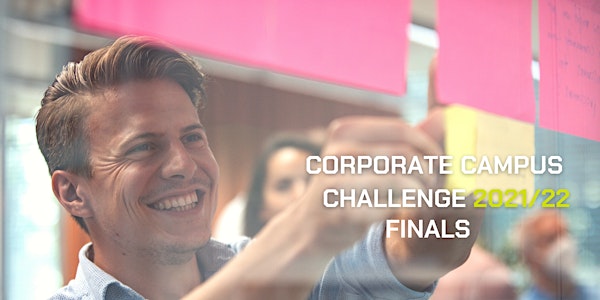 Corporate Campus Challenge WT21/22 FINALS
Final Pitches & Networking | Corporate Campus Challenge WT21/22
About this event
Alle guten Dinge gehen einmal zu Ende, so auch die Corporate Campus Challenge 2021/22.
Bei der diesjährigen Corporate Campus Challenge haben sich mehr als 100 hochmotivierte Teilnehmer zusammengefunden und sich in interdisziplinären Teams mit den Aufgabenstellungen unserer Challenge-Anbieter Bechtle, Schunk, SAP und Senstartup auseinandergesetzt. Seit Oktober haben die Teams an ihren verschiedenen Lösungsideen und Prototypen gearbeitet.
Beim großen Finale werden die Teams ihre innovativen Lösungsideen und ihre getesteten Prototypen auf einer öffentlichen Bühne präsentieren.
Das große Finale findet am 20. Januar 2022 ab 18:00 Uhr auf den Stationen statt. Eine Expertenjury wird die einzelnen Pitches kritisch bewerten und einen Gewinner mit der innovativsten Idee auswählen.
Später werden wir den Abend gemeinsam mit einem virtuellen Get-together ausklingen lassen
Im Namen aller Teilnehmenden, der Challenge-Geber und natürlich Campus Founders freuen wir uns, wenn auch du an dem Event teilnimmst.
(Das Event wird auf Englisch stattfinden)
________________________________________________________________________________________________
All good things come to an end. And so does the Corporate Campus Challenge 2021/22.
Therefore we would like to cordially invite you to the Corporate Campus Challenge FINALS.
In this years' Corporate Campus Challenge more than 100 highly motivated participants came together and worked in interdisciplinary teams to tackle the challenges given by our challenge providers Bechtle, Schunk, SAP and Senstartup. Since October, the teams have been working on their different solution Ideas and Prototypes.
At the grand final the teams will pitch on a public stage, their innovative solution ideas and their tested prototype
The grand final will take place on 20th January 2022 from 18:00 on wards. A jury of experts will critically evaluate the individual pitches and select a winner with the most innovative idea.
Afterwards, we will celebrate the end of the program together with the teams with a casual virtual networking event.
On behalf of all participants, challenge providers as well as Campus Founders, we invite you to join this event and play an active role in the audience award.
(The event will be in English)
Agenda für den Abend / Agenda for the evening:
06:00 pm: Welcoming & Introduction
06:20 pm: Pitching of the teams
08:25 pm: Keynote by Tobias Rieker from Markt Pilot
08:55 pm: Award ceremony & Closing official part
09:30 pm: Get together and networking
We are looking forward to meet your at our FINALS of the Corporate Campus Challenge 2021/2022!