Event Information
Performers
Refund Policy
Refunds up to 1 day before event
About this Event
THE PURPOSE OF THIS ONE (1) TO ONE (1) ONLINE CONSULTATION IS:
1. TO HELP STARTUPS & SMALL BUSINESSES TO SURVIVE THROUGH EXCEPTIONAL STRATEGIES & WORKAROUNDS
2. TO UNDERSTAND THE CHANGE IN CUSTOMER BEHAVIOR & TO FRAME THE SALES & MARKETING STRATEGIES ACCORDINGLY
3. TO HELP IN HOLDING THE CURRENT (PHYSICAL OR VIRTUAL) FOOTFALL OF THE CUSTOMERS TO REGAIN THE LOST BUSINESS
WHO CAN AVAIL THIS CONSULTATION:
1) STARTUPS (ANY VERTICAL, ANY STAGE) 2) RETAILERS (OF ANY KIND OR SIZE), 3) RESTAURANTS, 4) PROFESSIONAL SERVICES, 5) IT COMPANIES (SMALL OR MEDIUM), 6) HOSPITALITY SECTOR, 7) ENTERTAINMENT, 8) ANY ONLINE / OFFLINE SME BUSINESS OF ANY KIND.
THIS ONE TO ONE CONSULTATION WILL COVER MANY ASPECTS:
1. UNDERSTAND THE CORONAVIRUS IMPACT ON YOUR STARTUP OR SMALL OR MEDIUM BUSINESS FOR THE YEAR 2020 & BEYOND
--- Understand how this pandemic will impact your business or startup in the year 2020 and beyond
--- Get to Know how the Q2, Q3, Q4 will get worse for your business or startup
--- Know how the supply chain (Including Human Beings) is impacting your business or startup & how it will affect the year 2020 & beyond
2. HOW TO SAIL (SURVIVE) THROUGH THESE MARKET CRISIS
--- Learn how to convert this pandemic into an undetermined opportunity for your startup or small business
--- Find out the strategies & case studies that will make your startup or business survive through this pandemic
--- Learn How to increase the FOOTFALL (Physical & Virtual) to minimize the impact of this epidemic on your startup or business
--- Learn how to understand the customer behavior in this pandemic and then modifying your product accordingly
--- How to (the methods) gain the Customer's trust to keep the business going
--- The methods to modify the sales & marketing strategies that works in the real world for many startups and businesses
3. RAISE OR MAKE MONEY, INCREASE CASHFLOW WITH OR WITHOUT SELLING ANY PRODUCT OR SERVICES
--- YES, You heard it right, you NEED NOT TO SELL anything and the customers will still pay you
--- There are popular methods, examples & case studies where in the market the CUSTOMERS HAVE PAID without buying anything
--- Understand that CUSTOMERS always love to buy the things whether required or not required, learn How to keep them spending the money
--- Understand the CREDIT & CASH part of the Economy and use strategies to get the CREDIT & CASH from your customers
--- EVEN in LOCKDOWN, there are ways you can still sell the product or services you were selling but with an innovative approach, learn how
4. THE OPPORTUNITY TO INNOVATE YOUR PRODUCT / SOLUTION
--- Necessity is the mother of invention. Learn how you can innovate in your business (startup)
--- Find out what you can do to innovate your product, team & business or startup
--- Know the methods that you can use for innovation for your startup or business
--- Learn why without innovation (at this time) your business or startup is as good as a dead business
5. BELIEVE ME, IT'S A GOOD TIME TO RAISE FUNDS FOR YOUR BUSINESS OR STARTUP
--- Do you know that this is the BEST TIME to raise funds for you business or startup, if so, how?
--- How to raise funds for your business or startup in this pandemic
--- Know the INVESTORS MINDSET of investing the money in this Pandemic
--- Do you know Investors are willing to invest in businesses or startup more in this pandemic than in normal times? if so, why & how?
WHO SHOULD ATTEND:
1. BUSINESS OWNERS (SMALL & MEDIUM BUSINESSES)
2. STARTUP FOUNDERS
3. MD, CXO'S, VP's
4. ANYONE WHO OWN SMALL BUSINESS OR MEDIUM BUSINESS OR STARTUP'S OR IS WORKING ON A BUSINESS / STARTUP IDEA OR EXECUTING IT.
ACCEPT THE TRUTH. (YEAR 2020 AFFECTED BADLY & ITS BLEEDING):
1. The Coronavirus is paralyzing the world economies (NORTH AMERICA, EUROPE, ASIA & AUSTRALIA) & your Business is affected heavily too. This is just a START, WORSE is yet to COME we all know that. So, lets accept the truth.
2. The US Central Bank (Federal Reserve) has cut the rate to ZERO (0) indicating ECONOMY is BLEEDING. DEPRESSION is at the door. RECESSION is confirmed. Heavy Impact on NORTH AMERICA, EUROPE, ASIA & AUSTRALIA.
3. The SMALL BUSINESSES, MEDIUM BUSINESSES & THE STARTUPS are WORST HIT mainly in USA, CANADA, EUROPE, AUSTRALIA, CHINA.
4. NORTH AMERICAN & EUROPEAN GOVERNMENTS have signed Blank Cheques (US$ 850 Billion , €500 Billion) to hold but GOVERNMENTS have confirmed this BLOODSHED will not STOP until JULY 2020.
THIS CONSULTATION IS TO HELP YOU UNDERSTAND THE IMPACT OF THIS PANDEMIC & TO HELP YOU FIND THE SOLUTION TO SUSTAIN YOUR STARTUP OR BUSINESS RATHER THAN SHUTTING DOWN.
ABOUT ME:
I am LAKSHMAN SINGH
(Angel Investor, Startups Mentor, Business Advisor, Consultant & Auditor)
I have over 15 years of relevent experience and help people in business through Consultations, Advices & by Auditing the Businesses. I also help businesses by investing in them, mentoring them and giving them exposure of my network.
Linkedin : https://linkedin.com/in/iamlakshmansingh
Facebook : https://www.facebook.com/iamlakshmansingh
Email : Connect@LakshmanSingh.com
Web : https://www.lakshmansingh.online/
Blog : https://www.lakshmansingh.online/blog
Services : https://www.lakshmansingh.online/services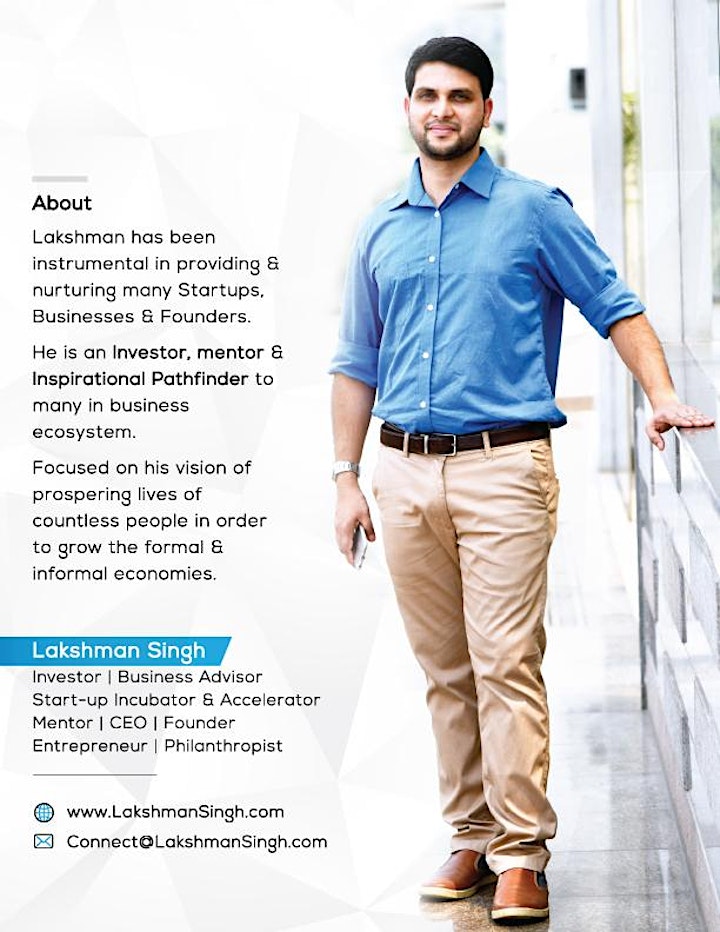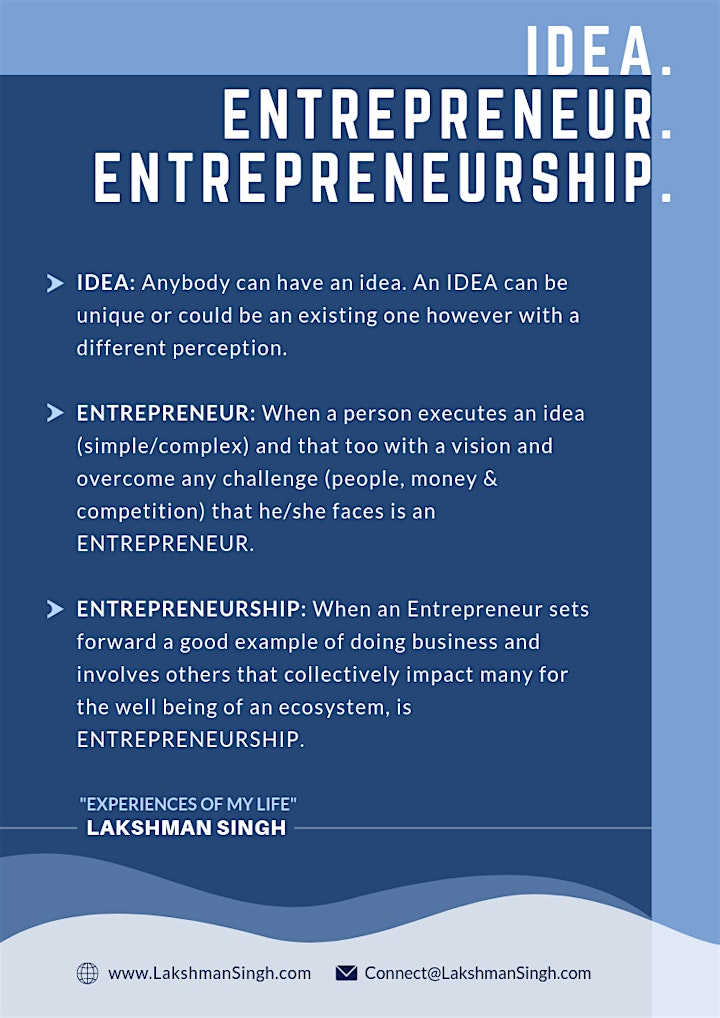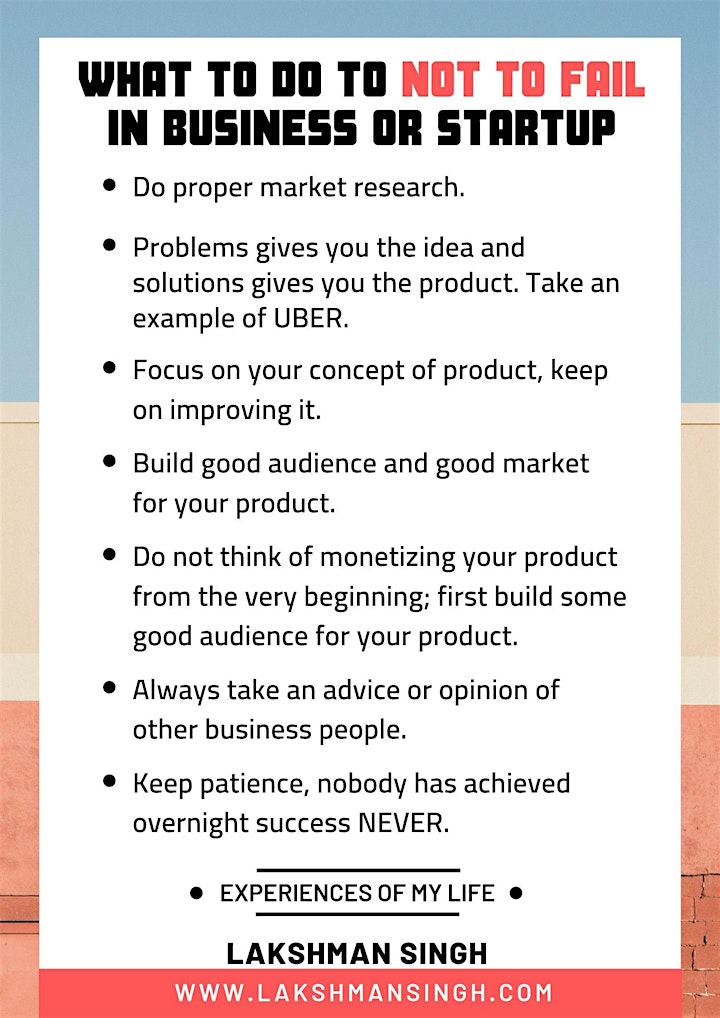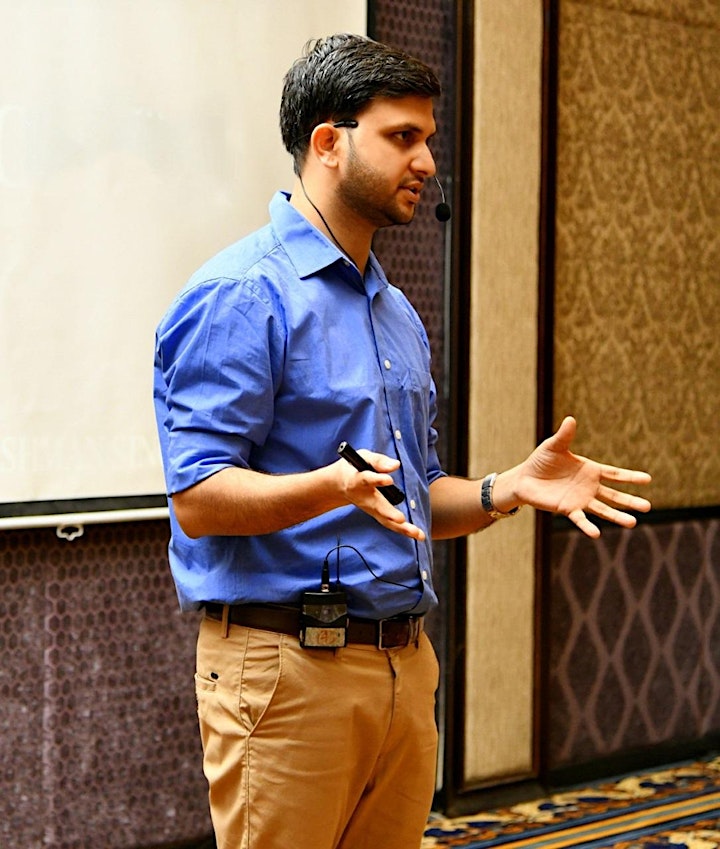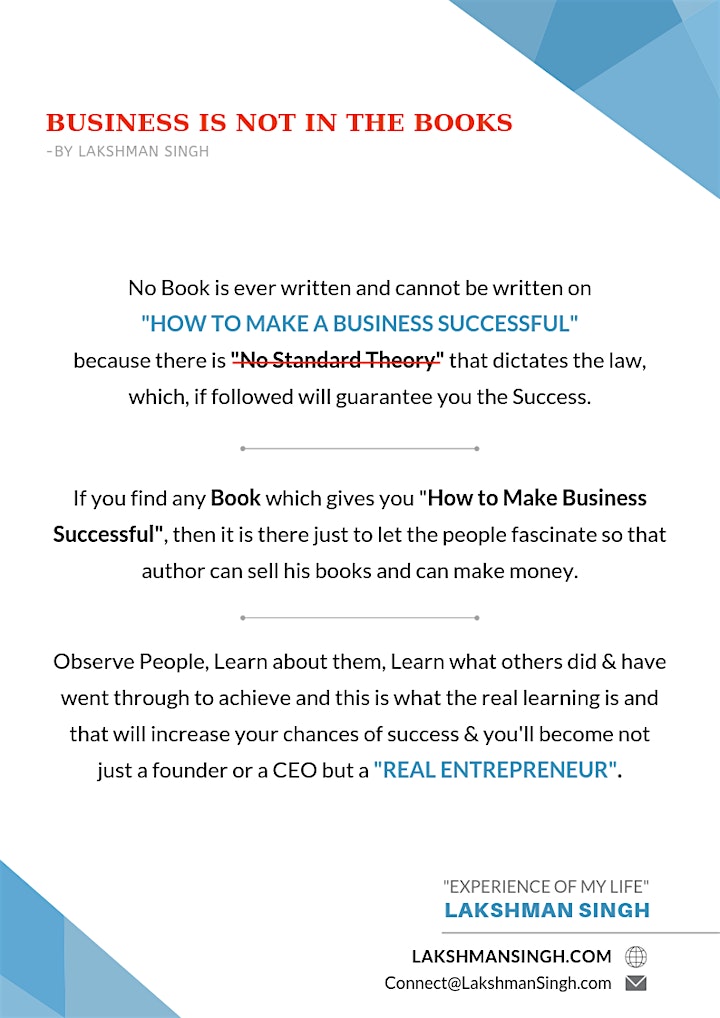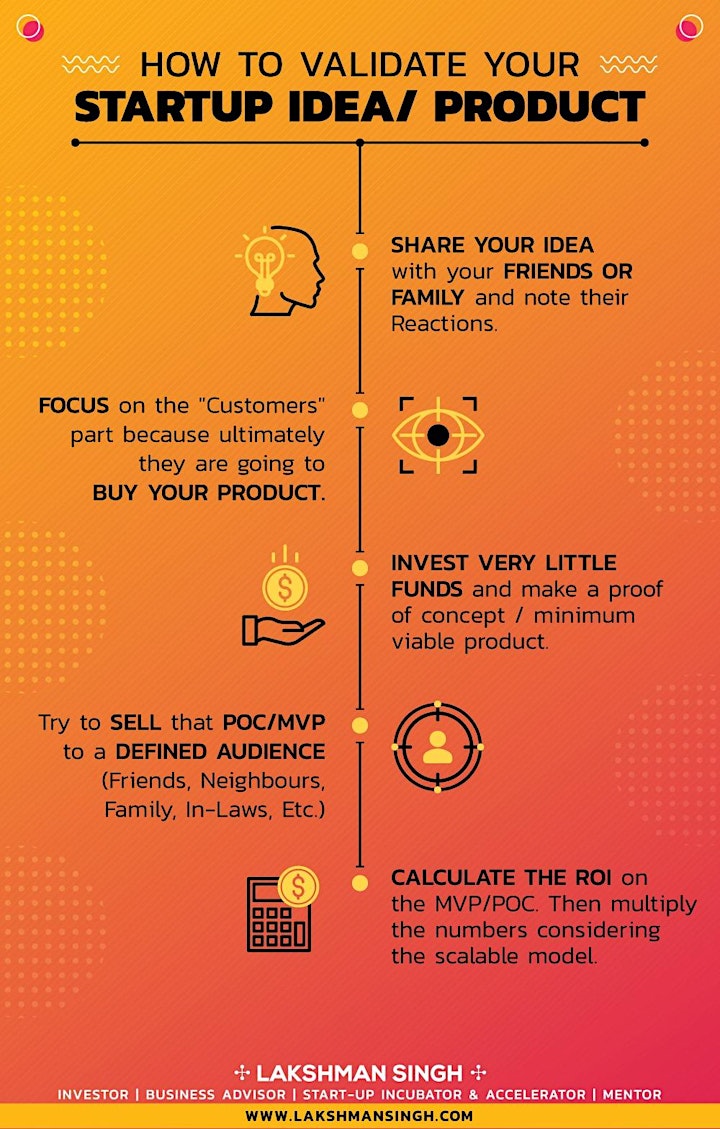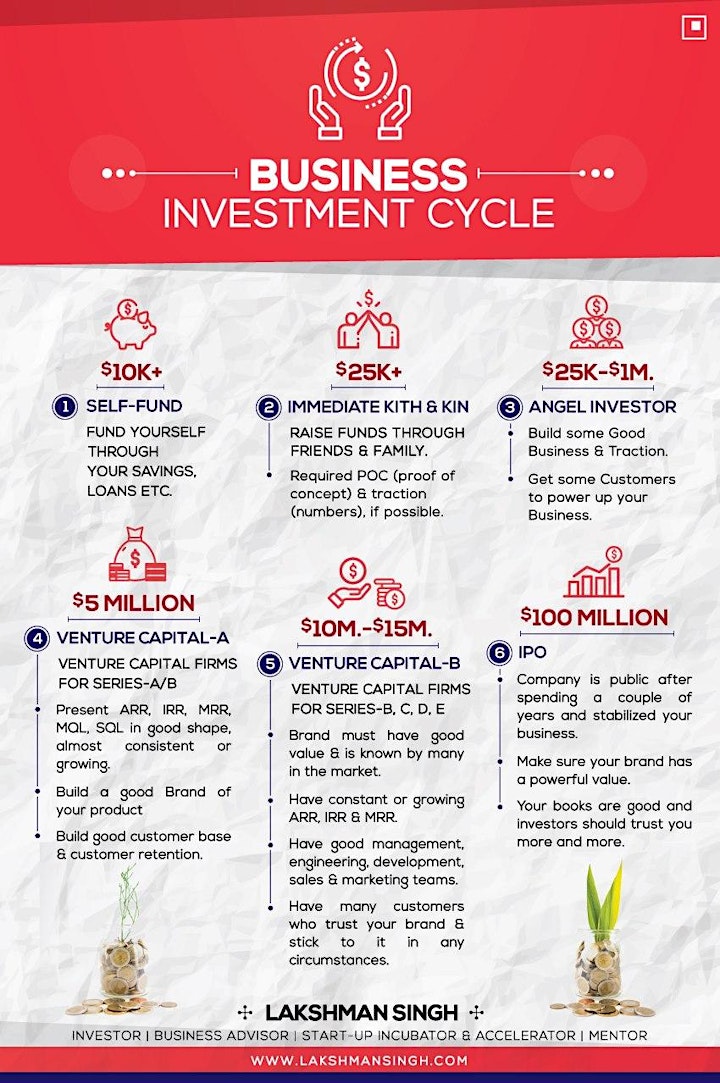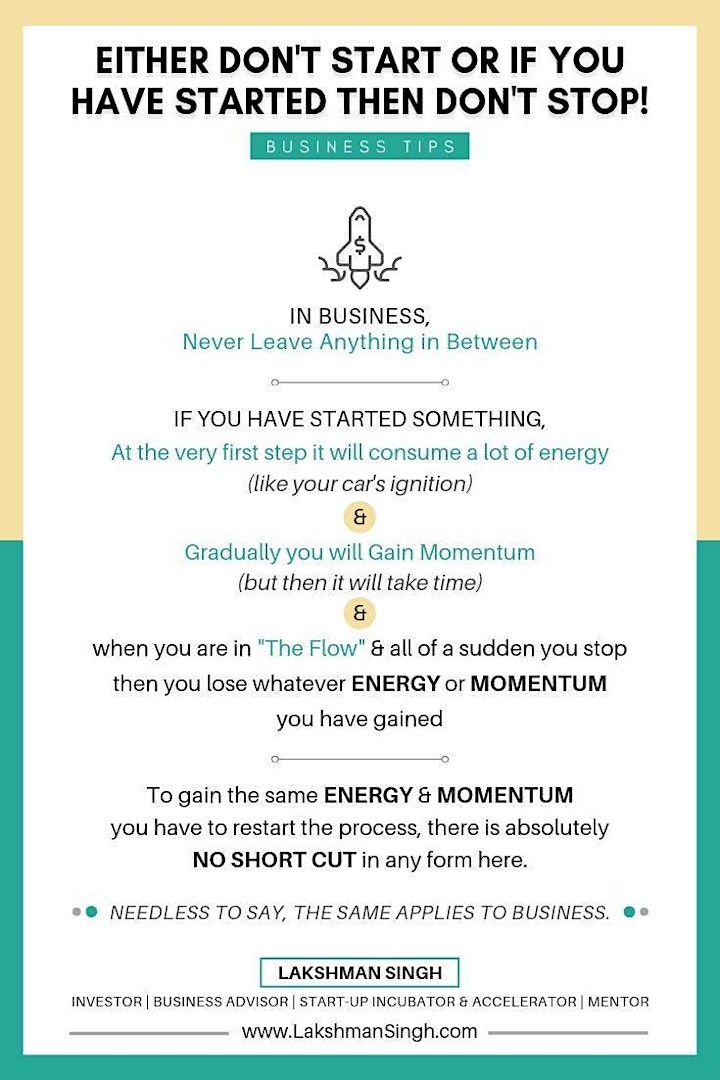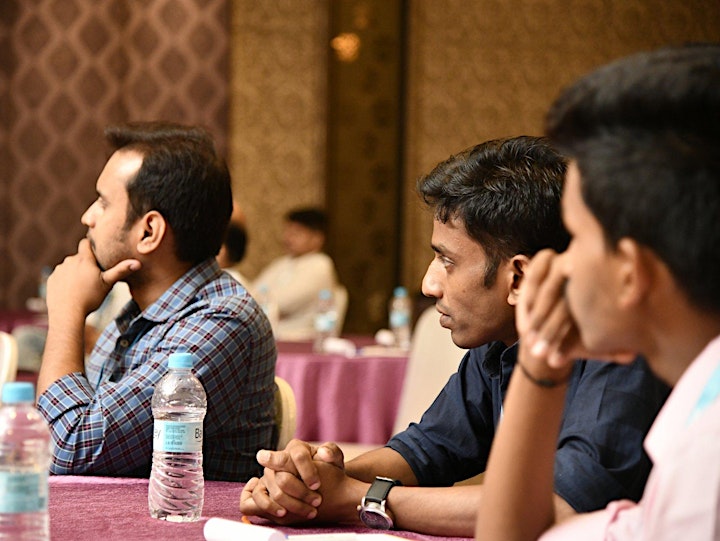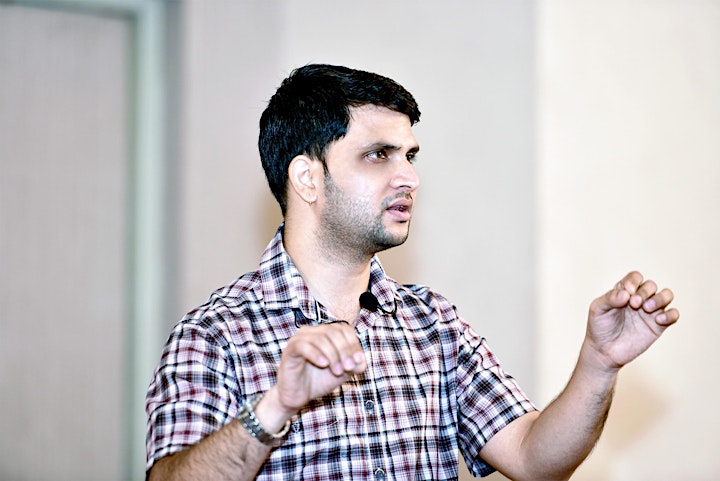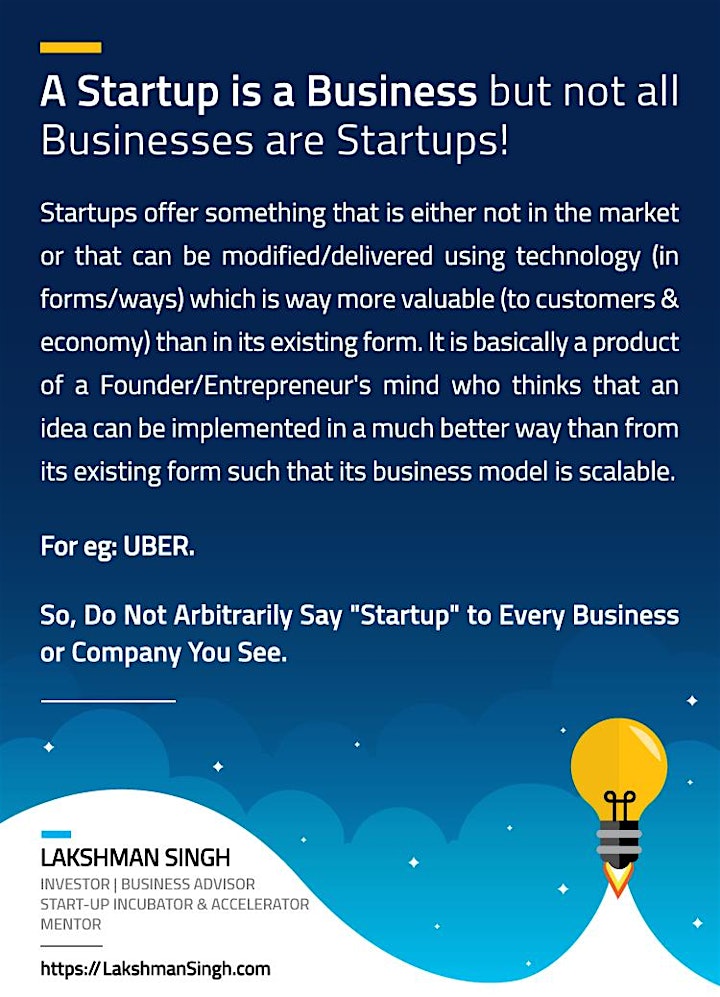 Performers
Date and Time
Location
Refund Policy
Refunds up to 1 day before event